Nnamdi Kanu: Nigeria could disintegrate if… – Ozekhome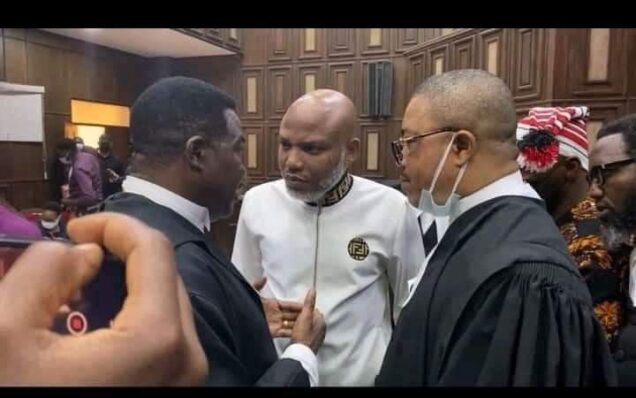 Nnamdi Kanu's Lead Counsel, Mike Ozekhome has asked the Supreme Court of Nigeria to "right the wrong" of the Court of Appeal Abuja by directing the release of the leader of the proscribed Indigenous People of Biafra (IPOB). POLITICS NIGERIA reports that Ozekhome warned that Nigeria could disintegrate if Kanu is not released from custody as soon as possible.
The Senior Advocate of Nigeria (SAN) gave this warning during a recent meeting with Igbo leaders in Atlanta, the United States of America (USA). "We are at the Supreme Court, and it will right the wrong because nobody will intimidate the Supreme court. They will have to do something so that Nigeria will not disintegrate," Ozekhome said.
"I have told the court that releasing Nnamdi Kanu will not break the South East or bring unrest in the zone. Rather, that is what will calm South East. "This is because the day the Court of Appeal delivered its judgement ordering his release, there was spontaneous jubilation from Aba to Umuahia; Onitsha to Nnewi; Isiagu to Abakaliki; Orlu to Owerri, and the entire zone even in Lagos and Abuja and other parts of Nigeria. "So, I told the court that: If you want to have peaceful election and peace in the South East, and by extension, Nigeria, then release Nnamdi Kanu."
This newspaper recalls that last month, the Abuja Appeal Court halted the execution of its judgement which freed Kanu of terrorism charges. A three-member panel of the Court of Appeal had faulted the federal government's forcible repatriation of Kanu from Kenya to Nigeria in June 2021 to face terrorism charges over the IPOB leader's separatist campaigns.
Oludotun Adefope-Okojie who led the appellate court's panel had on 13 October held that the federal government broke local and international laws by forcibly re-arresting and returning Kanu to Nigeria. However, in a ruling, Haruna Tsanami leading a panel of the Court of Appeal, in Abuja, ordered that the enforcement of the judgment releasing Kanu be put on hold.
Kanu's legal team has since approached the Supreme Court on the matter, and according to Barrister Ifeanyi Ejiofor on Thursday evening, "from every indication, it is very likely that a date will soon be assigned at the Supreme Court of Nigeria for the hearing of Onyendu (Kanu's) Appeal against the Order staying the execution of his judgment".
Source: Politics Nigeria
20 persons roasted, 30 vehicles burnt in Kogi tanker explosion

At least 20 persons have reportedly been roasted and over 30 vehicles burnt in a petrol tanker accident near Ochadamu junction in Ofu Local Council of Kogi State, yesterday. According to a witness, most of the dead were burnt beyond recognition.
He said: "I learnt that the accident was caused by a disagreement between security operatives and tanker drivers at a checkpoint. Security personnel allegedly shot two tanker drivers. Their colleagues, in anger, used a tanker loaded with petrol to barricade the highway leading to Idah.
"People gathered and pleaded with the tanker drivers to remove the vehicle from the road, but they refused. Suddenly, a truck carrying coal ran into the petrol tanker causing it to explode. An inferno engulfed the scene, killing scores of people and injuring many others."
Our source said no fewer than 20 corpses have been recovered so far, while about 50 persons sustained varying degrees of injury. When contacted, the Federal Road Safety Commission (FRSC) said its officers were at the spot to ease traffic and ascertain the accurate casualty figure.
"My officers are still busy and vehicles are still burning, as we speak. I will get back with detailed information as soon as possible," a senior officer of the commission told newsmen.
Source: The Guardian