PDP's NWC member endorses Peter Obi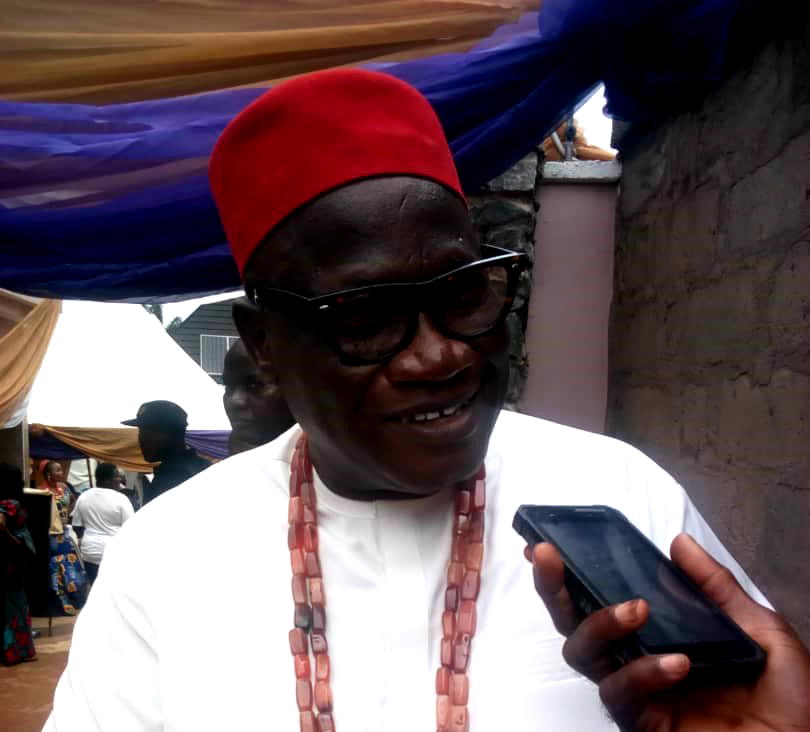 More Nigerians, including non members of the Labour Party, LP have continued to indicate their support to the LP Presidential candidate, Mr. Peter Obi, with the latest being an incumbent members of the People's Democratic Party, PDP, National Working Committee, NWC in the Southeast geopolitical zone, Chief Benjamin Udozor.
Fielding questions from newsmen in Amawbia, his country home, yesterday, Udozor said: "Obi is doing very well. I am PDP but I believe in him because he has an agenda for us".
Explaining further Udozor who was a onetime Chairman of PDP in Anambra state, expressed concern over the worsening insecurity situation in the country and lamented that the military could not live up to its expectations.
"If you ask the military they will tell you that they have not been given order. So something is wrong with the leadership of this country. The President has to do something on insecurity". He however, attributed the rise on insecurity to unemployment of youths which would have helped in keeping them busy, since according to him, an idle mind is the devil's workshop.
"Because they are idle they take to hard drugs out of hardship. They want to forget some of their problems and that is why they take hard drugs. If incoming government can be able to provide employment to the youths, I don't think they will have the time to go for hard drugs. An idle mind is the devil's workshop"
On security situation in Anambra State, he said that for now Governor Charles Chukwuma Soludo, was doing fine on security and infrastructure and urged the people to give him maximum support. Udozor expressed optimism that with Obi as next President, Nigeria would get to the next level
Source: Vanguard
Gas cylinder explosion destroys multi-million naira goods in Calabar market

A fire outbreak at the Marian Fruits Market in Calabar destroyed goods worth millions of naira on Tuesday. The News Agency of Nigeria (NAN) reports that it took men of the Federal Fire Service about five hours to put out the fire, which destroyed goods in more than 30 lockup shops.
Mrs Olumayowa Olomola, Commanding Officer at the Federal Fire Service in Calabar told NAN that the fire was caused by a gas explosion in one of the lockup shops. She said that the command received a distress call at 2.40a.m., when the fire started and its operatives immediately swung into action.
"The fire started from one of the shops where the occupant, a woman who was boiling beans slept off. "The woman in question had other cylinders filled with gas in her shop and this led to the explosion when what she was cooking got burnt.
"There was no response from any other fire service until the Federal Fire Service put out the fire around 7a.m.,'' she said.
Source: Vanguard
2023: Crisis Rocks Enugu State APC

Elders and leaders of the All Progressives Congress (APC) in Enugu State have appealed to the party's national leadership under Senator Abdullahi Adamu to intervene and remove the Ugo Agballah led leadership of the party in Enugu so as to avoid an implosion and total collapse of the party in the State.
The leaders who addressed reporters at the APC National Secretariat on Tuesday, in Abuja also urged the party to put in place a caretaker committee to superintend the APC in Enugu to bolster it's performance during the forthcoming 2023 general election or go into oblivion.
In a strong worded petition they sent to the national chairman the leaders accused Ugo Agballah of rubbishing efforts made over time to grow the party in the state by sidelining well-meaning members and leaders of APC in Enugu State, noting that the APC Chairman has systematically dismantle the core of APC in Enugu, warning that unless present trend is reversed the party will regret in 2023.
The leaders said they allowed the sleeping dog lie when it became evident that Agballah was out to running an inclusive administration but cannot continue to keep mute in the face of tyranny.
"The Chairman may wish to recall that as Chairman of All Progressive Congress National Peace and Reconciliation Committee that H.E Sallivan Chime, immediate past Governor of Enugu State had led a protest of stakeholders/elders of Enugu State All Progressive Congress Chapter against the emergence of Ugo Agaballah as State Chairman on two grounds:1) Non-membership of Ugo Agballah and 2) Controversial and irregular process of Ugo Agballah's emergence as State Chairman.
Among the petitioners include:
Sen. Ken Nnamani Former President of the Senate ,Mr. Geofrey Onyeama Hon. Minister of Foreign Affairs, Sullivan.1. Chime, the immediate Past Governor of Enugu State, General JOJ Okoloagu Board Member NDIC, Police Service Commission/ Former Secretary to State Government, Enugu State, Sen. Ayogu Eze Board Member NPA & Former APC Guber Candidate Enugu State, Chief Gbazuagu Nweke Gbazuagu Top Rank APC Chieftain/ Former National Secretary UNCP, Barr. Eugene Odo, dormer Rt. Hon Speaker, Enugu State ,"Barr. Ifeanyi Nwoga Former Attorney General, Enugu State" Chief Onyemuche Nnamani Member South East, Mr. Osita Okechukwu Director General, Voice of Nigeria.
"The Party is imploding and on the brink of imminent collapse. It is in no position as things stand, to be competitive in the General Elections. The leaders now believe that a radical solution is called for to save the State Party from total collapse and disgrace in the State".
Source: Independent.ng