Osinbajo: RCCG replies Dele Momodu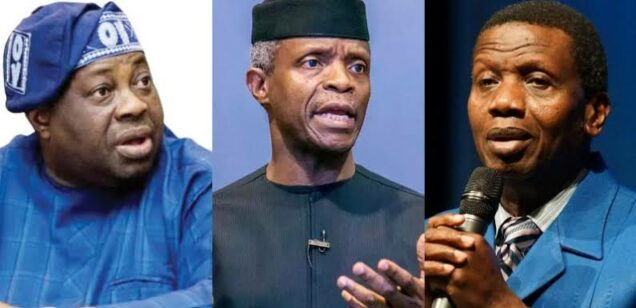 The Redeemed Christian Church of God, RCCG, has reiterated that the newly created office titled Directorate of Politics and Governance is not to support only Yemi Osinbajo but all church members involved in politics.
RCCG issued the statement after Dele Momodu warned the church against endorsing Yemi Osinbajo- who is a Pastor in the church- for the 2023 presidency.
Momodu said he found out that the new office was launched to create an extensive network for "the obvious Presidential ambition of Osinbajo."
He added that there will be a cataclysmic storm in the House of God if RCCG continues to embark on such "myopic" actions.
However, a statement issued by the church on Sunday didn't mention Momodu but referred to him as "someone in sincere ignorance."
The church however clarified that the new office was to '…help coordinate the engagement of our people who are willing to be involved in politics as well as mobilize support for them'.
Read the full statement below:
"The attention of the Assistant General Overseer (Admin & Personnel) Regarding the internal instrument to Directorate of Politics and Governance in The Redeemed Redeemed Christian Church of God that someone in sincere ignorance has drop into the media which has been drawn to reactions in the public to the function of the Directorate."
It is important to highlight that the operative words are: '…help coordinate the engagement of our people who are willing to be involved in politics as well as mobilise support for them'.
"We wish to state that: 1. Nowhere in the statement is it mentioned nor insinuated that a particular political aspirant is being referred to. As would be expected the Church has members that belong to several political parties, but would not itself get into partisan issues.
"2. As a big and dynamic church, RCCG considers herself one of the nation's stakeholders and the work of the directorate is in direct response to the advisory of Independent National Electoral Commission (INEC) to support our members on effective and efficient voter education and the discharge of their related civic rights and obligations.
"3. As a big and dynamic church, RCCG considers it necessary to respond to the growing interest of its members in politics and governance by ensuring that their standing as law-abiding citizens in all spheres of life is neither compromised nor fall below the standard expected of followers of Christ.
"4. RCCG by this is not doing anything new or different from some other denominations such as the Catholic Church or other religious bodies who bring its members up to date with policies, laws and regulations regarding their polity and its governance.
"5. Therefore, the RCCG does not promote the interest of one particular political party as its members are to be found in all the political parties holding high ranking and responsible offices and have in the past gone through necessary tutelage on how to conduct themselves in public office.
"6. RCCG will continue to offer spiritual and moral support to its members through prayers, encouragement, exhortation, counseling, and moral instructions as would be expected from an organization which on record is fully conscious of its Christian Social Responsibility."
Source: PM News
NDLEA arrests Popular Pastor with Drugs in Lagos Airport [PHOTOS]

A popular Nigerian Pastor has been arrested with 54 sticks of hard drugs at the Murtala Mohammed Airport in Lagos.
The General Overseer of Christ Living Hope Church, Rev. Ugochukwu Emmanuel Ekwem was captured by eagle-eyed NDLEA operatives on his way to a three-week crusade in Nairobi, Kenya, with 54 sticks of drugs wrapped around his body.
The Preacher has his church headquarters in Isuaniocha, Mgbakwu road, Awka, Anambra state and two other branches in Lagos and Abuja.
He was arrested on Monday 7th March, during the outward clearance of passengers on Ethiopian Airlines flight to Nairobi via Addis Ababa.
When tested, the 54 sticks proved positive to cannabis. The clergyman confessed during preliminary interview that he packed that quantity of illicit substance on his body to use during his three weeks crusade in Kenya.
POLITICS NIGERIA gathered that Ekwem will be subsequently charged to court to answer for his crimes.
Source: Politics Nigeria