BREAKING: Major abducted from NDA by Bandits found dead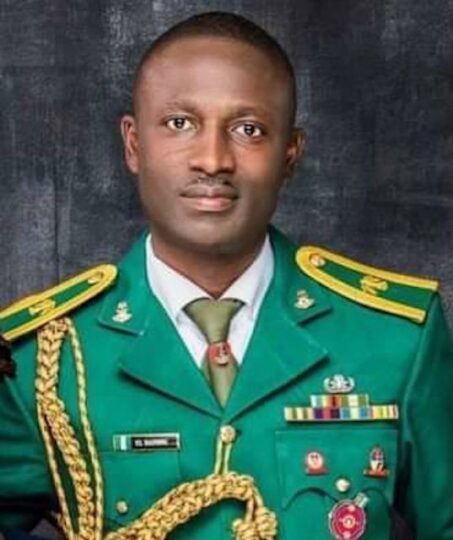 The military officer Major Christopher Datong abducted today at Nigerian Defence Academy, Afaka in Kaduna has been murdered. According to reports, his body was found on Tuesday evening, hours after he was captured by bandits. The abductors reportedly demanded N200 million to set him free. Datong who was from Pankshin in Plateau state, was born 4 January, 1978. One of the photographs circulating in the social media showed the officer with his pregnant wife.
The security breach of the Nigerian Defence Academy triggered shock across the nation , with people wondering if any one is really safe if bandits could operate so freely inside an elite military institution.
NDA's Public Relations Officer, Major Bashir Muhd Jajira, who reported the attack earlier said two soldiers were killed..
A statement sent by Jajira said:
"The security architecture of the Nigerian Defence Academy was compromised early this morning by unknown gunmen who gained access into the residential area within the Academy in Afaka. During the unfortunate incident, we lost two personnel and one was abducted.
"The Academy in collaboration with the 1Division Nigerian Army and Air Training Command as well as other security agencies in Kaduna state has since commenced pursuit of the unknown gunmen within the general area with a view to tracking them and rescue the abducted personnel.
"The NDA community and Cadets are safe in the Academy. We assure the general public that these unknown gunmen would soon be apprehended and the abducted personnel rescued."
Speaker of Kaduna State House of Assembly, Alhaji Yusuf Zailani, has described the invasion as an assault on the country's territorial integrity
Zailani, who stated this in a statement issued by his Special Adviser on Media and Publicity, Ibrahim Danfulani, in Kaduna, on Tuesday, said that the incident must be treated with all seriousness and thoroughly investigated.
The speaker described NDA as the premier training citadel for members of Nigeria's armed forces and pride to the country and Africa.
He said the attack on such an institution was unacceptable and must be investigated by the military hierarchy.
"It is disheartening and unfortunate for such an attack to have taken place, catching those in charge of its internal security off-guard," Zailani said.
While commending security personnel for making efforts to decimate bandits and insurgents nationwide, he said that they should not let the NDA incident demoralise them.
"I sincerely commiserate with the families of those who lost their lives.
"I am, however, pleased that the NDA authorities have given assurance that the assailants are being trailed and that they will be apprehended," the speaker added
Source: Politics Nigeria
BREAKING: FG approves New COVID-19 Vaccine

The Nigerian Government has approved the Sinopharm BBIBP-CorV COVID-19 vaccine to ste-up efforts to combat the the third wave of infections in the country.
The Executive Director, NPHCDA, Dr. Faisal Shuaib, diclosed on Tuesday, in Abuja that NAFDAC has approved Sinopharm COVID-19 vaccine.
BBIBP-CorV, also known as the Sinopharm COVID-19 vaccine or BIBP vaccine, is one of two inactivated virus COVID-19 vaccines. He said it was developed by Sinopharm's Beijing Institute of Biological Products "sometimes written as Beijing Bio-Institute of Biological Products," resulting in the two different acronyms BBIBP and BIBP, for the same vaccine.
"It completed phase 3 trials in Argentina, Bahrain, Egypt, Morocco, Pakistan, Peru and United Arab Emirate (UAE), with over 60,000 participants. BBIBP-CorV shares, similar technology with CoronaVac and Covaxin, other inactivated virus vaccines for COVID-19.
"Its product name is SARS-CoV-2 Vaccine 'Vero Cell' not to be confused with the similar product name of CoronaVac," said Shauib.
He added that the approval was recently granted by NAFDAC and the vaccine had also received the World Health Organisation (WHO) certification.
The NPHCDA boss said, "NAFDAC has approved Sinopharm vaccine, the approval was done three days ago; and yes, Sinopharm vaccine has also received WHO certification.
"So, it is a potential vaccine that we could use.
"There are so many vaccines out there, but one thing that we are very clear about is that we are not going to use all the available vaccines in Nigeria.
"At some point, we are going to draw a line in terms of the number of vaccines we would use, so that we can keep a close watch on the number of vaccines we are utilising in Nigeria," he said.
Source: Politics Nigeria
More than 700 coronavirus deaths in one day

For the first time, more than 700 coronavirus deaths have been registered in Iran within one day.
According to the Ministry of Health on Tuesday, 709 deaths and more than 40,000 new infections were registered in the past 24 hours. This brought the total number of corona virus-related deaths in Iran to more than 103,000.
According to the Ministry of Health, the cause of the drastic increase is the significantly more contagious Delta variant of the coronavirus. Even the six-day lockdown in mid-August could not stop the continuing wave of deaths.
Due to the economic crisis and US sanctions, there are not enough vaccines in the country. Therefore, the vaccination campaign is also making slow progress. So far, only 7 per cent of the more than 83 million Iranians have been vaccinated twice.
Source: Vanguard
Buhari, Speaker, governors, others mourn ex-NADECO chief Durojaiye

President Muhammadu Buhari, House of Representatives Speaker Femi Gbajabiamila, Governors Dapo Abiodun (Ogun), Babajide Sanwo-Olu (Lagos) and Kayode Fayemi (Ekiti) yesterday condoled with the family of former Senator Olabiyi Durojaiye on the death of the former National Democratic Coalition (NADECO) chieftain. Durojaye reportedly died at 4 a.m yesterday while receiving treatment at the Federal Medical Centre (FMC) at Ebute-Metta in Lagos.
He was 88. Other eminent Nigerians and organisations that mourned the former Chairman of the Board of the Nigerian Communications Commission (NCC) from 2016 to 2019 include former Ogun State Governor Olusegun Osoba, Lagos West Senator Solomon Olamilekan Adeola and Afenifere Renewal Group (ARG). President Buhari described Durojaye's death as a great loss to the nation.
In a condolence message by his spokesman, Mr. Femi Adesina, the President also commiserated with the government and people of Ogun State, as well as friends and political associates of the elder statesman.
He described the deceased as "a dogged fighter for democracy, an activist, a nationalist and an indispensable member of the financial community".
Speaker Gbajabiamila described Durojaye's demise as sad and painful.
In a statement by his Special Adviser on Media and Publicity, Lanre Lasisi, the Speaker recalled how the late Durojaiye contributed to the development of Nigeria's democracy through robust and purposeful engagements as a foremost economist, barrister and solicitor.
Abiodun, in a statement yesterday in Abeokuta by his Chief Press Secretary, Kunle Somorin, expressed shock over the passage of the Ijebu-Igbo politician.
"He was with us during the Stakeholders meeting for the Ward Congress last month and was a strong pillar of our Administration," he said.
In a condolence message by his Chief Press Secretary, Mr. Gboyega Akosile, Governor Sanwo-Olu commiserated with his Ogun State counterpart, Governor Abiodun and the people of the state, especially indigenes of Ijebu-Igbo, on the demise of their illustrious son and elder statesman.
Governor Fayemi, who described the late elder statesman as an iroko, recalled that the late Durojaye served the country in many spheres without blemish.
"An iroko has fallen. We shall miss Senator Durojaiye's amiable personality, brilliance, wisdom and candour. He was one of our very best. We are however comforted with the fact he lived a decent and impactful life and served God and humanity with all his might.
"We pray that God comfort his family and associates and grant him eternal rest," the governor said in a statement yesterday in Ado-Ekiti by his Chief Press Secretary, Yinka Oyebode.
Osoba, who spoke with the News Agency of Nigeria (NAN) on phone, said: "The progressives family in the Southwest is presently in disarray. We should be using this development to put the house in order," he said.
In a statement by his Media Adviser, Chief Kayode Odunaro, Senator Adeola (popularly called Yayi), who is the Chairman of the Senate Committee on Finance, said: "I am particularly sad at the demise of one of my role models in politics, who showed much interest in my political aspirations, including donation to my campaign fund at some point after he was convinced of my capacity and ability for high political office as a member of the APC National Assembly Screening Committee that screened me to contest for Senate.
"He was a gentleman and a technocrat in politics who lent his vast knowledge for the cause of pro-democracy, good governance and service to the nation."
ARG, through its Leader, Mr. Wale Oshun, said: "We commiserate with his biological and sociopolitical family and pray for the repose of his soul and the preservation of his good legacies."
Also, in a statement by its President, Akin Malaolu, Yoruba Ronu Leadership Forum said: "We sympathise with the Durojaiye family of Ijebu-Igbo, the people of Ogun State, and all Nigerian patriots on the loss of our respected leader, Senator Biyi Durojaiye.
"While alive, he made visible impact, promoting the spirit of togetherness amongst Nigerians of diverse backgrounds of ethnicity, faith, and politics. He was a farsighted leader who transcended parochialism."
The Durojaye family yesterday admonished Nigerians to take the COVID-19 vaccine.
The first and eldest son the deceased, Abimbola, gave the advice while speaking with NAN. He said notwithstanding what killed his father, it was necessary for Nigerians to fortify their health against the global pandemic.
Abimbola said his father's body had been deposited in a mortuary somewhere in Ikeja.
He said plans were already in place for his funeral rites and would be communicated to the public soon.
Source: The Nation