Olubadan's delegation, others shut out as Igboho's trial continues 'closed door'
The trial of Yoruba Nation agitator, Sunday Igboho continued on Monday behind 'closed door' with journalists and his supporters shut out. It was gathered that his supporters thronged the Cour D'Appel De Cotonou, where he is being tried, but they were not allowed to gain entrance.
Report said Igboho's supporters, which included the delegation sent by the Olubadan of Ibadanland, Oba Oba Saliu Adetunji were not allowed into the court's premises. Igboho was arrested on July 20, 2021, along with his wife Ropo while trying to board a plane from Cotonou, Benin Republic to Germany. He was arrested by Interpol and was brought in court last Monday, with the case adjourned to Thursday last week.
It was later adjourned till today. The Nigerian government is trying to get him extradited to Nigeria to face trial like Nnamdi Kanu. Several Yoruba leaders are battling to prevent his extradition to Nigeria as they felt he would not get justice.
Also, latest reports coming in from The Nation is that the police in Cotonou, capital of Benin Republic have dispersed supporters of Sunday Igboho from the premises of Court of Appeals where his trial is going on. The security personnel, who came in two Hilux vans, insisted everyone, including Journalists, should vacate the court premises.
Source: PM News/ The Nation
You're wrong restricting the press from covering Kanu's trial – AI slams FG

Global human rights watchdog, Amnesty International on Monday condemned the action of Federal Government in restricting journalists from reporting Nnamdi Kanu's trial at federal high court Abuja.
The Federal Government had through the Department of State Services (DSS) and the Federal High Court on Sunday released the list of 10 accredited media houses to cover court proceedings of the trial of the leader of the Indigenous People of Biafra (IPOB), Nnamdi Kanu slated for Monday, July 26, 2021.
It however, increased the number of accredited media houses to 14 on Monday morning following some protest by some media practitioners. The accredited list signed by, Chief Information Officer, Federal High Court of Nigeria, Catherine Oby Christopher was contained in a document dated July 23, 2021, detailing the 10 accredited media houses which included: Premium Times (Ameh Ejekwonyilo), Thisday (Alex Enumah), The Nation (Eric Ikhilae), and the News Agency of Nigeria (Taiye Agbaje), and Daily Independent (Paschal Njoku),The Herald (Kayode Lawal).
The document also listed the Nigerian Television Authority (NTA-Vera Chiwuba), Channels Television (Ella Daniels), Africa Independent Television (Wunmi Obabori), and TVC (Tina Iria) for broadcast media.
In its reaction to the development, Amnesty International described the restriction of access to the coverage of the trial an attempt to deny people the right to know.
The AI also called on the federal government to respect the right to fair hearing and immediately lift the restriction and allow the media unhindered access to the court.
"Amnesty International condemns Nigerian authorities' restriction of the number of journalists that can report the trial of the leader of Indigenous People of Biafra (IPOB) Nnamdi Kanu, which started today in Abuja.
"Selecting few journalists to cover the trial is a restriction on access to information and an attempt to deny people the right to know. It also violates all fair hearing guarantees.
"We call on the Nigerian authorities to respect the right to fair hearing and immediately lift the restriction and allow the media unhindered access to the court to do their job. This is yet another bizarre and unacceptable attack on the Nigerian media that must not stand," the statement said.
However, the DSS at last failed to produce Kanu in court for trial after all the hullabaloo and the judge adjourned the case to 21 October, 2021.
Source: Vanguard
Tunisia's PM sacked after violent Covid protests, President accused of coup amid clashes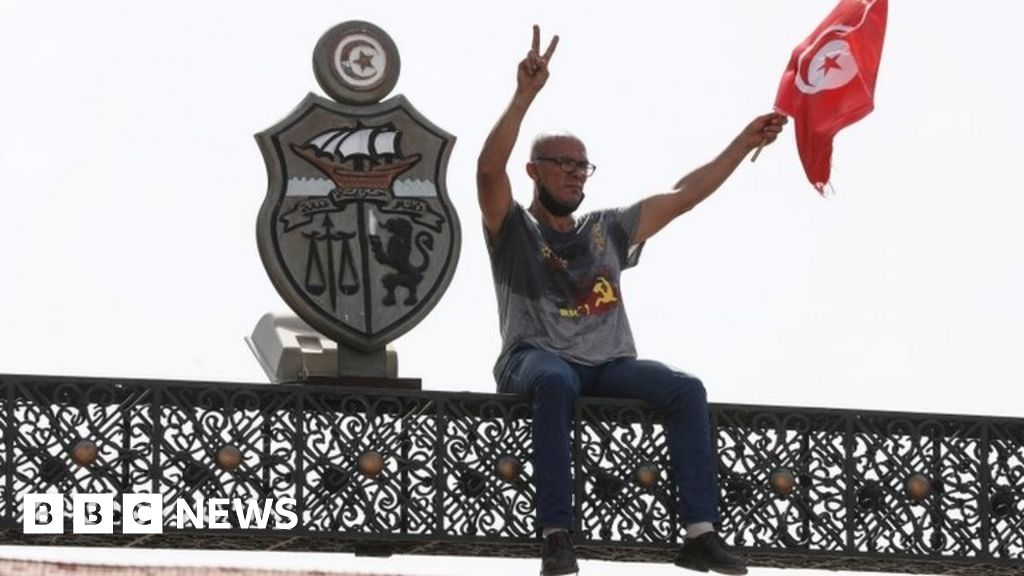 Tunisia's president has sacked the PM and suspended parliament, after violent mass protests nationwide on Sunday. Anger over the government's handling of a massive recent spike in Covid cases has added to general unrest over the nation's economic and social turmoil. President Kais Saied, who was elected in 2019, announced he was taking over.
His supporters erupted in celebration, but opponents in parliament immediately accused him of staging a coup. Clashes among rival groups continued on Monday. They threw stones at each other outside the legislature, which has been barricaded by troops, who have also prevented workers from entering some government buildings.
Mr Saied, an independent, has had a long-standing feud with the man he has removed, PM Hichem Mechichi. Mr Mechichi has the backing of the largest party in parliament, Ennahda. Tunisia's revolution in 2011 is often held up as the sole success of the Arab Spring revolts across the region, but it has not led to stability economically or politically. The recent coronavirus surge has fuelled long-standing public frustration. The health minister was sacked last week after a bungled vaccination drive.
Source: BBC News
Tokyo Olympics: Team Nigeria shines as Oshonaike, Toriola enter record books

Team Nigeria shot into reckoning when two of her athletes, Segun Toriola and Funke Oshonaike entered into history book( Club 7) as rare athletes to have competed seven times at the Olympics. Standing taller in the exclusive club dominated by men was Funke Oshonaike who not only becomes the first Nigerian, but also the first African and indeed the first woman in the world to compete at seven Olympic Games.
Her induction yesterday wiped out her tears suffered on the green table in her first historic Games when she was flatly beaten by a Chinese-American. Her face lightened and she giggled sandwiched by five other men who had brought honour to their countries. Out of the six awardees, Team Nigeria stood elegantly with a male and a female, an achievement only Nigeria has recorded.
"I hope this award for me and my country will brighten the hearts of Nigerians. I am happy and thanks to Nigeria and this hardworking Sports Minister Sunday Dare", Funke said.
Her compatriot Segun Toriola also thanked Nigeria for the great opportunities. For Funke Oshonaike, it's been a long road right from Atlanta to Sydney and Athens, Beijing and Rio before bowing out here gracefully as a worthy legend.
Source: Vanguard
#BBNaija: I'll never have sex in the house – Maria

Big Brother Naija 'Shine Ya Eye' housemate, Maria Chike Agueze, has revealed that she will not have sexual intercourse on National Television. Maria while in a conversation with fellow housemates, White Money and Niyi stressed that sex is a complete 'NO' for her.
"Sex in this house is a no-no for me.
"Mind you, there is nothing like pity love while on this show," she said.
White Money then went on to ask her if she would vibe with a male housemate who would give her the kind of energy she exudes or she would kill it based on the fact that it is a virtual world and will rather take it outside. The Dubai-based former air hostess and realtor in response said that she would go for it but be very cautious because she is a very private person.
Source: The Nation
Bandits kidnap Nigerian soldiers on major highway

Bandits have kidnapped two Nigerian Army personnel on Maiduguri-Damaturu highway, Goni Masari area in Borno. A wireless message sent by 29 Task Force Brigade and seen by Peoples Gazette stated that the soldiers, identified as Bello Abubakar and Oyediran Adedotun were kidnapped while traveling to Kano, in a civilian vehicle at about 5:07 p.m. on Saturday.
It was reported that passengers in the vehicle alerted the army base in Mainok, having observed the driver's suspicious behaviour and his familiarity with the bandits. It was believed that the bandits operated based on information relayed to them by the driver, the signal message said.
Subsequently, troops from the 134 special forces battalion led by the commanding officer were mobilised to the scene, but the bandits had fled the area, seeing that soldiers were mobilised to the general area. The driver and vehicle were also immediately apprehended and are in the army's custody.
"The soldiers were on pass when the incident occurred. Liaison with Sect 2 MIB revealed that a SAR operation is being conducted while the driver of the bus in which the soldiers were traveling is suspected to be a prime suspect in the incident due to some indicators. He has been arrested by troops and is undergoing investigation," the army document stated.
Source: Peoples Gazette