2023 Presidency: "North behind disaster in South-East" – Ohanaeze Ndigbo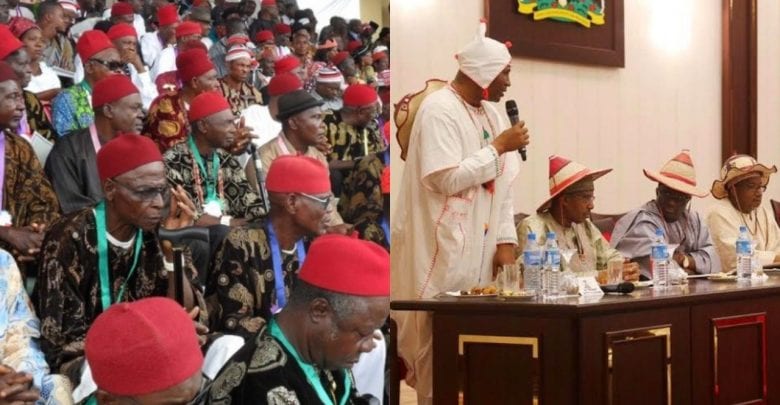 Pro-igbo group, Ohanaeze Ndigbo Worldwide has stated that Northern Nigeria is behind the insecurity currently plaguing the south-east.
According to the Secretary-general of the group, Mazi Okechukwu Isiguzoro, the North exported violence to the South-east.
"The North is responsible for all the disaster in the South-east based on the earlier warning of the USA Embassy Abuja, 'that Northern bandits and killer herdsmen are changing positions to Southern Nigeria to wreak havoc and destabilize the zones'.
"Northern Elders are behind the chaos in Nigeria as a ploy to retain the Presidency in the North beyond 2023, as they did to Jonathan in 2015, so they exported violence to the southeast to keep Igbo leaders busy with insecurity challenges and set traps for them(Igbo leaders) to fall in and get arrested."
The group also attacked a former governor of Sokoto state, Aliyu Wammako.
"Ohanaeze Ndigbo Worldwide had cautioned former Sokoto Governor, Aliyu Wamakko over impulsive comments without any iota of truth, which is capable of inciting ethnic cleansing and turmoil in the country."
"It's laughable that the likes of Wamakko couldn't proffer solutions to the insecurity challenges in the North for the last 7 years, which the north incubated as a political instrument to oust power from former President Goodluck Jonathan and install the incumbent."
"We are amazed at how someone who couldn't remove a spark of dust in his eyelashes could see the remedy for the log of wood in the eyes of Ndigbo".
"Rhetorically, Wamakko's assertion that Igbo leaders are behind the scenes motivating the violence in the southeast, exposed the northern secrets of supporting bandits and Boko Haram for economic and political reasons .The silence of Igbo leaders are Golden and will generate confusion in the camps of sponsors of terror in the Southeast."
Source: Politics Nigeria
Biafra: "Avoid another war" – Northern Elders warn Igbo leaders

The Northern Elders Forum has called on igbo leaders to address issues of insecurity facing the South-East region.
The group admonished Igbo leaders to not remain silent in the wake of attacks fermented by pro-secessionist group, the Indigenous People of Biafra, IPOB.
Spokesperson of the group, Dr. Hakeem Baba-Ahmed made this known to journalists on Monday in Abuja after a tense closed-door meeting.
He stated that everyone should sheath their swords, revealing that the North will not allow the country to descend into another war.
He advised Igbo leaders to quickly engage Pro-secessionists to avoid further violence, expressing concern over the death of northerners in the South-east region.
Source: Politics Nigeria
T.B. Joshua's wife narrates husband's last moments: "He left us with a message"

Evelyn Joshua, the wife of the late evangelist, Pastor T.B. Joshua opens up on the last moments of her husband before he died.
T.B. Joshua's wife narrates husband's last moments_ "He left us with a message"
Share
In a statement released on his official social media accounts, the church revealed that T.B Joshua passed on June 5 at 57 years.
Although the cause of death was not revealed, the statement says, "God has taken His servant Prophet TB Joshua home – as it should be by divine will"
Recounting the late minutes of the man of God, his wife Evenly stated that T.B. Joshua left for his chambers after a stretch of prayers even though he did not show any signs of illness.
A source close to the family revealed to DAILY POST that Evelyn made this known during a meeting with some foreign visitors.
"He ended the race prayerfully. She revealed that he spent about three hours in prayers before the last service on the mountain and was looking very healthy. She said he never showed any sign of illness or worry and that his main concern was about the prayer line they offered to Indians against the COVID-19 pandemic.
"Afterward, he came up to shower and was left alone to have some time to prepare for service as worship had started. Few Minutes later, he stepped out for ministrations. While ministering, He spoke about a time to come and time to leave." Evelyn was quoted.
"According to her, his statements were spiritual and suddenly, he left the stage and went to his inner chambers. She waited a few minutes and thereafter decided to check on him. And she met him sitting on the chair like someone reflecting but unconscious. She quickly beckoned on his disciples who came and tried to revive him to no avail. Of a truth, he went home to be with the Lord and left us with a message, watch and pray."
Source: Lailas News
BBNaija Khloe workout photos gets people talking

Big Brother Naija star, Khloe's recent workout photos has gotten a lot of people talking on her social media page.
Abiri Oluwabusayomi, who became popular after her reality TV performance, has shocked many fans with her amazing body transformation.
She took to her Instagram page to share photos of herself working out in the gym. Sharing the snaps, she wrote;
Source: Lailas News
30 feared killed as suspected herdsmen attack Benue community

Not fewer than 30 persons were reportedly killed and many wounded when suspected herdsmen attacked Odugbeho village in Agatu local government area of Benue State. Benue Police spokesperson Kate Aneene, a DSP, confirmed the incident but was silent on the casualty figures.
She said: "Agatu attack is confirmed and the Commissioner of Police has deployed more police officers to manage the incident and forestall further breakdown of law and order.
"Number of victims is yet to be ascertained as officers are still engaged in stabilizing the area".
A witness, who is an indigene of the village, Isaac Oche, said: "The suspected herdsmen invaded the village around 5:45 pm and started shot sporadically. They killed anyone in sight they operated freely till 6:40 am.
Oche stated about 20 bodies have been recovered while the search for more corpses continues.
He said the herdsmen were believed to have come from Nasarawa State, passed through the neighbouring local government of Gwer West in a guerrilla-style for the attack.
He said the casualty figures were high number because most people were at home, being a Sunday.
At the time of filing this report, the village is completely deserted because security agents were yet to arrive.
Source: The Nation
Cameroon vs Nigeria: Rohr replaces Troost-Ekong in Super Eagles camp

The head coach of the Super Eagles, Gernot Rohr, has called up Ujpest defender Vincent Onovo, to replace the injured William Troost-Ekong ahead of their second friendly match against Cameroon on Tuesday.
Troost-Ekong picked up an injury in the closing stages of the 1-0 defeat to the Indomitable Lions last Friday.
The Watford men were replaced by Galatasaray defender, Valentine Ozornwafor.
Troost-Ekong wins promotion to EPL with Watford
Troost-Ekong has now left the camp in Vienna.
Onovo has joined the rest of the squad in Austria. He is a key player in Michael Oenning's team that finished sixth in the Hungarian top-flight table this season.
He also helped Ujpest win the Magyar Kupa (Hungarian Cup), which means they have qualified for the second round of the 2021-22 Europa Conference League.
Source: Dailypost
Wole Soyinka Backs Biafra, Oduduwa Republics' Agitators, Says It's Their Right To Secede

Nobel laureate, Prof Wole Soyinka, has said those calling for the sovereign nations of Biafra and Oduduwa have rights as free citizens to call for secession.
In a statement, the professor criticised the use of force against the agitators of self-determination, insisting it is the responsibility of the leadership to persuade them. "It is time to think outside the box. That many, in so doing, find no landing place except dissolution, is not a crime. It is not peculiar to any peoples, and is embedded in the ongoing history of many, and not only on this continent.
"It is their natural right as free citizens, not slaves of habit and indoctrination. Where disillusion rides high, sentiment tumbles earthwards, and the only question becomes: what can be salvaged? It thus remains the responsibility of leadership to persuade them, through both discourse and remedial action, that there are other options. Attempted bullying is not a language of discourse, nor the facile ploy of tarring all birds with the same feather," he said.
While speaking on President Muhammadu Buhari's statement about the genocidal threat, Soyinka said while he was not in support of those killing and destroying government's properties, the President's statement to 'deal with them in the language they understand' was wrong and 'tragically untimely.'
"I hold no brief for those who resort to burning down police stations, slaughter their occupants simply for the crime of earning a measly monthly pittance, torch electoral offices, assassinate politicians in calculated effort to set sections of the country against others in the promotion of their own political goals.
"These are largely nihilists, psychopaths and/or criminal lords, soul mates of Boko Haram, ISWAP, Da'esh and company, not to be confused with genuine liberators. All over the world, throughout history, elections are denounced, boycotted, and generally delegitimized without recourse to wanton butchery.
"When, however, a Head of State threatens to 'shock' civilian dissidents, to 'deal with them in the language they understand', and in a context that conveniently brackets opposition to governance with any bloodthirsting enemies of state, we have to call attention to the precedent language of such a national leader under even more provocative, nation disintegrative circumstances. What a pity, and what a tragic setting, to discover that this language was accessible all the time to President Buhari, where and when it truly mattered, when it would have been not only appropriate, but deserved and mandatory!
"When Benue was first massively brought under siege, with the massacre of innocent citizens, the destruction of farms, mass displacement followed by alien occupation, Buhari's language – both as utterance and as what is known as 'body language' – was of a totally different temper. It was diffident, conciliatory, even apologetic.
"After much internal pressure, he eventually visited the scene of slaughter. His language? Learn to live peacefully with your neighbours. The expected language, rationally and legitimately applied to the aggressors, was exactly what we now hear – 'I shall shock you. I shall deal with you in the language you understand,'" he said.
Source: Sahara Reporters