Every humans worst nightmare is to have something negatively odd about them that most people do not have.  Some of these odd thing include having body odor. This particular odd thing can be really embarrassing and quite hard to fight.
Imagine entering a room filled with people and them immediately the atmosphere changes and the smell in the room becomes really terrible that people can not bear it and they begin to cover their nose. After wondering what the problem could be, you find out you are actually the cause of everyones problem in the room. The shame from such awkward situation can never ever be underestimated.
Body odor usually becomes evident if measures are not taken when a human reaches puberty. People who are obese, those who regularly eat spicy foods, as well as individuals with certain medical conditions, such as diabetes, are more prone to having body odor.
People who sweat too much, may also be susceptible to body odor. However, often the salt level of their sweat is too high for the bacteria to break down. It depends on where the excess sweating is occurring and which type of sweat glands are involved. Sweat itself is virtually odorless to humans. It is the rapid multiplication of bacteria in the presence of sweat and their breaking down of sweat into acids that eventually causes the unpleasant smell.
Body odor can have a pleasant and specific smell to the individual and can be used to identify people, especially by dogs and other animals. Each person's unique body odor can be influenced by diet, gender, health, and medication. Body odor is caused by bacteria breaking down sweat.
Body odor is most likely to come from the following places: feet, armpits, genitals,pubic hair and other hair. Also failure to clean the anus properly after excretion, no washing the belly button well and forgetting to clean behind the ears when bathing can trigger a bad smell.

Ways to prevent these odors include
(1) Use of Deodorants and antiperspirants: Ask your pharmacist for special foot deodorants and antiperspirants. If you have athlete's foot, you should not use deodorants or antiperspirants. Treat the fungal infection with appropriate medication.
(2) Wash daily with warm water: Have a shower or bath at least once a day. Remember that warm water helps kill off bacteria that are present on your skin. If the weather is exceptionally hot, consider bathing more often than once a day.
(3) Clothing: Natural fibers allow your skin to breathe, resulting in better evaporation of sweat. Natural-made fibers include wool, silk or cotton.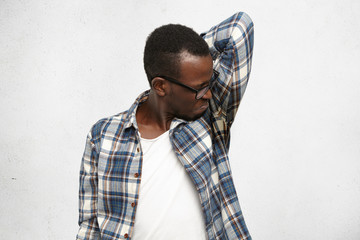 (4) Avoid spicy foods: Curry, garlic, and other spicy foods have the potential to make some people's sweat more pungent. Some experts believe a diet high in red meat may also raise the risk of developing more rapid body odor.
Have you learnt something new?
Please share your thoughts in the comment section below
Source : Medical news today.com
Images :Google