Following the update of the young  girl identified as  Ogochukwu Anichebe who went missing last week, it has been reported that has been found, disoriented but alive.
However, according to her family,she was spotted in Yaba area of Lagos and taken to the Police station where the initial missing person report was lodged. She was said be disoriented and unable to remember what had happened to her, which seems to indicate that she was hypnotized and kidnapped.
A family member took to the social media platform to share this: PRAISE THE LORD PEOPLE: OGOCHUKWU ANICHEBE HAS JUST BEEN FOUND!The young girl I reported missing the other day, Ogochukwu Anichebe has been found. A neighbor of her mum sighted her in Yaba this evening with two guys and called the attention of her parents.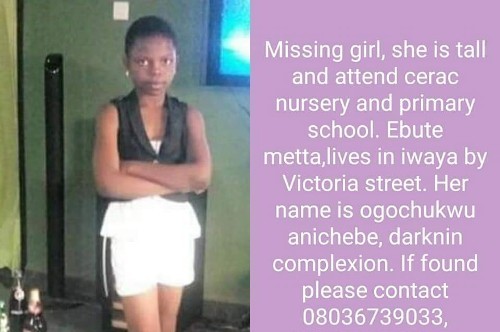 On arrival in Yaba, the 11 year old Ogochukwu was rescued from what seemed more like a kidnap and hypnotism and was taken to the Police Station where an initial report of her missing had been lodged.She couldn't remember anything or what happened to her, nor what was done to her.
She added, I will give you guys more reports on this as I get them, but shockingly, this sounds exactly like of the girl in Ajah, Lagos who got missing for days, but was found later according to the dad, in an uncompleted building somewhere far from town.I'm happy Ogochukwu has been found, but please, what exactly do I tell her parents to do right away?Thanks to everyone here who showed concern.God bless us all!
What do you think about this? Kindly drop a message in the comment section.
Source: Within Nigeria