A jaw-dropping drama is playing out in Ibadan, the capital of Oyo State, as a businessman has begged a Mapo Customary Court in the city to order his ex-wife and their three children to leave their residence. The Ibadan-based Niyi Orimoyegun made the desperate plea to the court, claiming the request is as a result of him being beaten on a regular basis by his own son.
While recounting his travails at the hands of his alleged bully of a son, Orimoyegun told the court's President, Chief Ademola Odunade, that his son, Sunday, usually beats him in the presence of his ex-wife in their residence at the Omiadio area of Ibadan without anyone restraining him.
"My lord, I started grappling with a fresh set of problems when I allowed Adeola back into my home in 2011 after we had legally separated here. On five separate occasions, Adeola has watched with delight, how Sunday, her son gave me dirty slaps all in the bid to push me out of my own home," he said.
"Sunday also prevents me from entering the house, even when it was raining very heavily. "In fact, it took the intervention of an old man in the neighbourhood who appealed to him, but Sunday's response was that he was going to allow me to suffer. Just three weeks ago, Sunday and his mother decided that they were going to carry out some repairs on the house without letting me know," Orimoyegun added.
"When I challenged Sunday, he locked me up in my room. Since 2011 when Adeola illegally returned to my home, I have known no happiness or rest of mind as she and her children are doing everything possible to end my life abruptly. I have been cooking and washing my wears all by myself, order them out of my house," Niyi stated in his plea to the court.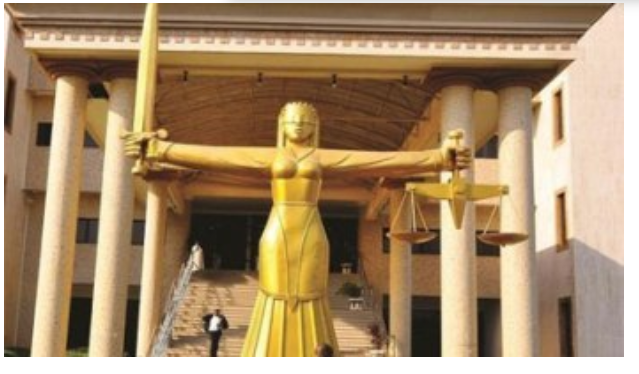 But the ex-wife of the man, Adeola, who did not deny the allegations against her and their son, countered with a strong allegation of hers against her ex-husband. She described Orimoyegun as a 'devil incarnate' who sacrificed their first child for money ritual.
"This problem began when Biodun, our first child drove Niyi to his shop sometimes in 1993 and the boy has not been seem up untill today. My lord, Niyi never showed concern about Biodun's whereabouts again Shortly after then, money started flowing in for Niyi left and right, whereas, he was merely selling stationary," she said.
The ex-wife added: "He divorced me in 1995, but when I saw that my children were suffering in my absence, I started taking food to them. Later, Niyi began to fornicate about and in fact, he went back to his hometown in Ekiti to live and remarry. One day, he called me on phone, begging me to forgive him."
She went on to say: "He said that he had lost all his fortune and that a soothsayer had told him that the children and I must first forgive him, or else, he might die wretched. Consequently, Niyi returned to Ibadan to hand the house over to me as our own property. He, however, came in 2011, pleading with me to accommodate him."
The court's President on his part, after careful observation and questioning, counseled the father, mother and the children. He warned that if Orimoyegun refuses to forgive his ex-wife and other children, four yet unborn generations might suffer the tragedy of Sunday laying his hands on his father.
Finally, the mother, two daughters and the son all knelt and prostrated to their father for forgiveness in the court. Orimoyegun also blessed them and promised to keep the fatherly bound between them. He was however, ordered to rent an apartment for Adeola since their marriage remained dissolved.
What are your thoughts on this matter?