If there is one player many Nigerians are raving about at the moment, he is definitely Rangers of Scotland midfielder Joe Aribo who some have already nicknamed the new 'Okocha'. Interestingly, 'Jay Jay' Okocha also played for Rangers – but Enugu Rangers!
While it might be too early to start naming Aribo after the legendary 'Jay Jay', the player is already showing traces of greatness as demonstrated in his first two games for the Super Eagles.
Aribo marked his debut for the Nigeria national team with a goal against Ukraine before going a step further with a classy and delightful goal against five-time world champions, Brazil.
While many people know Aribo plays his club football in Scotland with Glasgow Rangers, we bring you FIVE interesting facts you might not know about the new Super Eagles' Star Boy!!
Though born in England, Aribo has his roots in Nigeria and hails from the South-West, specifically  Ondo State
He was born on the 21st day of July 1996 to Nigerian Parents in London, United Kingdom.
His parents are Nigerian Immigrants who before he was born left Nigeria to settle in London in search of a better life and greener pastures for their unborn children.
Joe Aribo grew up in the UK capital city of London in middle-class family background.
His parents were like most Nigerian migrants who were not affluent but did menial jobs and often times struggled with finance to take care of family needs.
Joe Aribo began his footballing Journey with Staines Town in the Isthmian League Premier Division, winning the club's academy player of the year award in April 2014.
Following a successful campaign in Staines Town, Joe Aribo was invited for a one-week trial with Charlton, where after impressing he put pen-to-paper on a one-year deal in 2015.
A player with an eye for goal, Joe Aribo scored 14 goals in 81 appearances for Charlton.
After an impressive display in Charlton, news broke out that Arsenal had sent scouts to take a look at Charlton prodigy Joe Aribo with a view of a move to the Emirates.
Aribo was offered a new contract by Charlton at the end of the 2018–19 season after promotion to the Championship, shockingly he opted to sign a four-year deal with Scottish Premiership club Rangers.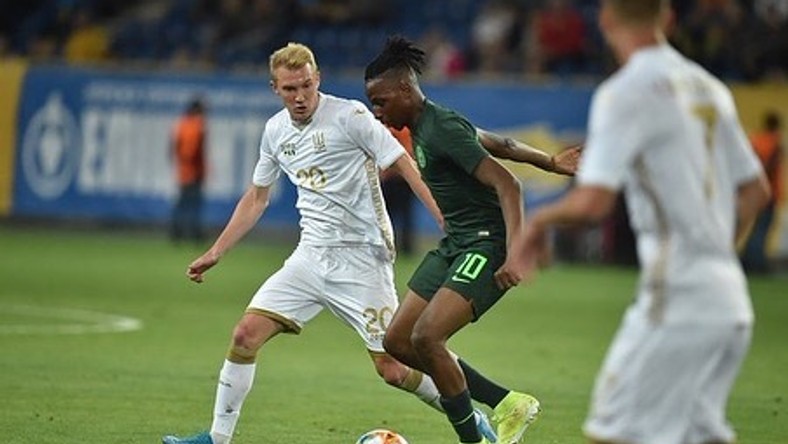 Aribo still eligible to play for England
Despite his impressive start for the Super Eagles of Nigeria, Aribo is still eligible to jump ship and play for the Three Lions of England.
The two games the dazzling midfielder has featured in are not competitive games hence he still has a chance to join Gareth South Gate's men if he so desires but that looks like an unimaginable possibility.
Unlike many Nigerians born in the diaspora, Aribo told ESPN  he enjoys eating spicy Nigerian food.
"I like pepper so it's not a problem for me. My favorite food is jollof rice
Joe is the youngest of three siblings in the Aribo household. His brother is a football coach and his sister works in finance.