Former Super Eagles star, Etim Esin has blasted Abia state governor, Okezie Ikpeazu for his comments to Samuel Chukwueze when the Villarreal youngster paid a courtesy visit to the governor in Umuahia after the 2019 Africa Cup of Nations. Etim Esin has also threatened to drag the sitting governor to court over alleged character defamation, according to BSNSports.
The Abia state governor hosted Super Eagles winger Samuel Chukwueze after he helped the Nigerian team secure Bronze medal at the 2019 African Nations Cup in Egypt and he was quoted to have warned the Villarreal CF star to ensure that he does not end up like Etim Esin and Tarilla Okorowanta who allowed partying and indiscipline end their football careers.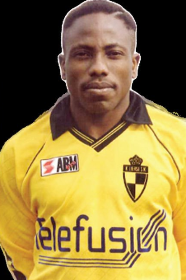 Esin was one of Nigeria's brightest talents in the early '90s and was nicknamed Maradona because of his incredible talent. The player became involved in so many controversies that ultimately meant he couldn't fulfil the promise he had earlier shown.
He played in Belgium with Lokeren and Lierense SK before he reportedly fled the country after allegations of rape were levelled at him.
While Chukwueze was visiting Governor Ikpeazu, he was advised by the governor to take good care of his body and listen to his coaches and instructors. The governor said:
"The easiest way to destroy your career is to become proud of what you think you have achieved. Once pride sets in, you are finished. I have seen players, good players who had the world at their feet but pride didn't allow them to excel.
"Players like Tarila Okoronwanta and Etim Esin. Remain humble. Remember where you are coming from, your poor parents. Stay safe in Europe. Avoid drugs and drinking.
Reacting to this, Etim wrote on his Facebook wall, threaten to sue the governor over defamation of character. "Abia state governor fuck u for using me an okorowanta when a young chap came pay u a visit chukwueze, ur not ashame of ursdlf, when christian chukwu felt sick wher wher u, femi Atedola came to rescue, character deformation." Esin wrote on Facebook.
"Governor ikpazu of Abia state, i challenge u this month dat sam okwarajj passed away playing for Nigeria imo state was one 89 12th August, what contribution hav u made, no let Akpabio, fashola talk na u, wher u de when president flown me air force one to play jr world cup.
"u go hear frm my lawyer soon, character deformation, sick Governor, moni love wher u give enyimba contract stadium wher de give u ashawo for london, u be saint, u senior me opportunist." He concluded