Nigerians are celebrating football Legend Nwankwo Kanu as the former super eagles player and captain turned 43 years old on 1st July 2019.
Kanu, who was born in 1976 remains one of the greatest football players ever to represent the green and white jerseys of Nigeria.
Papilo, as he's fondly called, played for Nigerian team Iwuanyanwu Nationale, Dutch side Ajax, Inter Milan of Italy, and English clubs Arsenal, West Bromwich Albion and Portsmouth in his club career.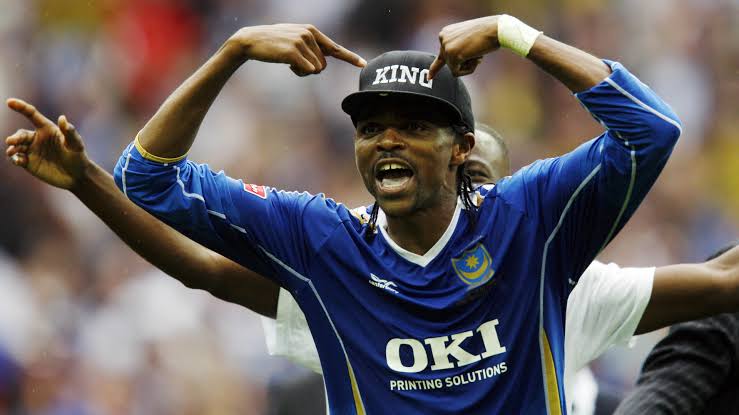 The former African footballer of year, Kanu, won 86 caps and scored 13 goals for Nigeria and won trophies with the country; including FIFA U-17 World Cup: 1993 and Olympic Gold Medal: 1996.
He hails from Arochukwu in Abia state, Nigeria.
Kanu is married wife, Amrachi, in 2004 and they both have three children.
See tributes from Nigerians below;
Papilo, always you dey make us proud!!! Happy birthday

— Akwa Ibom Street Chairman (@1stSarmie) August 1, 2019
That background – it's the Bangalore Palace! Happy birthday Legend! ?? Never knew you came here! Hope you enjoyed your stay!

— AB (@poisontheory) August 1, 2019
Coincidentally, we share the same birthday….happy birthday Papilo

— Michael benjamin (@mickybeny) August 1, 2019
Happy birthday King Papilo. Continue making us proud

— MRMAN (@mrmanodili) August 1, 2019
Happy Birthday our Olympic Hero. Man as humble as Papilo

— BASHIR MUSA (@senatorbash) August 1, 2019
Happy birthday papilo,, thank you so much for putting smiles on the faces of millions of Nigerians

— Eze Orizer (@EzeOrizer) August 1, 2019
Glory be to God. Not others alone don't also forget your maker. Work for God too. Wish you more success.

— olabamiji shola (@olabamijiemman1) August 1, 2019
God give u more years to live ooo

— Bamidele (@Bamidel94465418) August 1, 2019
You're undeniabely a legend… but Its ignorant to believe is a higher power. (The U.K a supposed 1st world county experiences things beyong words.. but im also in touch with the things happening not just in NIG but Africa as a continent).

— Realist (@Aidank20) August 1, 2019
Happy birthday legend

— Shi Fu (@OgbeniFuzzy) August 1, 2019
Happy Birthday Papilo! Your dedication to work and your generosity to total strangers will always inspire I and many others to do better. God Bless you King Kanu. ??

— FAVOUR ONYEOZIRI (@lifeofrouvafe) August 1, 2019
Happy Birthday Papilo! Your dedication to work and your generosity to total strangers will always inspire I and many others to do better. God Bless you King Kanu. ??

— FAVOUR ONYEOZIRI (@lifeofrouvafe) August 1, 2019
A very HappyBirthday my dear brother ???. Many more happy returns. God bless

— Kalusha Bwalya (@KalushaPBwalya) August 1, 2019
You're a blessing to so many! Today may you enjoy many blessings, love and light ✨??

— Carol Tshabalala (@SimplyCarol8) August 1, 2019