Chelsea fans have once again been subjected to online trolling following new manager, Frank Lampard's inability to record a win in Friday's pre-season Club friendly against Japanese side, Kawasaki Frontale FC.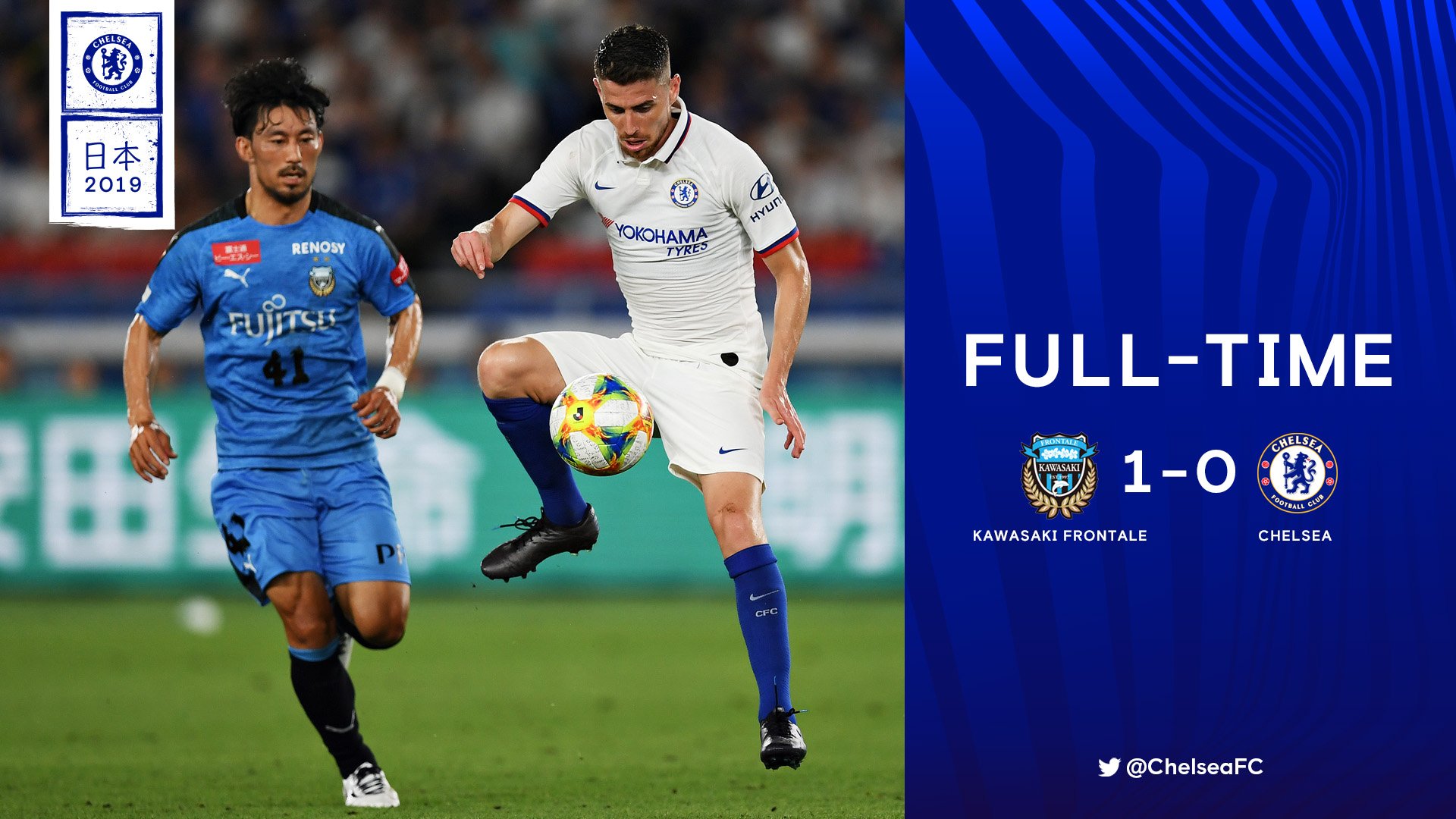 Brazilian striker Leandro Damião's lone goal was the difference between the London club and their Japanese rivals, inflicting first defeat on Frank Lampard's teams since he took charge.
Chelsea have played three games since the Europa League Champions appointed club's legend, Lampard as head coach; a 1-1 draw against Bohemians, a 4-0 victory over St. Patrick's Athletic and this defeat in Japan.
Following the game, supporters of rival clubs have gone to social media to troll their London rivals over the unsteady form of the new manager.
41 year-old Lampard was appointed Chelsea head coach on 4 July 2019 following the departure of Maurizio Sarri, with a lot of observers being rather skeptical about his chances of succeeding at the club.
It's no surprise that the #LampardOut hashtag always surfaces after every game.
check out some of them below:
Imagine thinking ' #LampardOut ' is by Chelsea fans & not by rival fans?

— Lampard's Chelsea (@BringBackKalas) July 19, 2019
#LampardOut trending gives me so much joy.
Forced a good manager in Sarri out, now not even wanting to be patient with a club legend as manager because they've lost a pre season game ????

— Chris Burt (@ChrisBurt13) July 19, 2019
So embarrassing to see that #LampardOut is trending again. Before it might of been rival fans but I'm pretty sure it's the negative so called Chelsea fans who just want to be miserable. This is preseason & will take time to find the right system, team. So please be patient. #CFC

— Frank Khalid (@FrankKhalidUK) July 19, 2019
I'll need it after that embarrassing showing. Cant believe we gave up Sarri only to watch a championship manager choose average players over the youth #LAMPARDOUT

— James Thom (@JamesTh97024119) July 19, 2019
Chelsea fans trying to calculate how many defeats they will get after losing 1-0 to Kawasaki Frontale #lampardout #Lampard pic.twitter.com/WN2q3qyxxc

— Buzi Brown (@buzibrownie) July 19, 2019
Frank #Lampard's pre-season so far

➖ Bohemians 1-1 Chelsea
✔ St Patrick's Athletic 0-4 Chelsea
❌ Kawasaki Frontale 1-0 Chelsea #lampardout

Chelsea fans: pic.twitter.com/qr9TxT79Q1

— Buzi Brown (@buzibrownie) July 19, 2019
Embarassing, Get him out before it's too late. #BringBackSarri #LampardOut

— Quad (@Bericx_) July 19, 2019
Is it me or Chelsea just lost to the motorbike? #lampardout pic.twitter.com/RJafHXEQiZ

— Sergee POGBAkov (@sirmelon) July 19, 2019
Lampard after two months at #CFC and seeing #LampardOut trend every weekend ? pic.twitter.com/6qhs3Ygg4a

— Managerial Mindset (@ManagerialMinds) July 16, 2019
I repeat #LampardOut is not from Chelsea fans
I repeat #LampardOut is not from Chelsea fans
I repeat #LampardOut is not from Chelsea fans
I repeat #LampardOut is not from Chelsea fans
I repeat #LampardOut is not from Chelsea fans

Thanks
LampardArmy pic.twitter.com/53gjTXrryY

— Adefemi Lawalson (@ophemmi) July 19, 2019
#LampardOut trending hahaha probably mostly Arsenal fans being little twats but still funny hahaha

— ????? (@Jontylaaad) July 19, 2019
Lampard has lost the plot. chelsea need sarri back. #LampardOut pic.twitter.com/ejEJRJkAZJ

— Rakuten Holmes (@HolmesRakuten) July 19, 2019
What's your take? Drop comments below