Baghdad Bounedjah scored just two minutes into the 2019 Africa Cup of Nations (AFCON) final showdown against Senegal to break the record for fastest goal at the competition set by Odion Ighalo and make the Desert Foxes African champions with a 1-0 win over the Teranga Lions on Friday.
Ighalo had scored three minutes into the third place playoff against Tunisia which ended 1-0 in Nigeria's favour, with the goal in the running to end as the fastest one scored in the competition.
But that was until Bounedjah's shot from outside the area deflected off Salif Sane and looped sky high over a rooted Senegal goalkeeper Alfred Gomis into the goal after only two minutes.
#SENALG but gag ?‍♂️??#Algeria vs #Senegal 1-0 goal #baghdadbounedjah pic.twitter.com/vwypUy4nic

— arnaud jose (@jose_arnaud) July 19, 2019
The early goal left rattled Senegal in the early stages of the first half, though, the West Africans recovered to begin asking questions of the Algeria defence with Mbaye Niang coming closest with a fierce strike which sailed just wide of Rais M'Bolhi's goal as the first half ended with Algeria in the lead.
It took a few minutes for both teams to go down the tunnel for the half time break, however, as a fight broke in the middle of the pitch and spilled to the sidelines before tempers eventually cooled and the half-time break was finally observed.
Algeria held off a resilient Senegal side which searched desperately for an equaliser, with the Teranga Lions seeing a penalty initially awarded by the referee overruled after review with the Video Assistant Referee (VAR) midway through the second half.
The penalty is off. #SENALG #TotalAFCON2019 https://t.co/QTCLOjZHBK

— CAF (@CAF_Online) July 19, 2019
Emotions began to run high as the game wound down to an end,with the challenges getting crunchier as both teams battled hard to claim the crown of African champions.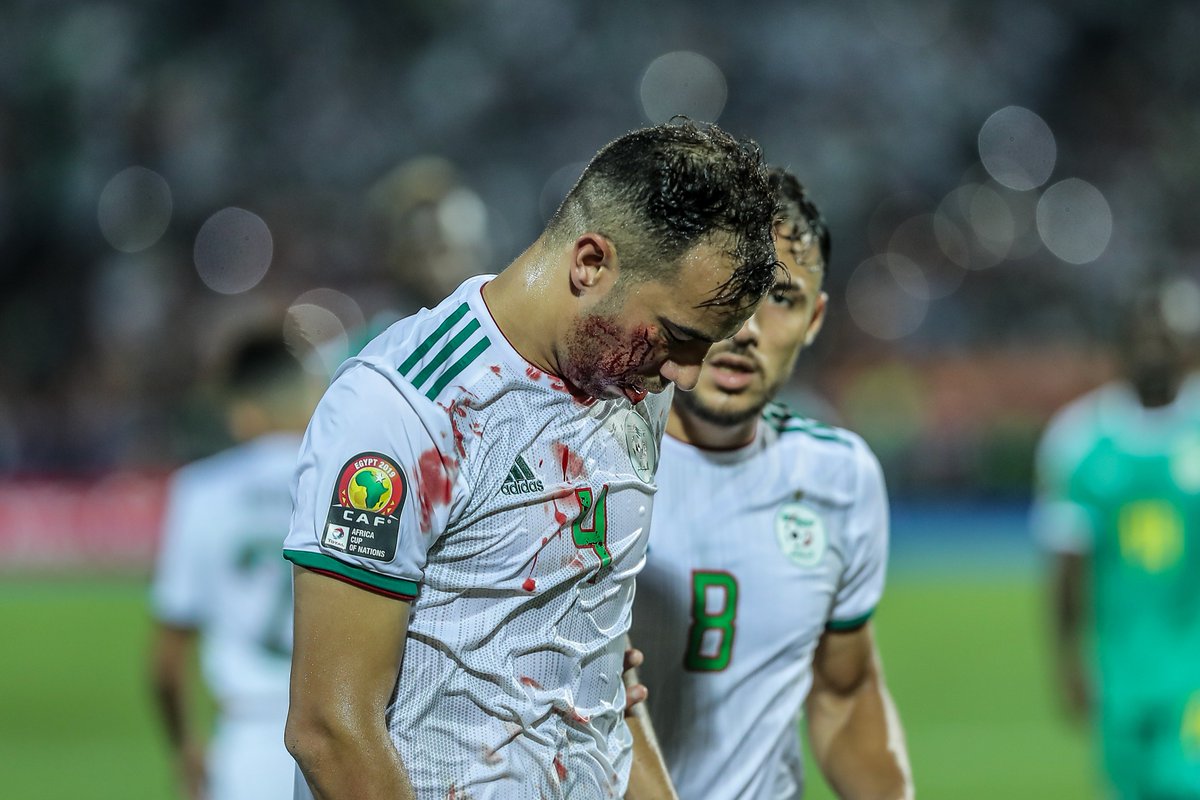 This was seen most when Djameleddine Benlamri was left bloodied after coming off worse in an aerial challenge with Senegal's Ismaila Sarr.
We all heard that scream ouch! #AFCON2019 #ALGSEN pic.twitter.com/VU0TLhBkbw

— Khadija ?? (@basickhadija) July 19, 2019
Senegal were handed one final chance to send the game into extra-time after winning a free-kick at the edge of the Algeria box, but Sane's attempt was blocked by the wall in what turned out to be the last kick of the AFCON 2019 final.
#SENALG Bravo l'algérie !
C'est l'Afrique qui gagne ?? #ALGSEN #CAN2019pic.twitter.com/aEKFCUJTzD

— Josly Ngoma (@josly_ngoma) July 19, 2019
The win saw Algeria become African champions for the second time ever following the win over Nigeria to lift the title on home soil in 1990.
Are Algeria deserving champions of the 2019 Africa Cup of Nations?
The night's victors ?#TotalAFCON2019 pic.twitter.com/ET8eNPR4iC

— CAF (@CAF_Online) July 19, 2019
Share your thoughts on the final showdown with us in the comment section.