The Super Eagles of Nigeria have failed to make it the the final of the 2019 African Cup of Nations (AFCON) after a nail-bitting 2-1 defeat to the Les Fennecs of Algeria at the Cairo International Stadium in the second semi final clash on Sunday.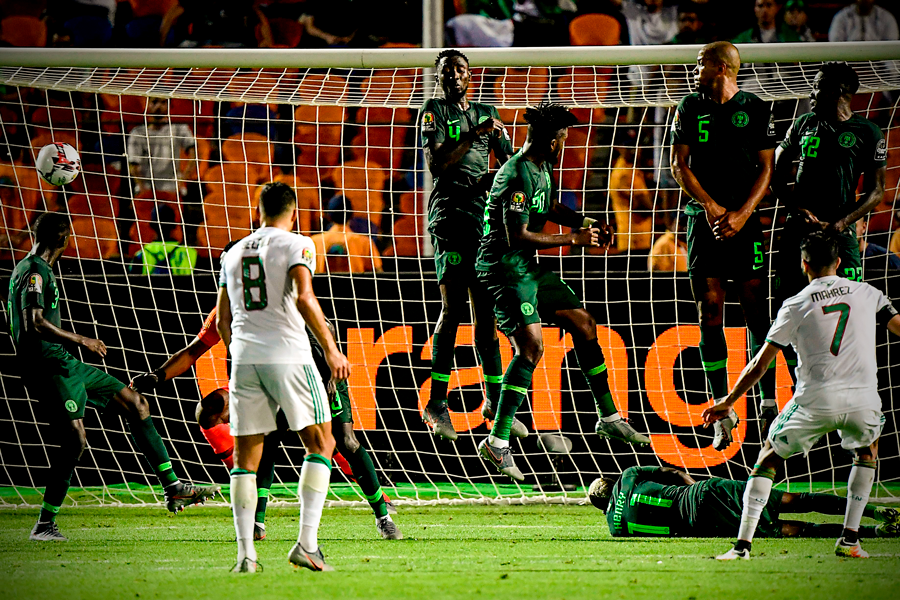 A Riyad Mahrez beauty of a free kick fired Algeria into the finals of the 2019 competition after Odion Ighalo had equalized from the spot for the Super Eagles to put team level with the Algerians following William Troost-Ekong's first half own goal.

Nigeria's Super Eagles now play fellow North African side Tunisia in the losers final at the Al Salam Stadium in Cairo on Wednesday, but Nigerians have taken to Social Media to thrash the Green Jersey which have been termed as 'Bad Luck'.
I really prefer that other jersey ??

— #MoralInstruction (@falzthebahdguy) July 14, 2019
This Jersey is cursed
Retweet if u agree?
#ALGNGA pic.twitter.com/KisiRhaYCw

— Fortune ALF (@AlfFortune) July 14, 2019
It's official this jersey is bad luck #ALGNGA pic.twitter.com/hAw0OGx8kL

— Njidda aminu (@Njiddaaminu1) July 14, 2019
And the cursed jersey has worked it's magic again… #ALGNGA pic.twitter.com/yUeXzKiQuQ

— The Futurist (@OduAnuoluwapo_I) July 14, 2019
Now you will believe that this jersey is cursed. Nigeria has lost all matches played with this jersey? #ALGNGA pic.twitter.com/Jc4gRDMA4z

— Choiman (@ChoiManchi1) July 14, 2019
This Jersey was cursed since when it was designed… Argentina flogged us, Madagascar of this year flogged us too, now it is Algeria, same jersey same pattern of eviction #ALGNGA pic.twitter.com/kCAxavqCxc

— Lord_Kira (キラ✡️) (@_Galadeemah) July 14, 2019
Dear #thenff/#NGSuperEagles

If you don't ban the super eagles from weary this particular jersey, count me out from supporting the Super Eagles ?

Signed
Proudly Nigerian Citizen
Cc #Fifa #algnga #ighalo#mahrez pic.twitter.com/Cwn3ttyQx2

— Eazzykevs (OSINACHI) ?????? (@Eazzykevz) July 14, 2019
It's always loss with this jersey @thenff please change this cursed jersey.

World Cup 2018
Nig vs Croatia 0-2 loss
Nig vs Argentina 1-2 loss

Afcon 2019
Nig vs Madagascar 0-2 loss
Nig vs Algeria 1-2 loss
#ALGNGA pic.twitter.com/Av2YDtr0tn

— J A Y P E E (@djucee) July 14, 2019
This jersey need to be banned https://t.co/u2jxVVJiNK

— EmMyBaNkZ (@bestinboiz) July 14, 2019
almost wore this jersey to write my final exams ?? https://t.co/cDiQbjIb1g

— Bruhhh (@bruhver) July 14, 2019
WHAT'S YOUR TAKE? DO YOU ALSO FEEL THE GREEN JERSEY IS CURSED?