Since 2008, football fans have seen the Ballon d'Or award meant for the best male footballer of the year dominated by Lionel Messi and Cristiano Ronaldo. In fact, they have won ten of the last 11 editions of the award, rewriting every record in the books during their careers.
2018 was the first year since 2007 – when Kaka took the award home – that someone other than Messi or Ronaldo won the Ballon d'Or. Last year, Luka Modric was named the best player in the world, ahead of Messi and Ronaldo. The Croatian was a key member of the Real Madrid side that won three consecutive European titles before leading his country to the World Cup final.
This year, both players have been eliminated from the UEFA Champions League although they have both secured the League winners' medals for this campaign. It has become fairly obvious that their time as the best players in the world may be over but they denied several talented stars the opportunity to win the crown during their joint reign.
Here are some players that could have won the Ballon d'or if not for Messi and Ronaldo.
Phillip Lahm
Lahm was hugely underrated while he was playing. He spent his whole career with Bayern Munich, barring a short spell away on loan at Stuttgart, and will go down as one of the club's most successful players. He was very much a modern fullback, setting the pace for the new age wing backs in the game today.
The German World cup winner was as good going forward as he was going the other way, and was consistently a star performer for Bayern. He also showed his adaptability in the later years of his career, playing as a holding midfielder under Pep Guardiola.
He won eight Bundesliga titles with Bayern Munich, and was part of their Champions League winning side in the 2012/13 season. He also achieved success on the biggest stage, the World Cup.
He became the first man since Lothar Matthaus to captain Germany to a world title, and retired from international football soon after. He never really was mentioned in regards to the Ballon d'Or during his career, and that is a shame for someone of his quality.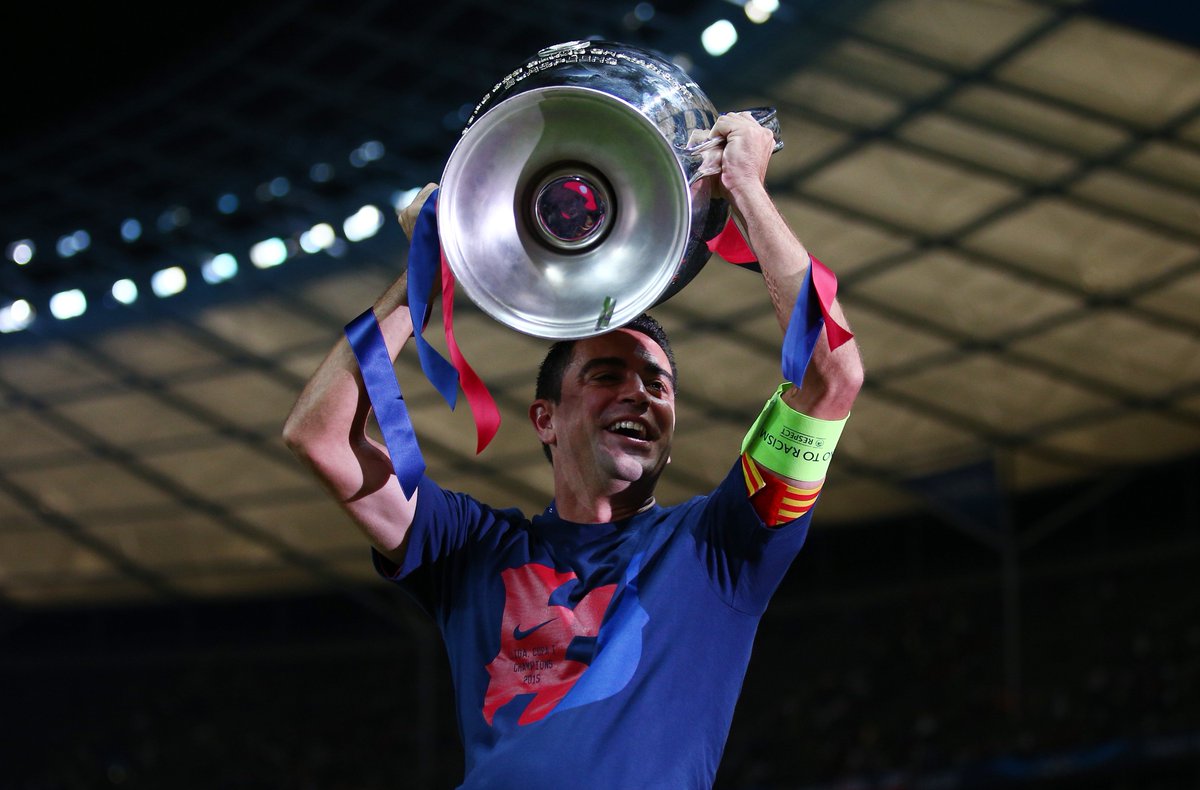 Xavi Hernandez
Xavi is a man who probably suffered most from Messi and Ronaldo's dominance of the Ballon d'Or in recent years. He spent 17 years in Barcelona's first team, during which he proved himself as one of the best centre midfielders ever to play the game.
His ability to dictate the tempo of a game was magnificent, and one which was crucial during Barcelona's dominance of European football, particularly during the reign of Pep Guardiola.
Because of this, the list of titles won by Xavi in his career in pretty extraordinary. He finished his Barcelona career with eight La Liga winners medals, four Champions League titles, and numerous domestic trophies. He was also part of Spain's golden era, winning two European Championships, and the 2010 World Cup.
He wasn't far off winning the Ballon d'Or, coming third in three consecutive years from 2009, all three of which were won by Messi.
Ryan Giggs
There are very few more decorated footballers in the history of the game that Giggs, who finished his career with 34 trophies to his name. All of these came at Manchester United, with whom he spent his whole career, making 963 appearances in all, the most of any player in the Red Devils' history.
He was part of the furniture at Old Trafford, and it was a huge loss when he left the club altogether in 2016, before taking over as Wales manager. Given the number of trophies he has won, and amount of records he has broken over the years, it is surprising he hasn't won more individual honours.
He won a record 13 Premier League titles, during a period where he also scored in an impressive 21 consecutive league seasons. He was often outshined at the club by players that were more technically gifted, in particular, the likes of Cristiano Ronaldo and Eric Cantona. However, because of his level of performances over such a long period of time, he will be remembered as a great player.
Andres Iniesta
The term genius is often overused in football, but with Iniesta, it is most certainly an apt description. Alongside Xavi and Sergio Busquets, he was part of one of the best midfields that we have seen in world football, and dominated Europe in the late 2000s and early 2010s.
Iniesta also scored perhaps the most famous goal in the history of Spanish football, when he scored the winner for his country against the Netherlands in the 2010 World Cup final. He initially came through as a defensive midfielder at Barca, but it was clear to see early on that he had all the attributes to play higher up the pitch.
His ability to see a pass, and his inventiveness and creativity mean that he was almost the complete midfield player. His understanding with Xavi at both club and international level was exceptional, and was one of the things that made him such a great player. He was runner-up for the Ballon d'Or in 2010, but missed out to his club teammate, Lionel Messi.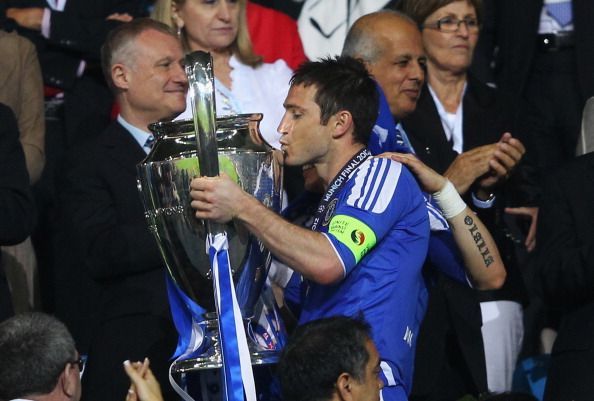 Frank Lampard
One of England's golden generation, Lampard is perhaps the greatest goalscoring midfielder of his generation. He built his reputation at Chelsea, after moving from West Ham in 2001, and is also regarded as one of their greatest players. Lampard was a part of Chelsea's most successful era at the club.
He won three Premier League titles with the Blues, and also captained them on the night they won the Champions League in Munich in 2012. Lampard was a master of his art in midfield. He was an accomplished passer of the ball, but the main strength was his ability to get goals.
He had a knack of arriving at the right time, in the right place to put the ball in the back of the net. He is the highest scoring midfielder in Premier League history, having netted 177 goals in his time with West Ham, Chelsea, and Manchester City. He was runner-up in the 2005 Ballon d'Or list, losing out to Ronaldinho.
Andrea Pirlo
There can't have been many cooler players to have played the game of football than Andrea Pirlo. He was the epitome of calm on the pitch, and he just made the game look so easy. If there is any evidence needed of how calm and collected he was, it comes in his autobiography, where he said: "I don't feel pressure … I don't give a toss about it. I spent the afternoon of Sunday, July 2006 in Berlin sleeping and playing the PlayStation. In the evening, I went out and won the World Cup."
Pirlo made a name for himself with AC Milan, before moving to Juventus later on in his career. The success he had was undeniable.
He won six Serie A titles, as well as winning the Champions League on two occasions. He also proved that he could perform on the biggest stage, and won Man of the Match in the 2006 World Cup final. He finished fifth in the Ballon d'Or in 2007, the closest he came to winning the award in his career.
Thierry Henry
Perhaps the Premier League's greatest import, Henry lit up English football after his move from Juventus in 1999. An awful lot of credit must go to Arsene Wenger for this one. Henry was an unknown quantity when he joined the Gunners, and was naturally a left winger.
Wenger though saw his potential as a striker, and made Henry into the player that we all know and loved in the Premier League. His time at Arsenal saw him score 226 goals in just 369 games, including netting 30 goals in five consecutive seasons, and was notably part of the Invincibles in the 2003/04 season.
He left the club in 2007 to join Barcelona, in search of the one trophy that evaded him, the Champions League. He won that in 2009, and would go on to play out the final days of his career with New York Red Bulls. Henry did come close to claiming the Ballon d'Or in 2003, finishing second behind Pavel Nedved.
Zlatan Ibrahimovic
Lots of players talk the talk, but very few players walk the walk as well. No one in football has quite the ego that Zlatan has, but he has certainly been able to back that up on the pitch. Ibrahimovic has played his football all around Europe, and although he is a bit of a marmite figure for some, there is no doubting that he has been one hell of a footballer.
He played his football in six nations in Europe, and impressed in every single one of them. It is hard to pick out just one spell from his career, but his longest time with a single club was at PSG, where he played 180 games in all competitions, scoring a quite remarkable 156 goals.
He has succeeded almost everywhere he has been, and has won numerous trophies in his career. The closest he came to winning the Ballon d'Or was in 2013, where he finished in fourth place.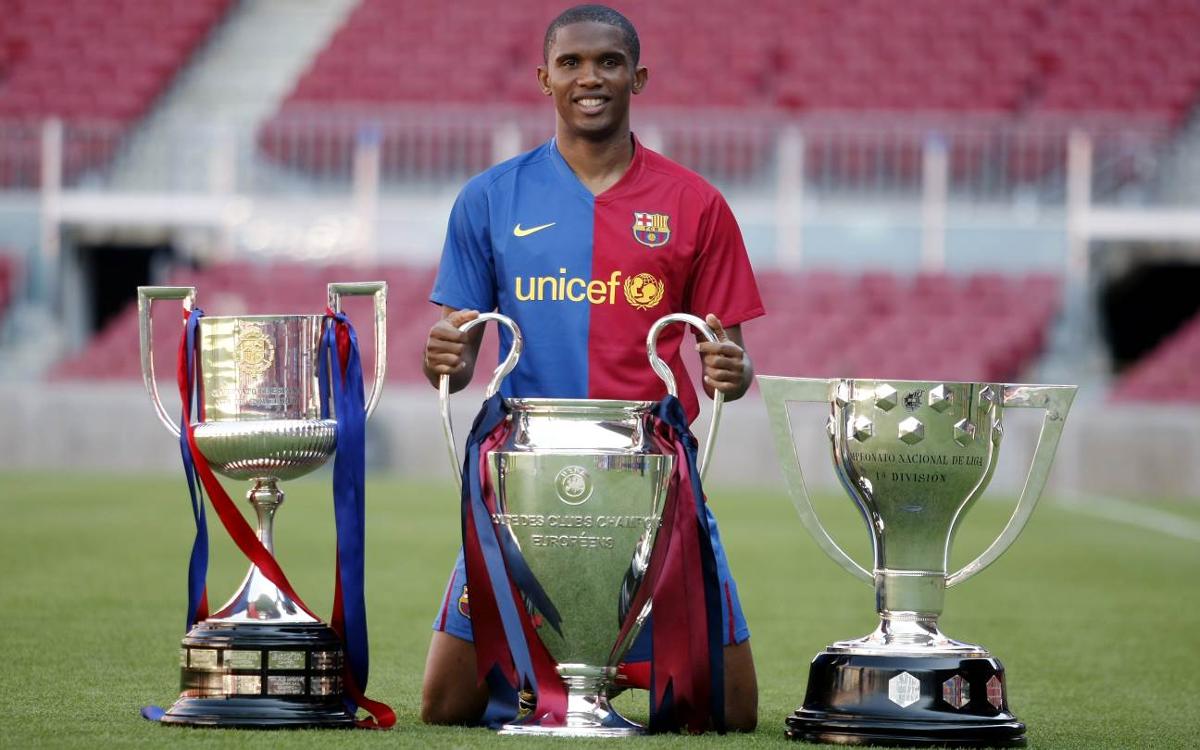 Samuel Eto'o 
There is only one footballer in the history of the game to have won the Treble back to back. Eto'o helped Barcelona to the Champions League title in 2009 by scoring the opening goal in the final before he was transfered to Inter Milan.
The African legend also won the African Cup of Nations twice while he was crowned as the best player from Africa four times, no other player has won the award more times but Yaya Toure has won the award 4 times as well.
Samuel Eto'o, who is Africa's most decorated player with the Olympic Gold medal, several league titles and golden boot and became the first to win back-to-back Champions League titles with two different clubs (FC Barcelona in 2009 and Inter Milan in 2010), never won the Golden Ball.
.
Gianluigi Buffon
Buffon has enjoyed an incredible amount of success during his career, particularly at club level. He captained Juventus to the Serie A on seven consecutive occasions, with the final one being last season, at the end of which he left the club for PSG. He was also part of Italy's World Cup-winning squad in 2006, his only major international honour.
One medal missing from his collection, is the Champions League. Juventus have finished as runners-up in two of the last four seasons, and had he won one of those, he may have taken home the Ballon d'Or. He came fourth in 2017, one of the years his side were beaten in the final of Europe's premier club competition.
Only one goalkeeper has won a Ballon d'Or during its 62-year history, and that came in 1963, when Dynamo Moscow goalkeeper Lev Yashin, playing for what was then the Soviet Union, won the award.