In the football world today, African players have been seen mostly representing European sides rather than turning out for their country of birth. But most of this players are black and is obvious for you to know they are naturally Africans. In this article, we take a look at players who aren't blacks but have African blood in them.
Check out the list of white players you didn't know have African blood in them:
Ross Barkley: Chelsea star Ross Barkley was eligible to turn out for the Super Eagles before making his competitive debut for England senior squad in 2013. Prior to his debut against Moldova in a World Cup qualifier, the Liverpool-born attacking midfielder had announced himself that Nigeria were one of the countries he could have represented apart from England.
Reports have suggested that Barkley's eligibility for Nigeria was through his grandfather but it's much closer than that. The attacking midfielder has a Nigerian father, Peter Effanga, who resides in Liverpool and worked at the Getrag Ford Transmission plant. Ross is answering his mother's maiden name Barkley because of a strained relationship with his dad.

Karim Benzema: Karim Benzema is a French footballer. He plays for Real Madrid and the French national football team.
His grandfather, Da Lakehal Benzema, lived in the village of Tighzert, located in the northern town of Beni Djellil in Kabylie, Algeria, before migrating to Lyon, where he eventually settled in the 1950s. Karim's father, Hafid, was born in Tighzert, while Karim's mother, Wahida Djebbara, was born and raised in Lyon; her family originated from Oran.
Karim grew up in Bron, an eastern suburb of Lyon. His younger brothers, Gressy and Sabri, are also footballers. As a practicing Muslim, Karim observes fasting during the Islamic holy month of Ramadan.
Zinedine Zidane: Zinedine Zidane is a French football player and coach. He is considered one of the best ever in the history of the game. He is of Kabyle Berber descent. His parents, Smaïl and Malika, emigrated to Paris from the village of Aguemoune in the Berber-speaking region of Kabylie in northern Algeria in 1953 before the start of the Algerian War.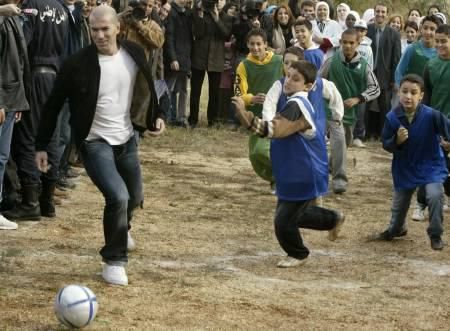 Zinedine is married to Veronique Fernandez, who is of Spanish descent. The couple has four children. Zinedine has described himself as "a non-practicing Muslim."
Nabil Fekir: Born in France to Algerian Parents. He was named in Algeria's squad for friendlies against Oman and Qatar in March 2015. However, he withdrew to take part in the French squad for friendlies against Brazil and Denmark.
Adil Rami: Rami was born in the city of Bastia on the island of Corsica to Moroccan parents. As a youth, his family moved to the mainland, eventually settling in the southern coast city of Fréjus, where his mother worked as a member of the city council.

Rami is the third of four children and has two sisters and one brother. While training to become a professional football player, Rami worked for the city after his family grew concerned for his future. He often did odd-jobs such as taking care of the maintenance and cleanliness of the city.
Cristiano Ronaldo: Cristiano Ronaldo dos Santos Aveiro was born in São Pedro, Funchal, on the island of Madeira, Portugal, and grew up in Santo António, Funchal. He is the fourth and youngest child of Maria Dolores dos Santos Aveiro (b. 1954), a cook, and José Dinis Aveiro (1953–2005), a municipal gardener and a part-time kit man.
His second given name, "Ronaldo", was chosen after then-U.S. president Ronald Reagan. His great-grandmother on his father's side, Isabel da Piedade, was from the island of São Vicente, Cape Verde. Most football fans don't know Ronaldo got an African blood.
SOURCE: Wikipedia
Share your view on this in the comment session below… Thanks