Super Falcons grabbed their first victory at the ongoing Cyprus cup with a 4-3 defeat of Slovakia at the Antonis Papadopoulos Stadium Friday. The Thomas Dernneby tutored side approached the game with all the seriousness it deserved from the first blast of the whistle and their efforts yielded fruits as the scored three quick goals in the first half.
Rita Chikwelu opened the floodgate of goals for the Falcons in the 7th minute. Osinachi Ohale increased the tally in the 28th minute before Chikwelu who from all indications was not satisfied with having only one goal in her name grabbed a second in the 38th minute even as the Falcons held to their 3-0 lead till the end of first 45 minutes.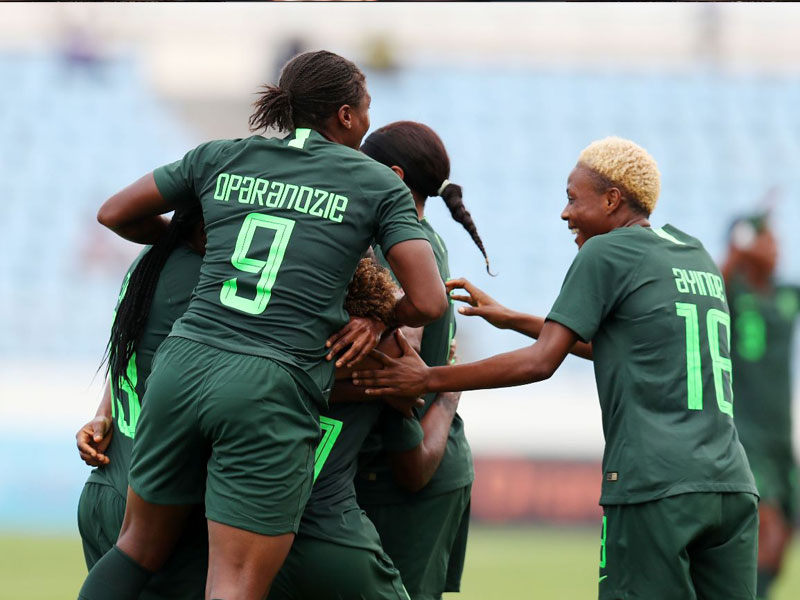 The sound of the music however changed in the second half when Slovakia's Jana Vojtekova got a goal for her side in the 67th minutes of the game just 22 minutes into the second half. The goal did not only come as a ginger for the Slovakian babes but appeared to have told them in clear terms that they can indeed turn the table if the dared. The increased pressure on the Falcons saw the team give away two penalties in quick secession in the 72nd and 76th minutes respectively which Lucia Harsanyova did not fail to convert thus putting both teams at par at 3-3.
The game appeared to be heading for a draw before Anam Imo found the net in the 82nd minute to again put Falcons ahead with victory looking assured at 4-3.  Both teams afterwards went into a ding-dong affair firing from all angles; Falcons with intent to further consolidate and the Slovakians with intent to restore parity to no avails.
Friday's match marks the second defeat for the Slovakians after losing their opening match 3-0 to Belgium, Falcons on their part lost the first match 4-1 to Austria with the consolation goal coming from Assisat Oshoala. The final group match will  be against Belgium on Monday.