Mesut Ozil days may be numbered at Arsenal after it was revealed that manager Unai Emery is considering selling the former Germany international this January.  The German has struggled to make Unai Emery's first team in recent weeks and the Gunners have been on sensational form.
Arsenal would weigh up letting Ozil go for a reduced transfer fee in order to shed his massive £350,000-per-week wage from the books, according to the Sun.  Inter Milan are interested in signing the playmaker and are currently front-runners for his signature.  The 30-year-old's representatives, including his brother Mutlu, are to begin talks with the Serie A club this week.  Ozil hasn't featured in any of his team's previous five fixtures and is currently sidelined with a back injury.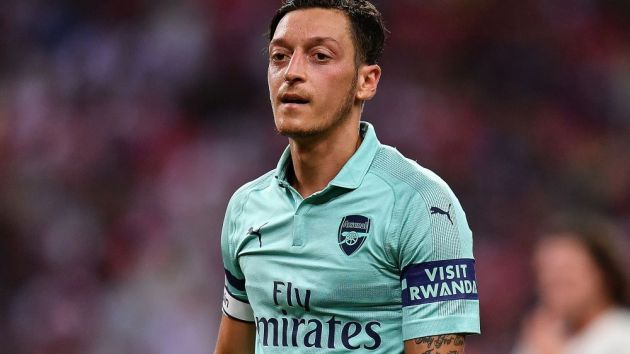 He missed Saturday's 1-0 victory over Huddersfield but tweeted his support, writing: 'Yesss! Three points and the run continues. Good job Gunners.' The former Real Madrid man was one of the players revealed as taking nitrous oxide at a nightclub party three days before the start of the season.  It is understood that senior figures at the club are deeply unimpressed by the behaviour but performances on the pitch have been heartening in recent weeks.
Victory over the Terriers was the 20th game in a row without defeat and Ozil's absence has not seemed to massively impact the group.
Do You think Arsenal are right to sell Ozil ? Share your thoughts below