Whether it's the bond we share with a partner or the equation with our siblings, we're always looking for love, happiness, warmth, and comfort in a relationship. While some relationships give you just that, the others deprive you of your basic needs from that equation that says everything out of you.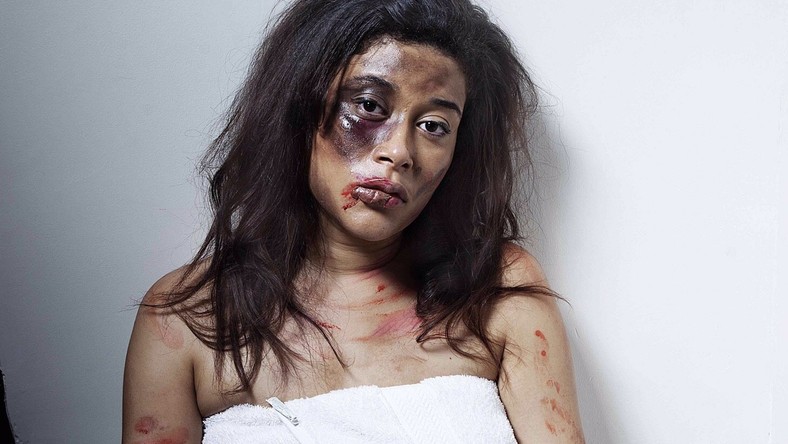 Over the years, numerous cases of abusive partners and parents have been registered. Whether it's verbal abuse, emotional abuse or even worse, physical abuse, any kind of trouble and torcher is a scar not just on your body, but on your soul. Domestic violence isn't something we don't hear about every second day, from our sisters to our neighbours, all of us know at least one person who's a silent victim.
Here's looking at 10 popular faces who've spoken about their painful stories that has given strength to all the victims out there.
Rihanna
We still remember her infamous photograph from 2009 with black eyes and a bruised, bloody face. Abused by her then-boyfriend, Chris Brown, it was later revealed that the Under My Umbrella singer was assaulted by Chris in his car and then left her on the side of the street. But it wasn't until 2015 that Rihanna spoke about it where she addressed herself as 'a poster child for victims of domestic abuse.' But the powerhouse performer, Rihanna went on to say on the cover of Vanity Fair that, "But, for me, and anyone who's been a victim of domestic abuse, nobody wants to even remember it. Nobody even wants to admit to it. So to talk about it and say it once, much less 200 times, is like… I have to be punished for it? It didn't sit well with me."
Pooja Bhatt
Pooja Bhatt was in a relationship with Ranvir Shorey. During the course of their relationship, it was reported that Ranvir had hit Pooja hard enough for her lip to be wounded. In an interaction, Pooja had said, "Aur main ek aise situation mai thi, where I was involved with an actor. A violent situationw as created, we had to endure it, and it was a field day."
Reese Witherspoon
In an interview with Oprah Winfrey, Reese went on to reveal that she was in an abusive relationship during her youth. Speaking about the most difficult decision she ever had to make, Reese revealed, "For me probably leaving an abusive relationship." She went on to add, "My brain just switched and I knew it was going to be very difficult but I just couldn't go any further. I was a different person too. It changed who I was on a cellular level – the fact that I stood up for myself."
Zeenat Aman 
Legendary actress who continues to win hearts with her phenomenal contributions to cinema has been a victim of domestic violence in the past. Ardent fans still remember Zeenat being beaten and abused by Sanjay Khan. After getting married in Jaisalmer in 1978, Sanjay and Zeenat were married for less than a year. Dating back to a report in 1980, Zeenat was bleeding and crying and the doctor had said, "This is not the first time this man has beaten her. Once before she was given a black eye and kicked in the ribs so hard that I insisted on an X-Ray for fear of a crack." Although the actress has never directly addressed the issue, fans from generation know the suffering Zeenat Aman has been through.
Mariah Carey
During her early twenties, Mariah was married to Tommy Mottola who was twenty years older to her. The couple split within four years of marriage and opened up about it on her TV programme, Mariah's World where she revealed that she was suffering 'coercive control at the hands of her former husband. "I was with someone at the time that had a lot of control over my life. He was older than me by a lot and had a lot of power and he wanted me to remain away from most people. I never thought I would get out of there."
Mandana Karimi
After wowing the world with her good looks and performance in Bigg Boss. She fell in love with Gaurav Gupta. Within six months of their wedding, Mandana fined a case of domestic violence at Andheri magistrate court. A report had written, "In her petition, the model-actress asked for maintenance to the extent of Rs 10 lakh per month for her basic needs, necessities and requirements, besides a compensation of Rs 2 crore for the trauma and agony caused, and loss of career and business."
Christina Aguilera
The celebrity was abused as a child by her father who abused her mother as well. Christina had spoken to Glamour in 2007 that, "I work very closely with a shelter near Pittsburgh. One day I hope to open a shelter of my own. I think it's really important to share my own story with women who've been abused, because going through that experience has lead me to where I am today: It's given me the strength and motivation to be the best that I can be."
Yukta Mookhey
The former Miss World suffered domestic violence by her husband, Prince Tulli. In 2012, Yukta submitted a written application in the police station against her husband alleging harassment and abuse. The police had carried out an inquiry but no FIR was registered.
Charlize Theron
Raised in South Africa, Charlize grew up in an abusive household with her mother and alcoholic father. But in an act of self-defense, Charlize's mother shot and killed her father while she was only 15. Although she's never openly addressed the issue, the world knows that Charlize is a fighter.
Shweta Tiwari
Shweta's tragic tale is world knowledge. Before her divorce, Shweta opened up about her abusive marriage of 14 years to Raja who reportedly came home drunk and physically harmed her. During their marriage, Shweta has reported against Raja for physical and verbal abuse in the police station.
Times Now News
Leave your comments below…