Nigerians are no doubt one of the most religious people in the world, yet ungodly.  There are too many religious people in Nigeria and you sometimes wonder if Nigerians can do without religion. So many Christians go to church almost everyday just to listen to their pastors. Some even forget to pray for themselves and on their own. They believe they can not communicate with God until their pastors do that for them.
It is so funny how most of these Christians have been brainwashed and act on whatever their pastors say. Most of the people who claim to be Christians are just mere church goers who grew up knowing that you have to go to church every sunday, give offerings and tithe and say your prayers.  They are only Christians because they inherited it from their parents and not because they understand what it entails.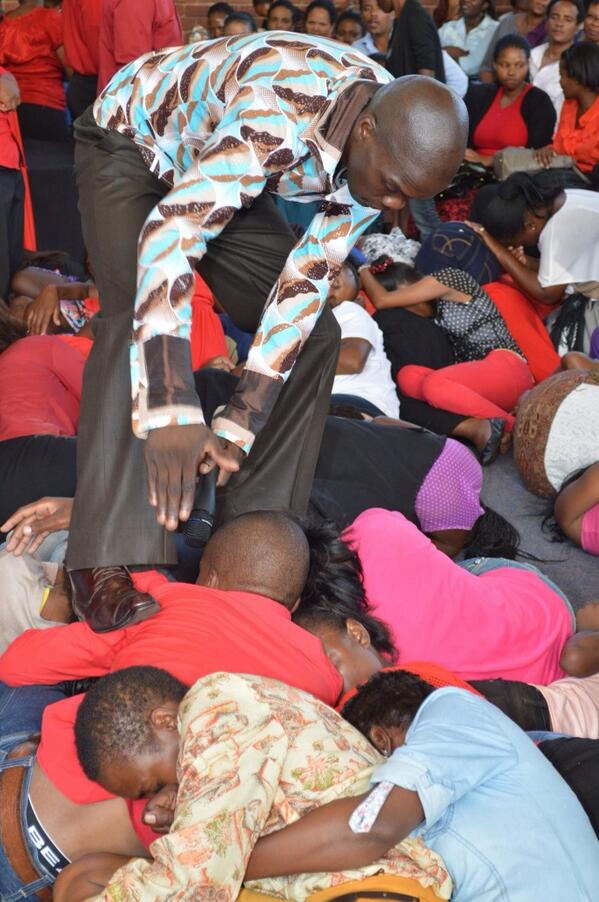 Many are Christians because they need to believe in something. A lot of people just want to believe in something they cannot comprehend. People want to look up to something or someone higher than them and would do anything to hold that belief. Every family and friends are so engrossed in being called a Christian and because you just want to feel among, you join them.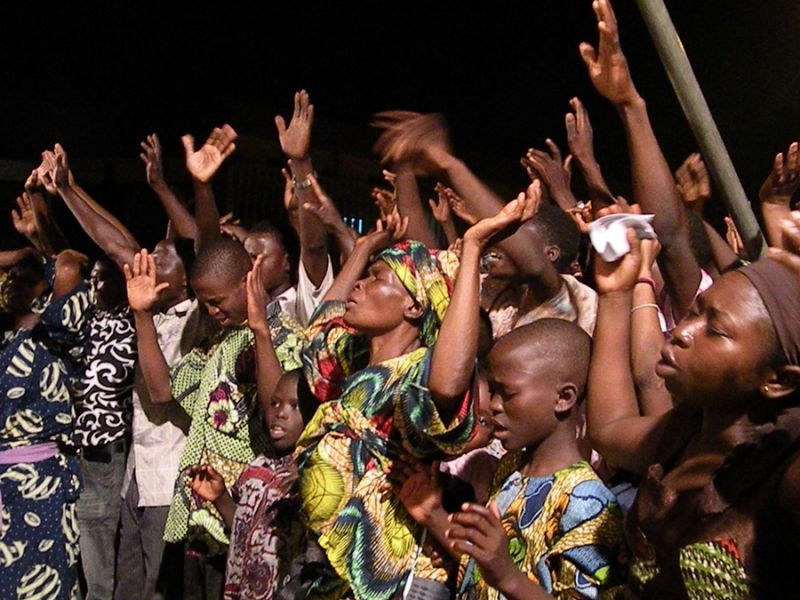 It is quite amazing how people who do not even read their bible are the ones who would quote passages because it is what their pastor told them.  The most popular sentence used by an average Nigerian Christian is " My pastor said that".
Nigerian pastors have recently hit the headlines for all the wrong reasons for their weird methods in ministering to their followers.
The antics they have used in 'curing' medical conditions, exorcising demons, making them believe in magical ways they can make money, have been very mysterious and comical. Nigerian pastors have taken the lead in performing tricks like spraying the congregation and forcing them to drink insecticides, luring women seeking miracles to have s*x with them, raising the dead, 'turning water to wine', newspapers to money, walking on church members and a lot more.
To the surprise of many, members usually believe in anything their pastors say and YES they listen to them. See one of the videos that is presently trending on the internet:
It can be seen in the video above that church members were told to form a straight queue as they take turns in allowing their pastor pour coke and fanta on their head all in the name of receiving salvation. We have heard many cases of some of these pastors trying to prove that they can perform all the miracles Jesus did in the bible and of course their followers believe in their magic and miracle.
Sometime ago, a pastor was exposed after using potassium permanganate to wash the feet of his members to claim that blood was oozing from their feet as a sign of healing.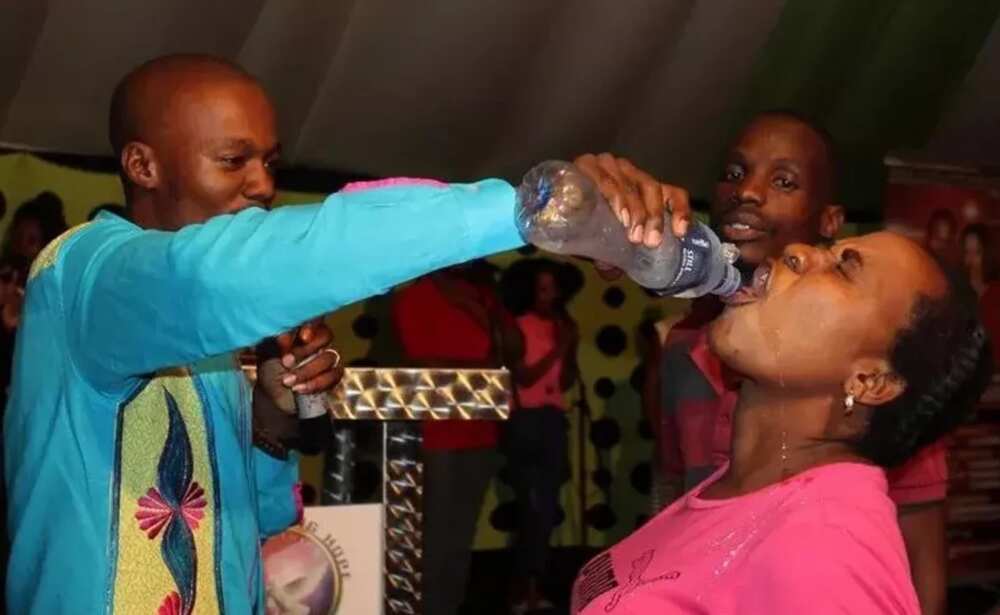 Another pastor was said to have sprayed Doom insecticide directly into the eyes and faces of his church members in the name of healing. Report also has it that the same man crushed a woman with a giant speaker while trying to demonstrate God's protection.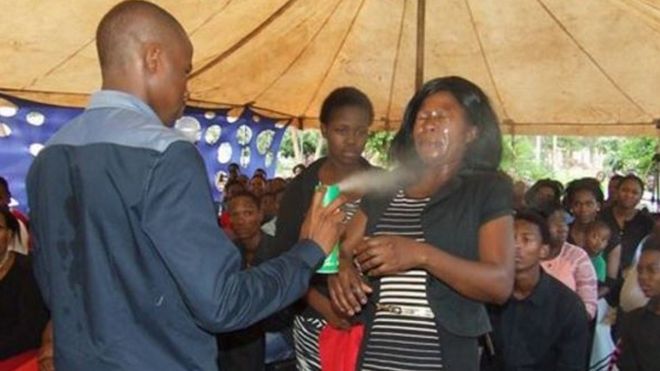 How gullible can Nigerians be all in the name of salvation, search for magic money and good life? They ignorantly fall into wrong hands. Another pastor was captured on tape stepping on the abdomen of a woman who was reportedly pregnant to exorcise evil spirits.
He was also videotaped grabbing men's genitals to heal them of erectile dysfunction. Some congregates were made to eat snakes in the name of chocolate. He later pulled off another by driving his car on top of sleeping congregates to demonstrate power.

A pastor also instructed members of his congregation to drink petrol, claiming that he had turned it into pineapple juice.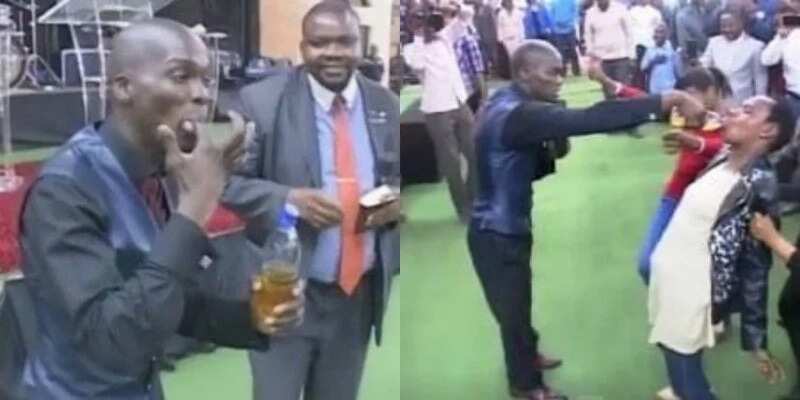 He had earlier commanded his flock to eat grass so as to be close to God. For most Christians, religion is an escape route from all the challenges they are facing.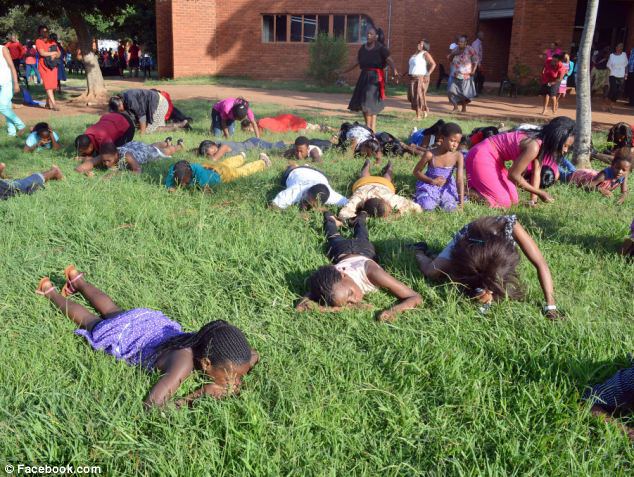 A lot of people find solace in going to churches and because of that, they live for the pastor and do anything he says. These same pastors will bamboozle anybody with their speeches. The way they will speak about prosperity will have you believing that it comes by praying and sowing seed alone without working for it.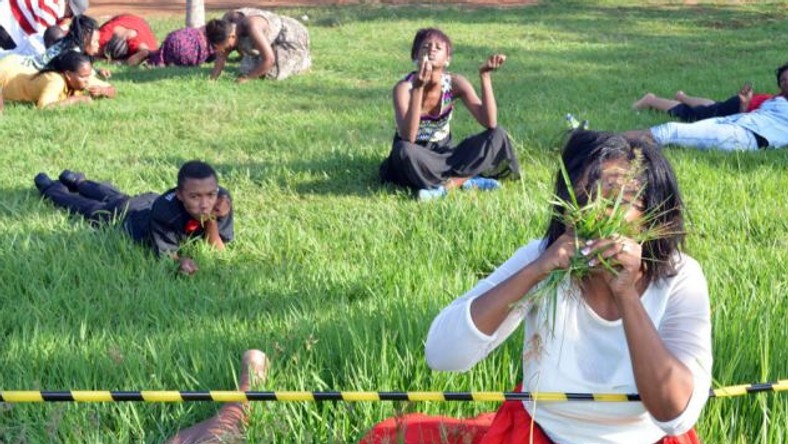 Christianity has turned out to be modern slavery amongst Nigerians who have already been misled because they are always desperate for miracles, healing and a solution to their problem that they end up doing very 'strange things' ordered by some so-called 'men of God'.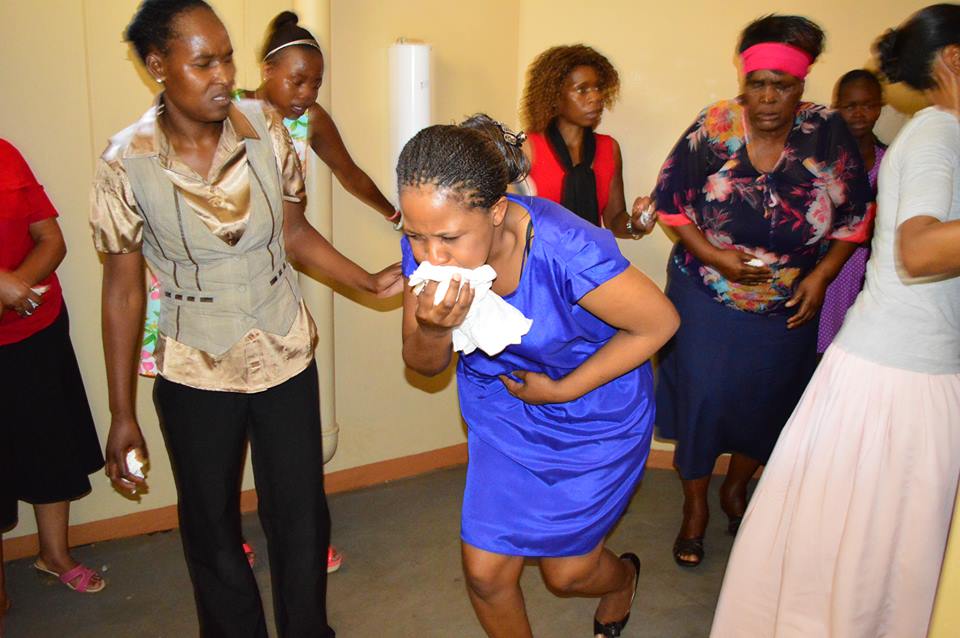 Some pastors have found outrageous ways to milk money from people and their followers tend do whatever they are ordered to do by their pastor no matter how ridiculous it looks.
How unfair can these pastors be to the naive ones in Nigeria?