It's a common knowledge that most tailors in Nigeria often disappoint their customers. To the surprise of many, a young lady was seen sewing a dress after she was fully dressed in her wedding regalia . She explained what happened after she posted a picture of her self putting on her wedding gown and using a sewing machine to quickly make an amendment on one of her brides maid dresses on her facebook.
She said : You see this picture, it has a story… I made my maids of honor dresses but one out of all needed adjustment . Hmmm what to do? I was already dressed as the bride oonn.. My friends that sews couldn't use my table top electric machine so i had to do what i know how to do( Sewing of course) lol… Na so wey camera man come begin use me learn work ohh.. Be proud of what you do, no matter.. No matter where you are …
Almost everyone usually require the services of a tailor but our indigenous tailor in Nigeria has failed times without number, to utilize this golden opportunity effectively and efficiently because of there poor attitude to the work. Most people now find it hard to patronize tailors because they find it difficult to keep to there words.
It is no longer news that Nigeria tailors find it very difficult keeping to time and it has made many people stick to ready-made clothes instead of taking there clothes to a tailor to sew the desired outfit they want.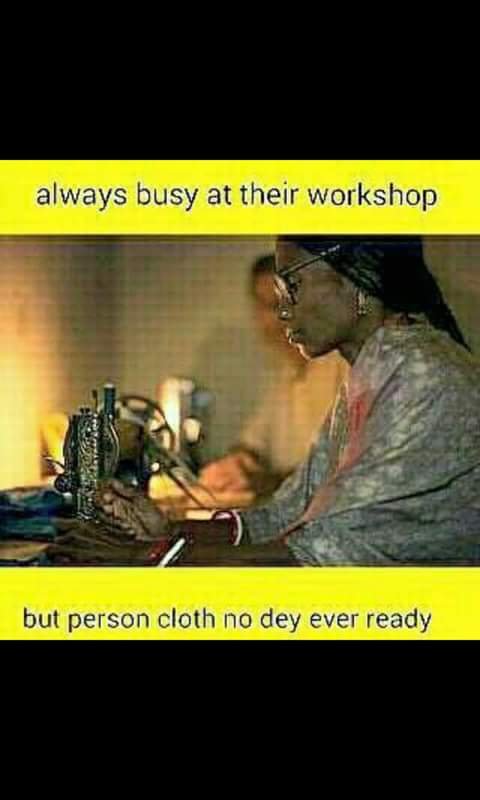 Fortunately, this lady has proved that all Nigerian tailors are not the same by coming through for her brides maid at the last minute . She seems to be the greatest of all time with this attitude that she has shown.
Despite all this disappointment from tailors, we are still awarded one of the best designers in Africa that sews breath taking outfits but is not as easy identifying them.
Have you ever been disappointed by a tailor before.? How did you react? Share your experience in the comment section let's smile a bit..
Source: Instagram
Images : Google