A Nigerian man had become an Internet sensation after a video of him being picked up by a helicopter on Benin/Ore expressway following a gridlock, emerged online.
Many Nigerian social media users couldn't keep calm over the reports, as some of them argued that the man was a billionaire who had to call a helicopter because he couldn't stand being in traffic.
While the debate has launched a #BillionaireChopperGang, with the upsurge that all those claiming to be billionaires should forfeit benz challenge and move on to the new chopper challenge, to prove that they truly have the billionaires they claim.
Nigeria youths have been known to be materialistic and equates success to materialistic possession.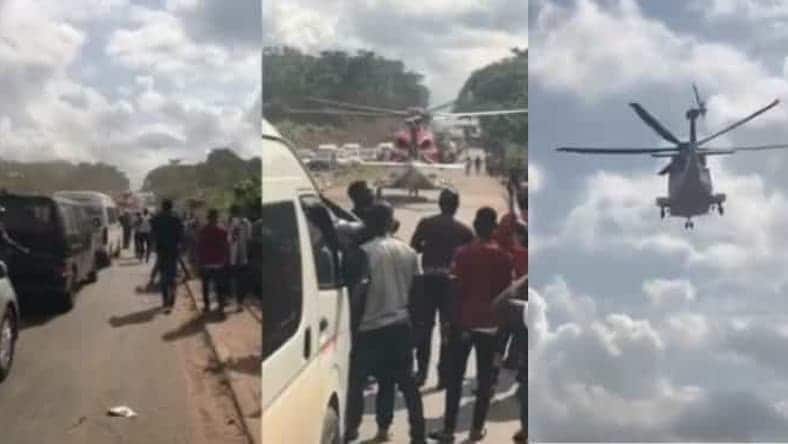 The waves of the news haven spurn the challenge, would have made some people to start taking the necessary measures to own a chopper, that they might be availed of the incessant Lagos traffic.
In the midst of the euphoric excitement and unnecessary challenge, some Nigerians hold the opinion that it is an act that is out of place.
"Lagos is known to be constantly under the siege of traffic, a commenter said on social media, instead of this rich men to find ways to curb the traffic, they are finding means of exonerating themselves from the plight."
With this hordes of mixed reaction from Nigerians, it is difficult to place the truth of the story, making it more complex is the fact that the man's identity has been kept hidden.
However, the latest reports say the man who was en route to Lagos had "suffered a stroke".
According to BBC, the company that owns the helicopter revealed that the passenger had suffered a stroke — and the emergency landing became imperative.
"It is normal to respond to emergency calls," it added.
The Nigerian Civil Aviation Authority (NCAA) had earlier confirmed its knowledge of the incident, saying that the helicopter had to "land in an unscheduled diversion to pick up someone."
"The Nigerian Civil Aviation Authority (NCAA) is fully aware of the viral video of the Helicopter that landed on the highway. Initial reports indicate that the Helicopter is owned by Tropical Arctic Logistics Ltd," it said in a press release.
"With registration number 5N – BVQ and aircraft type AW139, the pilot was compelled to land between Benin and Ore in an unscheduled diversion to pick up someone.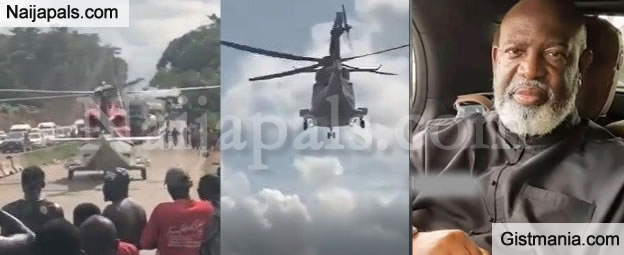 "NCAA has commenced a full-scale investigation to ascertain the circumstances surrounding the unscheduled diversion. As soon as the investigation is concluded, the outcome will be made public."
Information Nigeria
Leave your comments below…