A photo of a man getting married to two women in somewhere seeming like a church has become viral and shared  on social media space. The wedding photo which has turn out to be something of an internet sensation have gotten alot of persons talking about it.
This is a new trend were a man, typically African settles down with two women at a time. More photos below;
Not too long ago, a man  reportedly married two women traditionally in Delta state. And from the look of things, it is evidently proven that getting married to two wives at the same time is the new norm in Africa now.
According to trezzyhelm.com, Like the other viral photo, this particular wedding photo have generated several reactions from online users.See photos below and how people reacted;
In related news, A 30-year-old man has caused a stir after he wedded two women at the same time in Nasarawa State, claiming that he loves his two wives in equal measure. The fortunate groom,Isiaka Dahiru, got married to the two women, Rashida and Khadija on Saturdya, December 31, 2016, in an Islamic Nikah and has been justifying his decision by claiming that the two women are the loves of his life.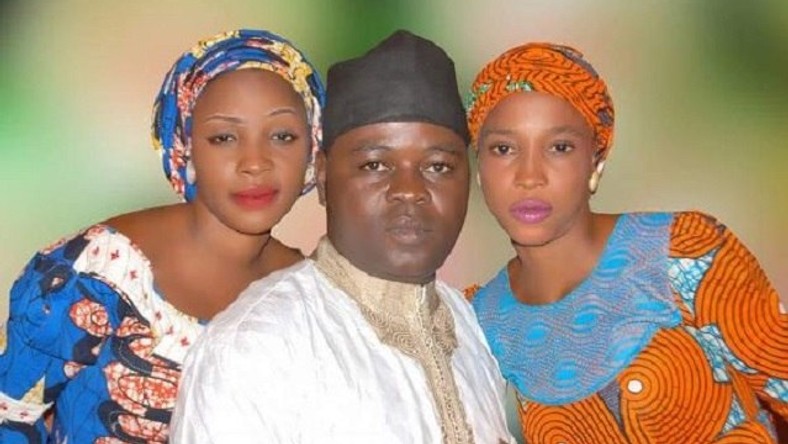 Speaking on the marriage, Dahiru who said he had been dating Rashida before divorcing his first wife, said: "I have been dating one of the wives, Rashida, since before I divorced my first wife. My life ambition was to marry only two wives. But after the divorce, I met Khadija at my workplace and I fell in love with her.
There is good understanding among us. They call themselves sisters, eat together in the same plate. They are just sisters. I love them both with equal degree. They showed me deep love and care too. They possess everything I need in a woman. So, I couldn't resist marrying them both at a time."
However, Dahiru's decision to wed two women at the same time has been met with derision as many people on social media have been castigating him, with some saying he is digging his own grave by marrying two women on the same day, no matter how much he loves them.
What are your thoughts on this? Kindly leave a comment and don't forget to share