Blogging is one of the most lucrative jobs in Nigeria at the moment and women are proudly carving out a nitche for themselves in that industry.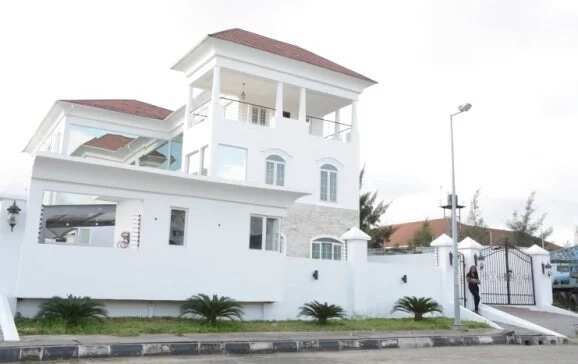 While Linda Ikeji arguably remains one of the pioneers of the blogging business in Nigeria, there are other women who have raised their heads in that industry through the inspiration they drew from the money woman herself. And one of those women is Blessing Okoro, the popular blogger who broke the internet with the picture of her completed 7-bedroom duplex.
Before the light shined at the end of the tunnel, Blessing was once a homeless woman who was thrown out of her ex-husband's house 8-years ago, which she revealed in a recent post where she revealed her new mansion on her 30th birthday.
"8 years ago my ex husband threw me out of his 1 bedroom apartment. 8 years later I built myself a 7 bedroom duplex…. I picked up all the stones he threw at me to build myself. I became too strong and fortified. I became that broken pieces that because an expert in mending. Yes dreams do come true. My name is Okoro Blessing Nkiruka 23rd May 1989 I was born. I am 30 years today. I am that blessing you hear about.  A child of grace. Happy birthday to me," revealed Blessing on Instagram.
Blessing is one of those strong women who overturned her sad experiences to a success story. Started dating at the age of 15, married at the age of 18, her first marriage was a nightmare as she only experienced bitterness and domestic violence in her matrimonial home for the short moment she endured, a year and 6 months before leaving the marriage which brought fought a child at the time.
When it comes to shocking domestic violence stories, Blessing Okoro's version holds a tangible number in the list of those. In one of her interviews with Punch, the relationship expert revealed that she was once slapped by her ex-husband in the morning of their wedding for not being able to find their wedding ring which she didn't misplace.
"I started dating at the age of 15 and I got married at the age of 18. It was quite early because I didn't know what I was going through and the man was 12 years older than I was. I call it early marriage because I was still innocent and vulnerable. Interestingly, my parents didn't want me to marry him, but I insisted because I was in love. My father actually cried a night to my wedding, he was wondering what I was going to be doing in the marriage.
"At the initial stage, I couldn't tell my parents what I was going through because I was ashamed. I bore a lot until my family members came to witness it themselves. There was a time my younger siblings came to stay with us, and he beat me till I went into a coma in front of them.
"A day to my white wedding, he beat me in front of my chief bridesmaid. He has beaten me in front of his mum before. He even beat me to the altar. I have my weaknesses; I'm quite stubborn, so most of the time when we had to argue over something, he ended up beating me.
"After I was in my wedding dress, he was looking for the wedding ring. He came to meet me to look for the wedding ring, and the next thing I heard was a slap on my face, tears rolled down my cheeks. I had to go to the altar with tears in my eyes. When it was time to take our vows at the altar, I burst into tears but he kept apologising. The wedding guests actually thought I was shedding tears of joy. They were cheering me up; eventually I said 'yes I do' reluctantly."
The sad experience we believe was what pushed her to break even and attain the greater height at which she operates today as one of the successful female bloggers in Nigeria who is impacting positively in the life of young people in marriage.
Her failed marriage brought out the passion in her which was what inspired her decision to run the platform, Break or makeup on Instagram.
The storyteller who celebrated her 30th birthday is now happily married again to a man who she seldom displays on social media but most time refers him as Bobo during her storytelling sessions.
Checkout Blessing Okoro's birthday pictures below.