Aba, a city in Abia State Southeast Nigeria, which is popularly referred to as "China of Africa" because of its versatility in the making of wears and leather works, locally manufactured shoes from leather goods has the potential of becoming a big manufacturing hub in Nigeria and across Africa.
Aba is one of the popular cities in Nigeria, famous for its first riot in the country, the "Aba Women's riots" of 1929.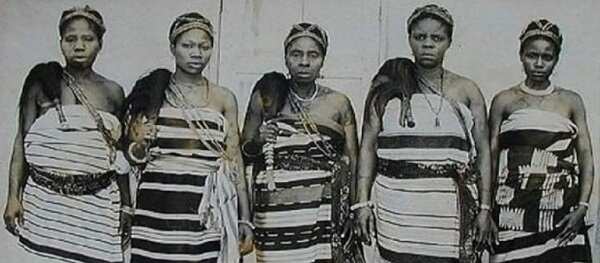 The Aba Women's Riots, was a period of unrest in British Nigeria over November 1929. The protests broke out when thousands of Igbo women from the Bende District, Umuahia and other places in eastern Nigeria travelled to the town of Olokoto to protest against the Warrant Chiefs, whom they accused of restricting the role of women in the government.
The Aba Women's Riots of 1929, as it was named in British colonial records, is more aptly considered a strategically executed anti-colonial revolt organised by women to redress social, political and economic grievances. The protest encompassed women from six ethnic groups (Ibibio, Andoni, Orgoni, Bonny, Opobo, and Igbo). It was organised and led by the rural women of Owerri and Calabar provinces. During the events, many Warrant Chiefs were forced to resign and 16 Native Courts were attacked, most of which were destroyed.
The aforementioned narration tells the story of a city that knows its right and never cease to go extra miles in seeking for it. Also, it reveals a city that became famous for a positive movement which was carried out by women 90 years ago. Yes, it is right to say, they are the real feminists in every sense of the word.
Made in Aba Shoes
The city's pride is rested on the shoulders of its citizens who are sheer industrious and creative in the business of production. Enyimba City as it is also called boasts of at least, a single creative person who produces something in each family in the city, which reveals the level of potentials in a single town.
Made in Aba Shoes
Just as China boasts of manpower and skills which enhances production, Aba has what it takes to strive but bad government and poor technology coupled with violent killings only placed the city backwards, as it crawls towards development.
Conventionally, government plays a major role in the development of a city and Aba, under the Abia State government has suffered a bad one since inception. Bad roads, poor electricity, negligence on the potentiality if the Aba Made Products among others pose a very big threat in the commercial progression of the city.
Outside governance the city has as well witnessed despicable occurrences like, bloody killings and environmental crises in the last couple of years. Ranging from cult group clashes, religious killings, Bakassi (vigilante Group) killing of innocent people, kidnappings and other sad events which have happened in the city.
The former president of Nigeria, Olusegun Obasanjo and the governor of Abia State, Okezie Ikpeazy checking out Made In Aba shoes
Despite these backslides, the shoe and cloths manufacturing sect in Aba supplies several markets within Nigeria and other neighbouring sub-regional African countries like Cameroon and Gabon.
Obasanjo and Okezie Ikpeazu
A 2015 report says the number of small-scale shoe industries present in Aba is about 10,000 and they record about 1 million exports daily. To think that Aba market can meet such demand daily with no major government support and modern facilities indicates bright future for Africa.
The way to go is for the government of the state to roll out their support drums in terms of appropriate policies for "Made in Aba" and provide adequate infrastructure as these things add to the shunt growth of Aba as a trade hub in Africa.
The Abia State government is seating on a goldmine and if things are done the right way, they will reap the fruit in no distant time.
Aba Shoe makers sent to China by Abia State government to perfect on shoe production
Instead of taking the Aba producers and fashion designers to China to learn and master the craft which the Abia State governor, Okezie Ikpeazu did a few years back, a big factory should be built in Aba and the big Chinese company's should be invited to invest and run it. Doing that will create employment and as well improve the production quality.
More so, they should leverage on the technology. Jack Ma and his team created an online portal to connect China small-medium scale manufacturers with customers overseas, and the result was astronomical for locally produced goods in China. Alibaba.com became the No.1 e-commerce platform in the world connecting over 16 million China small scale businesses with the global market and soon grew to having over 240 countries trading on the platform. Today, coupled with low cost of production and ease of accessing the China manufacturers' pool, most markets in the world are flooded with China products, and e-commerce played a huge role in exposing China's manufacturing potential to the global market.
Made in Aba shoes
A similar solution should be created for easy connection between Aba manufacturers and their market as their is pressing need for Africa to be the convergent point of global trade and not a continent at the mercy of foreign aid.
However prior to when Government comes good on their responsibilities, the Aba manufacturers owe it to themselves, their families and Africa to act pro-actively and act fast to stamp their feet as truly the 'China of Africa' because they are Africa's pride for local manufacturing.