There is no party like a Nigerian party and as expected, no Saturday goes by without one party activity or the other. Party wear is an essential to any event and since humans will never run short of design ideas, we can never run short of style ideas to bring you as well.
You know when you see a good thing, you have to show recognition and give it its due place of honor, right? This is what we are doing today with the latest lace asoebi styles.
There are styles and then there ARE STYLES. If you are wearing asoebi that did not make at least one head turn, then your style is neither trendy not fashionable. The aim of putting together a great design is to have you and others appreciate it.
Designers are always on their toes trying to outdo each other and this weekend was not any different. The beauty of the some of the outfits in this post is in their versatility. They can be worn to that party, formal event, church or even work.
When these ladies stepped out, I am very certain they were complimented on their outfits and asked for their tailors' numbers as well, they wouldn't have made the cut if theirs weren't great asoebi styles.
There are asoebi styles and there ARE asoebi styles that are in a league of their own. These latest lace asoebi styles have some of those unique styles.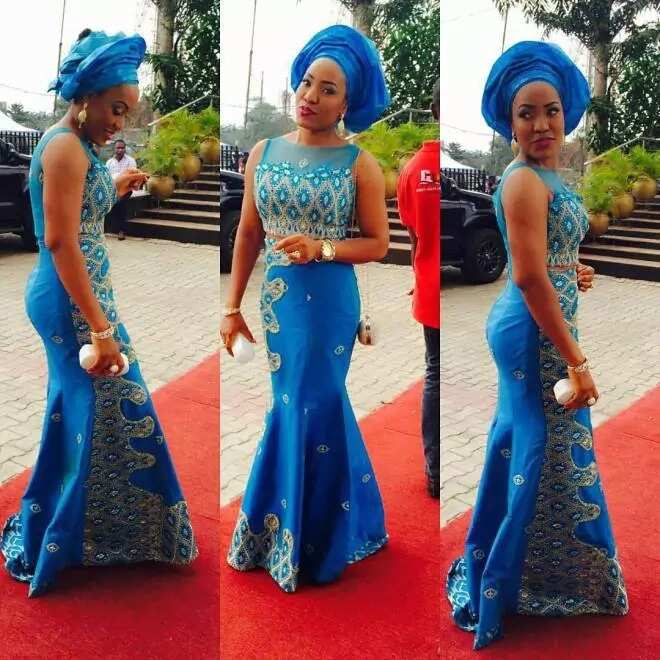 I can bet my last kobo on it that when these ladies stepped out to their respective events decked in their unique and beautiful outfits, they had people craning their necks to have a full view of their outfits.
These gorgeous pieces will certainly make you the cynosure of all eyes and leave jaws dropping behind you, if you have the confidence and the body to rock them well. We love our readers and we always want them to be unique in their choice of styles, we have brought to you some creative and never before seen unique ankara styles that will make all people they come across do a double take! In fact, they will have no other choice than to "clear the road" for you. Classy babes know how to do it when it comes to fashion. We bring to you some style inspiration for your next event.
Cc @maggiepele in @24th_styling
Source: Ma Daily Gist
Please leave your comments below.