The 'online trolling industry' appears to be taking a toll on celebrities and it's high time these parasites slow down. That being said, we also tend to forget that these celebrities also have emotions and insulting them openly can be hurtful. Do you think sometimes these celebs don't get angry too? Don't be surprised as they do have their low moments. This is the case with singer, Tiwa Savage.
Online trolling has become not just a trend but a way of life for some people. It has not just grown over the years but also looks like an epidemic waiting to happen. You won't blame a celebrity like the talented singer, Tiwa Savage, who seem to be quiet and hardly shows off on social media, when she is in a bad mood and can't hide her anger as seen on her Twitter page recently. All thanks to trolls who undermined and insulted her heavily.
It had all started when she had tweeted to calm the Twitter war between Nigerians and Kenyans triggered by controversial journalist, Kemi Omololu-Olunloyo. Several users blasted and called her out, telling her to face her music. However, one of them stood out.
The truth is NOBODY actually wins when we fight ? it's all love from this side #OneAfrica #OneLove ?? pic.twitter.com/6GfPv8wqTg

— Tiwa Savage (@TiwaSavage) July 28, 2019
Identified as @Ebukaenemuo, he had blasted Tiwa Savage, calling her frustrated and undermining her career after she lfet Mavin Records. Suffice it to say, it was not pretty.
This didn't sit down well with the beautiful mother of one who took to her page hours later to rant, posting series of tweets that voiced her anger. She wrote, "Some of you guys must really think I fear Twitter." Another read, "Grown @$$$ men have nothing better to do than think na prick and period dey worry women. Come harder than that. I'm still here .. ain't going nowhere."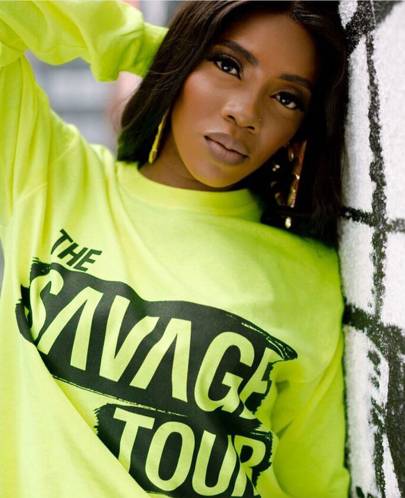 She still wasn't satisfied as she went on, "And I'm f#king proud of it. Next bullet." "My savage soldiers I LOVE YOU SO MUCH … don't worry, my project is for you. Prepare your speakers."
What a rush of emotions! Her loyal fans and followers hailed her for standing for herself against the bullies and tried to calm down. Here are some comments gathered:
Everywhere SAVAGE! pic.twitter.com/s28YSHJHbb

— W I N T E R (@winter_chuks) July 29, 2019
Emma goh oo. So it is @TiwaSavage you low budget classless lots are trying to shade, sub & disrespect. Ha-han, Eni elders ni lè ni Abii…
AYFBJN? pic.twitter.com/RqDQCTEHRi

— Bossman™♎ (@IjayaPutin) July 29, 2019
The continuous and unrepentant trolling of celebrities on social media should stop. It is belittling and they will continue to drag you and watch their foot soldiers and fans skin you all alive. Be warned!