Nigerian billionaire and father of one of Nigeria's top DJs, Femi Otedola was asked by a curious follower on social media his reason for not wearing wristwatches.
He responded, saying he stopped wearing watches because of the technological advancements in the world. He stated that technology has made things easier, which is why he doesn't see the need to continue wearing a wristwatch.
"I started wearing a watch when I was 12 years old and stopped three years ago. Technology has ended our necessity for the archaic wristwatch. Less is more." he replied.
See their exchange below: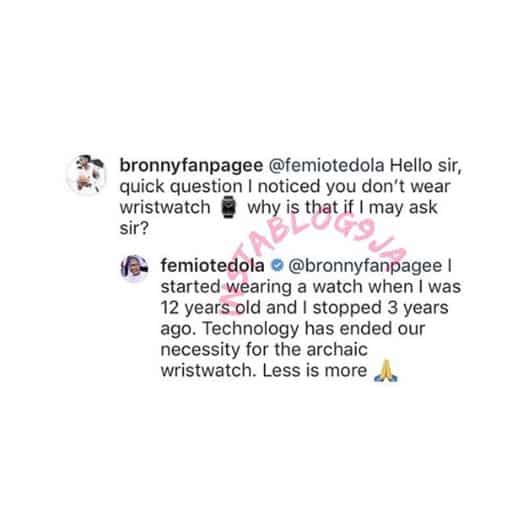 Femi Otedola is Nigerian businessman, philanthropist, and former chairman of Forte Oil PLC, an importer of fuel products. Otedola is the founder of Zenon Petroleum and Gas Ltd, and the owner of a number of other businesses across shipping, real estate and finance. He has recently invested in power generation as part of the liberalization of the sector in Nigeria.
Otedola is one man who can be described as simple and free despite his wealth and status and this can be seen from his reply to the follower who asked him a question on Instagram.
Kindly share your comments below.