Children are a gift from God and a blessing to have, in the first half of the year, Nigerians got the pleasure of sharing the joy of anew born baby with some of their favourite celebrities. One of whom had waited for five whole years. As Olamide welcomes his 2nd child today the 2nd of July, 2019, we'll take you on a trip down memory lane with the other celebrities who have done same this year
1. Olamide
The Nigerian rapper,  Olamide Adedeji has recently become a father of two as his longtime lover, Bukunmi, is said to have put to bed in the United States of America after he welcomed his first child , Batifeori Maximiliano Adedeji, with the same lady, way back in 2015.
2. Jim Iyke
Veteran Nigerian actor, James Ikechukwu, popularly known as Jim Iyke, has welcomed a baby boy, his second son about 2 months ago. The 42-year-old thespian basically gushed over his new found love.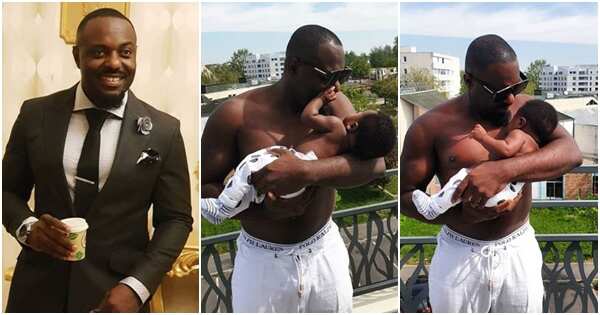 He wrote: "I'm ultra-private with my family but this is the rarest of moments. Back to 2 hours sleep nightly. Back to cat naps with my subconscious peaked for the slightest movement. Back to groggy mornings and big unknowing smiles. Welcome home king. I can't find the right words now. Every being in me is pulsating with raw primordial energy. A lion begat a lion, welcome to my pride dear son. He went on to thank God for yet another blessing added to his life. I don't know what I'm doing right to deserve it all. It takes a man to bring a child home, it takes a community to raise him."
3. Bidemi Kosoko
Nollywood actress, Bidemi Kosoko, welcomed her child into the world about a month ago. Friends and well-wishers of the Yoruba film star didn't waste time and took to her  social media to share the good news. Recall that Bidemi's older sister, Sola Kosoko, also gave birth to her second child five years after her first daughter on April 13, 2019. The actresses who happen to be the daughters of veteran actor Jide Kosoko have no doubt made him a grandfather of many.
4. Duncan Mighty
Nigerian singer and hit maker Duncan Mighty, aka Port harcourt first son was super excited about the arrival of his new born baby. He quickly announced the good news on his page.
The musician said  his wife, Vivien Okechukwu,  and baby are doing great, dancing, thanking God for safe delivery and life, he wrote: MY WIFE HAS JUST GIVEN BIRTH. JOIN ME PRAISE GOD FOR … SUCCEED REIGN MIGHTY .. MOTHER AND CHILD SAFE.. GOD YOU ARE BIGGER THAN RELIGION YOU ARE YOU JESUS WENE MIGHTY..I WILL BOW FOR YOU ALONE ALL MY LIFE
5. Biodun Adeleke
The Yoruba actress identified as Biodun Adekunle, was filled with excitement as she shared the news of her new bundle of joy with fans and followers on social media. In a short emotional post, the screen diva expressed that it had taken a a whole five years of waiting before the lord blessed her with the fruit of the womb. She also acknowledged the goodness of her creator in the post, noting that with him, everything is possible.
Share your thoughts in the comment section below
Source: Legit.ng / Premium times