In a wave of news that left many surprised, it has been announced that popular American rapper, Sean "Diddy" Combs is set to be married to his son, Justin's ex-girlfriend Lori Harvey.
It is alleged that Diddy, the 49 year old business mogul, and Steve Harvey's 22 year old step-daughter Lori Harvey have been dating now for the past couple of months. But no one thought that the two would be talking about marriage already. Lori attended a Ciroc Party with Diddy in Hollywood – and she was sporting a GIANT diamond ring on her finger. Multiple people at the event confirmed that the ring DEFINITELY appeared to be an engagement ring.
In an explosive interview, Virginia – Diddy's former girlfriend – claimed that the 49 year old is now dating Steve Harvey's daughter. The model explained, "We were in Atlanta for Super Bowl . . . we were staying at this house that he rented out. We were having parties the whole weekend and [Lori Harvey] came over. I noticed that the two [Lori and Diddy] were gone, and I was looking for them all over."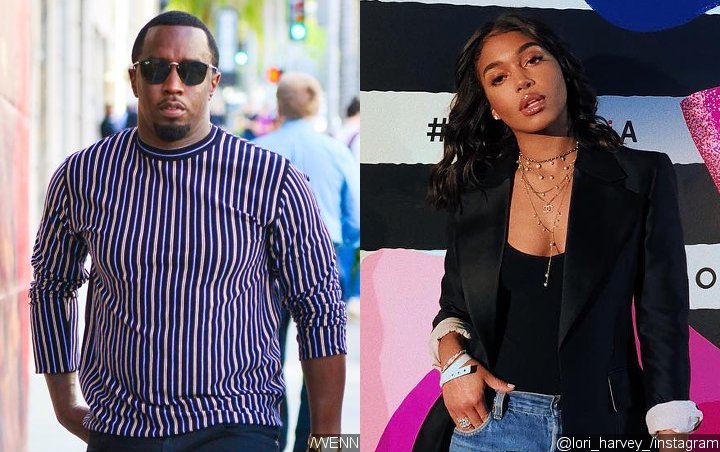 The model claims that Lori and Diddy were off together, enjoying intimate time.
Recall that Diddy recently broke up with his longtime girlfriend Cassie, and a few weeks later – his other longtime love Kim Porter passed away. In an interview shortly after Kim's passing, Diddy admitted that he made a mistake by never settling down and marrying her. The music mogul revealed to an Instagram user that he 'played' himself by not marrying ex-girlfriend Kim Porter three months after her death
Posting an old photo of himself cuddling with Porter on a couch, Combs captioned the photo "SMH" (meaning "shaking my head") with a broken heart emoji. "When she was alive you didn't wanna marry her," one commenter wrote. "I know. Played myself smh," Diddy replied in a screenshot captured by The Shade Room.
Porter died of lobar pneumonia on Nov. 15 in her Toluca Lake, Calif. home after suffering from flu-like symptoms for days at the time of her death. The day after Porter's death, a source told PEOPLE: "Diddy is devastated and shocked. He and Kim were still very close friends and co-parents even though their romantic relationship didn't work. They were still a family."
Another source close to Combs said that he is "is very much struggling."
"This is the most awful, sad and unreal situation for him. It's a nightmare," the source continued. "He isn't sleeping. He always had a very special relationship with Kim. Despite not being together romantically, he loved Kim. It was really true love, and he is hurting badly right now."
Combs broke his silence for the first time after her death on Nov. 17, 2019, writing on Instagram, "For the last three days I've been trying to wake up out of this nightmare. But I haven't. I don't know what I'm going to do without you baby. I miss you so much. Today I'm going to pay tribute to you, I'm going to try and find the words to explain our unexplainable relationship," he added. "We were more than best friends, we were more than soulmates. WE WERE SOME OTHER S—!! And I miss you so much. Super Black Love."
In the same interview, he swore to never make the same mistake if he ever found another "great woman." Looks like he may have just found her. Please leave your comments below.