Timi Dakolo has taken to his Instagram to accuse a certain pastor of sexual misconduct.
According to the singer, a preacher with the famous Commonwealth of Zion Assembly (COZA) church is allegedly abusing his church members sxxually.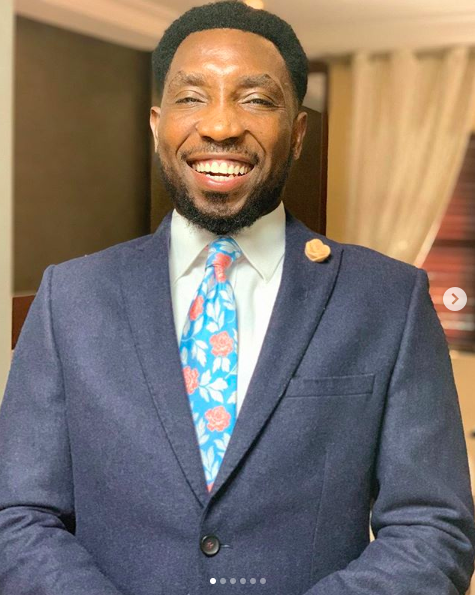 Dakolo claimed that the unnamed pastor of the church, with locations in Ilorin, Lagos, Port Harcourt, Dubai, and Abuja, has left a "litany" of broken women in all their locations.
"Commonwealth ko, Zion ni. The church is supposed to fix broken people and not crush people who show up in church needing God," he wrote.
And to the zealots who criticise him for speaking out, he encouraged them to channel the same energy into asking their pastor serious questions about his activities.
This comes barely six years after a former female congregant and worker of the COZA, Ese Walter, confessed to having had an affair with the church's Senior Pastor, Biodun Fatoyinbo. Her story stirred major conversation on social media and the accused pastor never officially addressed it.
Now, Dakolo has spoken up about the alleged clandestine activities of a pastor within the same church, and folks already are pointing fingers at the infamous pastor.
Will he speak up this time?
See Dakolo's posts below:
Nigerians on social media have reacted to the disturbing allegations the singer leveled against the man of God assumed to be Pastor Fatoyinbo and his church, COZA.
Many people criticized the church and the pastor especially because this is not the first time such allegations are popping up.
See some comments below:
It's unfortunate that the church elders in COZA stand idly by while their pastor runs amok destroying young women. I wonder what the logic is. I'm not sure I want to know.

— The Wooden Ox (@je_mc2) May 30, 2019
For Timi dakolo to openly bash Coza then you should know he has facts, He never comes dirty on Social media, man respects himself well

But Nigerians will shoot him because he is bashing a church?‍♂️

Some of una go die for men of God wey their salvation no dey sure

— Attah Percy (@otunbapercy) May 30, 2019
So how do you know it's COZA. pic.twitter.com/8uVI12Oy71

— Ayobami (@dondekojo) May 30, 2019
I can't take you seriously if you attend COZA.
A church whose head pastor has a litany of alleged sexual harassment and routine sexual manipulation of his members.
The same man, who, despite these allegations has never refuted them, only promises "robust responses".
Fraud.

— CEO At Ghana Compeni (@Olumuyiwa__) May 30, 2019
Thank God someone like Timi Dakolo is talking. I keep telling people that "Touch, not my anointing is nothing but religion sentiments". Enough has been said about COZA Pastor relating to sexual harassment but hey to us all is untouchable because he is Man of God. Bullshit!

— DIRECTOR FLO ???? (@amflomotion) May 30, 2019
However, a few Twitter users were on the side of the pastor and the church. A lady identified as @Sby107 explained that Timi Dakolo is wrong for calling out the church because even Jesus had a thief among his 12 disciples.
Call me Gullible but what "Timi Dakolo" is doing right now is all levels of wrong… U said the House Of God is a place of prayer not a den of thieves… Even among Jesus' 12 disciples, one of them was a fraudster and he was actually aware.

— ∫hirlξƔ rafξals® (@Sby107) May 30, 2019
She continued that the church is not a place for perfect people and the pastor should be left alone even if he is guilty of the allegations. According to her, he will get bored and fed up of his crimes then repent himself.
The Church is not for perfect people…y'all should stop bashing churches already, if the pastor is engaging in such acts, leave him alone, one day he will get fed up and confess his sins by himself. You don't have to drag him. We should learn to show more LOVE than hate.

— ∫hirlξƔ rafξals® (@Sby107) May 30, 2019
Another internet user, Kolawole, advised people to stop condemning the pastor because even if he has sinned, he will ask God for forgiveness.
Please, stop abusing and condemning the set man of COZA. If he sinned, i believe he must have asked for forgiveness and forgiven by God.

— Kolawole James (@Callerwallhey) May 30, 2019
See more comments below:
LOL. Isime, this thing you went to uproot from 2013. I don't even want to say anything this time. My ears are full. Let me mind my business. God bless Timi Dakolo! https://t.co/TccUx94obQ

— JJ. Omojuwa (@Omojuwa) May 30, 2019
Does the hate change what Fatoyinbo is doing?
If the table scatter finish some people will go Jail COZA Pastor is a sexual predator

— Eobard Thawne (@Olanisimi10) May 30, 2019
..
Kindly share your thought in the comment box below.