The entertainment industry in Nigeria has come a long way and one of the prominent features of Nigerian celebrities is showing off their wealth to their fans who can't get enough of the lavish lifestyle of these A-list celebrities. For a lot of these celebrities, it's the in-thing now: if you have it you must flaunt it – your wealth, status, possessions  in the most public way possible. In this new age of online social media, it's not uncommon to see celebrities flaunting their wealth much to the annoyance, and envy, of others.
The 'small girl, big God' trend and the 'Fake it till you make it' mantra are everywhere now. You see them everywhere, they are on Twitter, they flaunt on Facebook, slay on Instagram, they are the ones other young girls look up to and wonder if they have a grudge to settle with the 'Most High'. They have a very 'big' God and he is always by their side, making sure the 'works of their hands' prosper. Daily, Nigerian girls are constantly tensioned by the show of luxury and affluence being exhibited by their peers. It has become worrisome because what is never out there is the actual legal work that these ladies engage that adds up to the lavish lifestyle that they showcase for all to see.
Imagine a case in study! Among a clique of girls, there is that one who makes use of the trendy and expensive gadgets, hangs out at fanciest restaurants, gets invited to the biggest parties and travels on holidays to exotic destinations. All these are done without no known source of income, but it's happening, she is definitely balling! Well, the latest Nigerian celebrity to be caught in a huge and disgraceful web of lies claiming the 'small girl, big God' mantra is popular blogger, who is the founder and CEO of 'Breakup or Makeup', Blessing Nkiruka Okoro.
Popularly known as Blessing CEO, she was arrested on 27th May 2019 after posing in someone else's house claiming it as hers. How did this escalate into a full-blown mess? Well, Blessing on turning 30, had taken a photo at the front of the duplex as she celebrated her birthday in ' grand- style' across three states of Nigeria. I mean who wouldn't be jealous of a 30-year old lady owning a duplex? At 30, she unveiled a new 7-bedroom duplex which she claimed she built. In fact, at this point, many social media users had sent in their congratulatory messages to her, some tapped into the testimony while some girls even started unnecessary pressure on their boyfriends and husbands to spend on them more. Little did they know that it was all a big scam.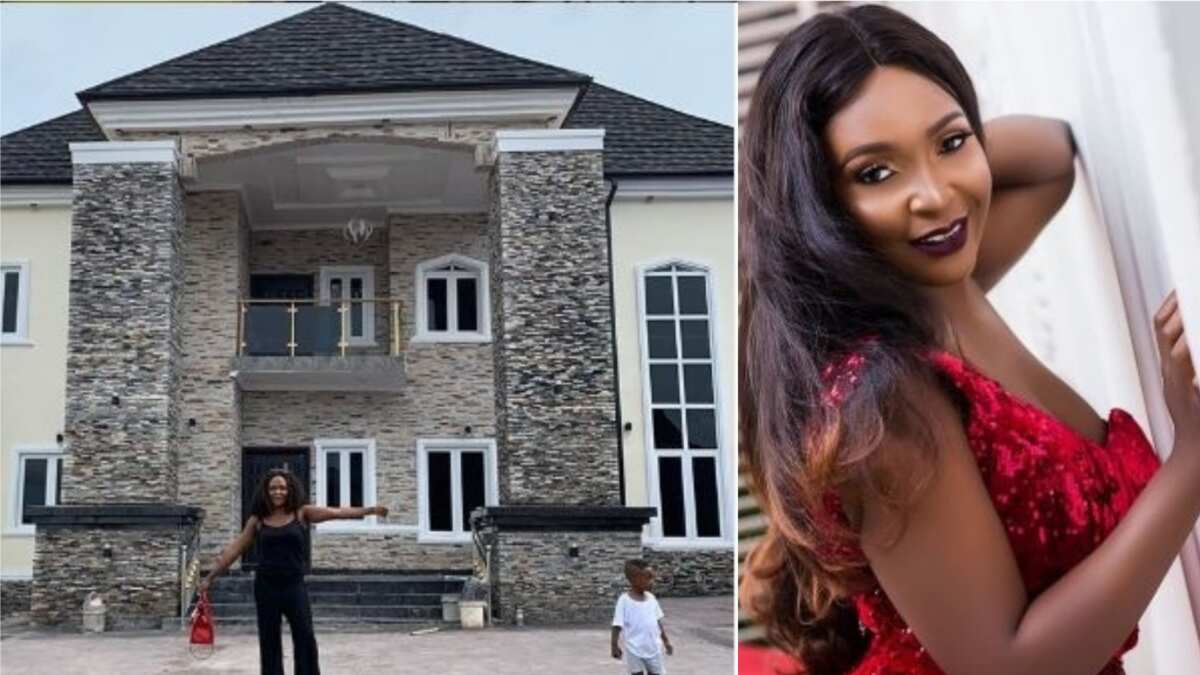 So what happened next? I can tell you that Nigerians were not expecting the next scenario that played out. Counteracting her claim, the real owner of the house, Onye Eze, a businessman based in China, got wind of her deception and exposed her online. In spite of that, she insisted the house belonged to her, sharing proofs of ownership, with a claim that it was an attempt to drag her into the mud. In her bid to continuously live her fake life, Blessing shared a photo of herself dressed in her nightwear in front of the house. She wasn't fortunate this time round as she was caught up in her game. She took the game too far, as a result, she was arrested and was forced to confess her deeds. In a video showing her arrest, Blessing was in handcuffs pleading and crying for forgiveness. She confessed that the house belonged to Onye Eze and not to her duplex as she claimed.
What a big shame! I mean, seriously, why go through so much stress to prove to be something you're not? Some people attribute it to peer pressure which I also see reason to. She has been seeing her fellow celebrities online always flaunting expensive cars, jewelry, outfits, houses, businesses, going on countless trips abroad so much that she got sucked into their showoff and decided to copy them. She got unlucky and that should be a huge lesson to her and every young lady out there who look up to these celebrities as idol. We need to learn to be contented with what we have. Trying to be like those people on social media can put you in a lot of trouble like it did to our subject here.
While we are on the matter, let us talk about 5 Nigerian female celebrities who flaunt their wealth on social media and could have been responsible for pressuring Blessing Okoro into going this far in proving a fake lifestyle was hers:
1. Linda Ikeji
Well, I won't be surprised if Linda Ikeji was her number 1 mentor. She is a Nigerian news carrier blogger, writer, entrepreneur and former model made wealthy and popular by her blog. The 38-year old blogger and mother of one who claims to be a billionaire has reminded us that she is very much around, posting photos of her expensive fleet of cars – Range Rover, Mercedez Benz and also a Bentley which is close to a N100 million. She also showcases her mansion worth several hundreds of millions in Banana Island area of Lagos State
2. Daniella Okeke
Nollywood performer, Daniella Okeke, is no more unusual to displaying her riches. She once flaunted her Vertu Constellation telephone, which strives for about $6,700+ and is an android telephone which was about 1 million. The actress does not appear to ease off at flaunting her riches when she gets them. Apart from continually flaunting her curvy resource, she is a beau of extravagance and the on-screen character has revealed to us her adoration for autos by showing a picture of her carport.
3. Tayo Sobola
Tayo Sobola know how to live a good life and doesn't hesitate to flaunt it has acquired the best of cars including N16.5M brand new Range Rover Evouge and Mercedes-Benz GLK. The actress launched her corporate office which boasts of a state-of-the-art TV production studio, latest movie cameras, production gadgets and an editing suite in 2015.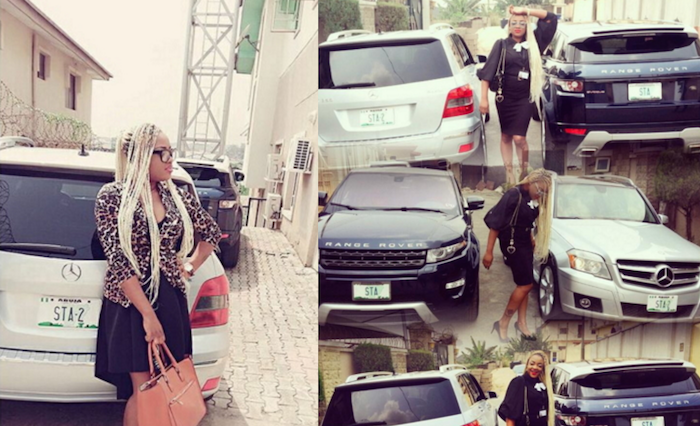 4. Liz Anjorin
Liz Anjorin took delivery of a brand new white Range Rover Evoque valued at over 15 million in 2014 after she relocated from her Ogba-Lagos residence to a pent house on Admiralty Way in Lekki Phase 1, Lagos. The actress who never hesitates to flaunt her posh house was said to have acquired the 4 cars in her garage in 4 years.
5. Toke Makinwa
Toke is a sophisticated hustler and since successful people have nice things, she is always showing off her nice stuff. From stepping out rocking a 1.4 million naira Gucci bag to her closet filled with her designer shoes and bags.
We all know that entertainment basically involves showing off, but some celebrities don't even flaunt their wealth like the bulk of the rest do. Today, let's take a look at some A-list celebrities whom we know are wealthy and have what it takes to show off on social media but would rather stay subtle and let their music or art be the only thing that fascinates their fans. Now, these are the kind of people Blessing Okoro should use as inspiration and mentors if and when she gets out of the trouble she got herself into.
Funke Akindele
Funke Akindele is one of the richest actress in the country today as she continues to produce her own movies and also act in them too. She is also the most hilarious female movie character we've ever seen in recent times. The beautiful actress loves to keep her profile low as she doesn't show off her wealth despite having several endorsements which are worth millions of naira.
Kate Henshaw
Kate Henshaw is one of the longest serving Nollywood actress who maintains her relevance and hasn't stopped being one of the top acts. Before a fire incident destroyed her Lekki home, the actress didn't show off her wealth at any time and loves to keep it subtle. She is estimated to be worth millions but yet has always kept a low profile.
Asa
Bukola Elemide popularly known by her stage name, Asa is that one celebrity singer who loves to keep it low. While she does great music and one of the few Nigerian celebrities signed to a foreign owned label yet have relevance both on the local and international scene. Asa has performed at several sold out tours around the globe and has every right to flaunt wealth but she doesn't. The singer is so low-key that we barely knew a lot about her until last year when she started sharing photos of herself.
There's what's called financial IQ. You got it high and you never end up broke, you got it low… Your money suffers. These celebrities, including rich and famous tycoons know how to diversify their income, how to spend it and not buying unnecessary things. Why fly first class when you can fly economy and arrive your destination same time? Blessing Okoro, and Nigerians in general need to learn this.