Phyno and Olamide are one of the inseparable pals in the Nigerian music industry whose success stories compliments each other. Phyno's tale on his rise to limelight won't be complete without the mention of Olamide, same as the Bariga-bred rapper's music stories will always have Phyno's name mentioned.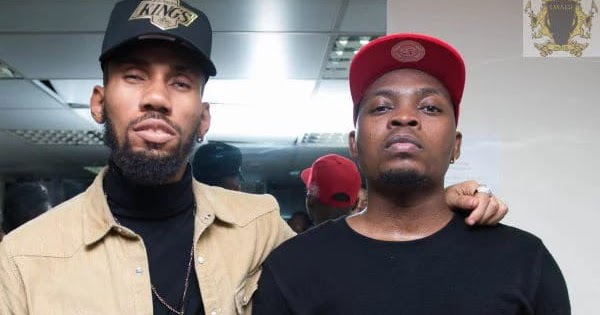 Friends-turned brothers, the world took notice of their magic and embraced their collaboration in 2012 when Olamide jumped on Phyno's hit single Ghost Mode which was a banger at the time and still is. Just as butter compliments bread, Olamide complimented Phyno in that song and they both fed thirsty and hungry Nigerians who were starved of good rap collabos.
While Olamide's breakthrough in the Nigerian music industry can be linked to his 2010 hit single, 'Eni Duro' 'Ghost Mode' released by Phyno in 2012 introduced him to the Nigerian music space, all thanks to Olamide for the West and the East side connection.
Conventionally, both artistes are the biggest indigenous rap heavyweights in Nigeria at the moment and have maintained that position for over a decade now. Their achievements in the industry cannot be overemphasized. From winning mega awards, to headlining their own shows, to numerous hits, albums and lots more. Both are winners, but one seems to be winning more than the other.
"Success is not measured in the amount of dollars you make, but the amount of lives you impact and the people you help become successful," were the words of an American best selling author, Lewis Howes and he couldn't have said it any better. Applying that quote to the artists in the Nigerian music industry using Phyno and Olamide who are the main focus of this write-up as a case-study, it is truthfully uneconomical to say that Olamide is one of the most successful artistes in Nigeria. While Phyno is just winning for himself alone, because "we rise by lifting others."
Olamide under his YBNL imprint (Yahoo Boy No Laptop) has lifted and produced a plethora of musicians whose success stories will always be traced back to the rapper. Just a simple search of the keywords on google, "Nigerian Artists Olamide has helped" will leave you with so many results to click on, but that is not so for Phyno who is equally expected to take same rout as his friend and brother in the rap game.
Talking about the artistes Olamide has helped, the list is long but the major ones remains Lil Kesh who was just a street boy doing freestyles around secondary schools in Lagos before he got an encounter with Baddo with the help of his friend Viktoh. Olamide signed him up to YBNL and today Lilkesh has grown so big enough to float his own record label "YAGI" after the expiration of a successful record deal with YBNL.
Another prodigy to Olamide is the multi-talented singer, Adekunle Gold who started living the life of a star in 2015 after Olamide Baddo got him signed up to YBNL as the only singer on the label. Today, the Sade crooner can only thank God and Olamide for what he has achieved so far in the industry.
Eniola Olamilekan Adedeji widely known as DJ Enimoney who is the younger brother of the YBNL Boss is a beneficiary of Olamide's kind gestures. As the number one YBNL Disc Jokey, the massive influence of his Big Brother, Olamide on his career cannot be under-estimated.
Other people include, Chinko Ekun who is one of the almost dying talents revived by Olamide. The hardcore yoruba rapper caught the interest of Baddo who wasted no time in signing him on to YBNL. He just got a record deal with a Dubai-based record label, Dek-Niyor Entertainment. Looking back at the start of Chinko's career, it is safe to conclude that Olamide has indeed given him the voice of the street that he is enjoying today. Also Viktor among others is among Olamide's prodigies who was helped by the selfless rapper.
Phyno in his many years as an established rapper/singer can't boast of producing a singer whose success can be traced back to him. His record label, Penthauze which started active work in 2006 housed the likes of Runtown, Shugaboi, Flipside and Storm Rex but none of them made it to the limelight under him.
Though he recently did a little push for his personal DJ, J Master who he featured in the 2018 hit single, Ani which has Flavour on it, he needs to do more.
One of the boasting rights of an established artist in the music industry all over the world is to have people whose success stories can be traced to you and once an artist fails to achieve this in his career, he can't be termed a completely successful musician.
In conclusion, I implore Phyno to take the same step as Olamide in encouraging and assisting young artistes in industry because, we rise by lifting others!