In the world of entertainment, there's bound to be scandals and some Nigerian celebrities got into (alleged) scandalous actions every now and then. Some would even argue with you that Nollywood is synonymous to scandal. One thing is sure, scandals are part of the entertainment industry. While some of the scandals may not really be true, some are actually over blown by the media. While for a while now, it has been a bit scandal-free for a lot of celebrities, some others couldn't stay away from it. Unlucky for some of them, one woman has made it her life goal to expose their dirty secrets to the world. She is none other than self-acclaimed investigative journalist and blogger, Kemi Omololu-Olunloyo.
If at this time you don't know who this woman is, then you're missing a lot of drama. Kemi Olunloyo is the daughter of former Oyo State governor Victor Omololu Olunloyo and the second of ten children. She lived for 14 years in Nigeria, 20 years in the United States, and five years in Canada before being deported to Nigeria.
In August 2012, Kemi was arrested in her apartment in Toronto by agents from the Canada Border Services Agency. After being determined a flight risk when her refugee visa was not renewed, she was remanded into custody at Vanier Centre for Women, a female maximum prison, for seven days before she was deported to Nigeria.
Now, to the crux of the matter. Madam KOO, as she is popularly referred to, has made it her life mission to expose the fake lifestyles of Nigerian celebrities, both male and female. Sometimes this means sharing articles, social commentary, or giving talks at conferences. Other times this may mean speaking up about the bad behavior of a celebrity to draw attention to the issue and educate the community.
She is prominent for calling out the number one celebrity on the list, popular singer Davido. Infact, a week rarely goes by without her calling the 'Fia' crooner out for one atrocity of the other. She once delivered some unsettling prophecies about Nigerian award-winning singer, Davido. According to her, the Adeleke family suffer from a curse and that can only go away if Davido carries out certain instructions.
Often times, she has even dragged his girlfriend, Chioma Rowland,who is number two on her list into her controversies. In February 2019, Kemi Olunloyo had released screenshots of chats between herself and Davido's head of corporate sponsorship, Special Spesh, where he stated that Chioma was having multiple affairs in London and cheating on Davido. The post immediately went viral with many people taking it for a fact as it was said by Davido's man.
Another huge controversy she had brought to light was that of Nollywood actress Iyabo Ojo (number three on the list). These two have been engaging in a messy social media war for some months now. Recently, the actress warned the retired journalist against calling out her kids or risk going to prison again. In response, Kemi recently leaked her chat with a particular person who accused Iyabo Ojo of dating a popular pastor. In the leaked chats released on Instagram by the journalist, a lady named Ebiye Patience accused Iyabo Ojo of dating a pastor named Ibiyeomie. The individual claimed the actress was a runs girl who snatched the man of God in question from a colleague of hers.
Another one worth mentioning is Instagram personality, Tunde Ednut (number four). In January 2019, Kemi Olunloyo had claimed that she has a full dossier from a US immigration snitch that Tunde Ednut is living illegally in the US. She claimed that the singer turned social media influencer has refused replying her messages, added that Donald Trump's Government shutdown is helping his case as no immigration services are available. She then proceeded to expose more dirty secrets about him, claiming that he was a 'Yahoo boy' and subsequently got deported.
View this post on Instagram
Number five on the list is billionaire blogger, Linda Ikeji. Kemi Olunloyo warring with popular blogger Linda Ikeji was a regular one as well. According to Madam Koo , she crossed paths with Linda Ikeji when she had an intimate affair with the fiance of her cousin named Adeola Olunloyo 12 years ago. She narrated how she visited Nigeria from US in 2006 for the society wedding of her cousin named Deola Olunloyo, a journalist too who was set to get married to a high-profile Black American broadcaster, Dan Foster. Things reportedly went south when Deola learned about Linda's affair with Dan Foster forcing her to back out from the wedding which had already been fixed with food materials and drinks already purchased. She added that all efforts to pacify her cousin to forgive Dan and continue with the marriage failed as she felt it was a bad beginning. From that point, she drew a battle line against Linda, exposing her celibacy stunt, fake pregnancy, baby daddy identity and more drama.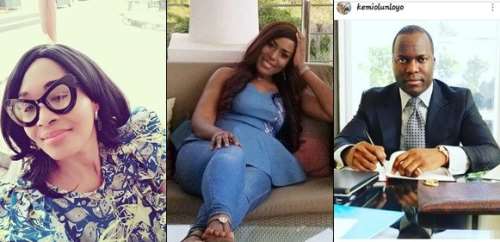 The last on this list is the most recent one of them all, with veteran rapper, Ruggedman. Kemi Olunloyo had said rapper Ruggedman snitched on Naira Marley just because they had a conflict of interest. Kemi in her claims, wrote that she got her information from an inside source within the EFCC that it was Ruggedman that initiated the petition to arrest the up-coming rapper.
In my own opinion, I think she is going about it the wrong way and if care is not taken, she might destroy a couple of careers with her expose. If you ask me, she is just bitter and depressed and desperately needs help. Being a person in such a position and/or challenging the way things have always been comes with a lot of risks. She needs to weigh these risks every time she speaks out: "choose her battles", "is this really worth it?", "what will I gain from this?", "how will this hurt me in the long run?" are all things that should regularly go through her minds. A taste of some of the risks she has opened herself up to include the following:
Financial and Professional
losing a job for views deemed controversial to her social media base
failing to get a job because of the very thing she speaks out against, for fear she may ruffle feathers, be difficult to work with, or will attract unwanted attention to herself
being labeled as a trouble maker, angry, or fringe (which a lot of people do on a daily basis)
being seen as a risk to an employer, conference organizer, or any group that relies on the financial support of customers or members that do not hold equality in the same esteem that she does
Social Risk
distancing friends and colleagues who are afraid to be ostracized or seen in the light detractors may see her in out of fear for their financial, professional, and social safety
alienating people that otherwise enjoy her company because they'd rather not be exposed to the depressing reality of many people's lives
Physical and Emotional Risks
receiving physical threats of violence, whether or not the person would actually act on them
receiving threats toward her public, professional, or social image
physical assault or confrontation
receiving messages with abusive language
harassment of friends, family, and acquaintances in her name
What's the best way for her to do this? If she really wants to influence these celebrities' behavior, then she needs to take a chill pill and develop some trust. The core of trust in persuasive interactions is authenticity — the degree to which people think that the public face she has adopted fits who she really is inside. When people feel you are telling them things you truly believe, they are less likely to be skeptical of their interactions with you. She has to see herself as others see her. What do people perceive your motivations to be? Behavior change is hard enough to accomplish when people are willing to engage in the process. When they have reason to shy away from it because they are concerned about your motives, then you have made things even more challenging for yourself.