Nollywood veteran Richard Mofe-Damijo seem to have a problem with females who go the extra mile to get their body shape in order.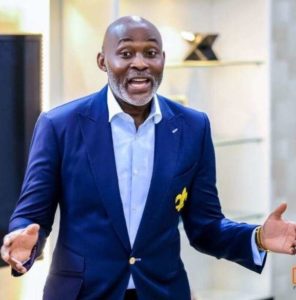 The actor has taken to his Instagram to write a long letter in which he questioned the choices women make.
Posting on his page, he talked about women who choose to alter their bodies, claiming that their decisions were born out of insecurities, which is he is so sure about because he has "been there and done that."
"I can tell you for free that weight loss, weight gain, bu%tt enlargement, bo%b lift, marriage, buying/building your own house, having kids, wearing expensive clothes and shoes CANNOT make you truly happy," he said.
He continued, "Mostly, the things we do to show others we are beautiful, made, tough and/or connected are things that magnify our insecurities. A woman who is secure in her looks has no urge to go under the knife for enhancement, think Michelle Obama."
And he also threw some jab at men who show of their wealth on Instagram, "A man who is secure in himself has no urge to flaunt wealth, I'm yet to see Alh. Dangote post a picture of his "machines" or of him "chilling in his private jet," he said.
This is not the first time he will be questioning the choices people make. Will he ever stop? We guess not.
See his post below:
Following RMD's message, bleaching cream maestro Dencia came for the actor, claiming that she thinks he is too old to be making statements related to butt enlargement.
The singer expressed her reservations over RMD's comment on social media. According to her, RMD is too old to be speaking about bu%t enlargement as it is embarrassing to her. She went on to say that even though she agrees with him over the post, she just feels he isn't the right person to be talking about the said issue.
"RMD is older than my dad, I mean 10 years older, I'll be so embarrassed if my dad was on the internet talking g like this. All these folks steady losing cool points cos of SM. Parents need to stop this SM bants. Why are you 57 a man commenting about boi and bu%ts lifts? Truths is he ain't lying, cosmetic surgery doesn't make you feel any better any better a out yourself, that's why people keep doing it over and over again. Still, I don't want to it to be him talking about it," she wrote.
With what she said, Nigerians weren't having it with her as they bombarded her statement
..
What are your thoughts on this?
Kindly share in the comment box below.