Earlier yesterday, it was reported that controversial Nigerian actress, Tonto Dikeh had signed a N100 million deal with Zikel cosmetics.
If we're to go by the amount reportedly paid for the 'mouth-watering' deal, that would make her the first Nigerian celebrity to be paid such amount for being an ambassador of a makeup brand in Africa.
The self proclaimed 'King' revealed details of the contract on her Instagram page.
Showing that she had been paid "N50 million upfront before the execution of the agreement" and as a plus, would be paid N2 million for products created in her name.
The cosmetics brand announced the new addition to their brand through their official Instagram account.
They said: "KING TONTO joins the ZIKEL COSMETICS family as its Brand Ambassador and the first Nigerian to be paid a whopping sum of N100,000,000 per annum as endorsements for a makeup brand in Africa ! Legally endorsed and managed by Manifield Solicitors."
The deal also stipulates that bills for services provided by Dikeh (transportation, accommodation, general logistics) to events in favor of the brand would be covered by the company.
Following announcement of the deal, another controversial actor, Uche Maduagwu took to his Instagram page to shade the actress other her alleged N100M endorsement.
According to the actor, It is only in Nigeria that celebrities would get an endorsement deal in which the figure of the deal is higher than the company's annual profit margin.
He wrote,
"Dear fellow actors and celebrities alike, Take it easy now…?? How can you allegedly say you sign a 200 million Naira, or even 100 million Naira contract with a company that does not even make up to 30 million Naira per annum as PROFIT after TAX in Naija?? Let us fear God oh… Even the so called BIG brands like #GLO, #MTN etc that we know make BILLIONS per annum, hardly sign celebrities with such big amount.? Honestly, when they tell you they just signed a multi million Naira contract, my people many a times, the figures are inflated.? There is nothing someone will not hear in Nigeria, wait, are these hype also for publicity or what biko??"
Meanwhile, actress Juliet Ibrahim earlier yesterday had a sort of response for Tonto Dikeh, who had a lot to tell her colleagues on her Instagram few days ago.
Drama started after Dikeh shared a new post in which she announced her new relationship with a supposed rich folk, adding that she will expose any of her colleagues in the movie industry who dares to approach this said rich person for financial help.
She made this known via her Instagram page on Wednesday, May 22, 2019. Tonto didn't even go subliminal as she mentioned the names of the celebrities who keep begging her new lover for financial assistance.
Her Insta-story read;
"Dear Nollywood and music industry, I am in a new relationship now and, to God, if I see anyone of you begging him money, begging him to sponsor your shows or movies… I will mess you up and your whole life!! Id#ots. Na if I find una beg abi. I will expose all your gay azzes and the females to go!!" she wrote.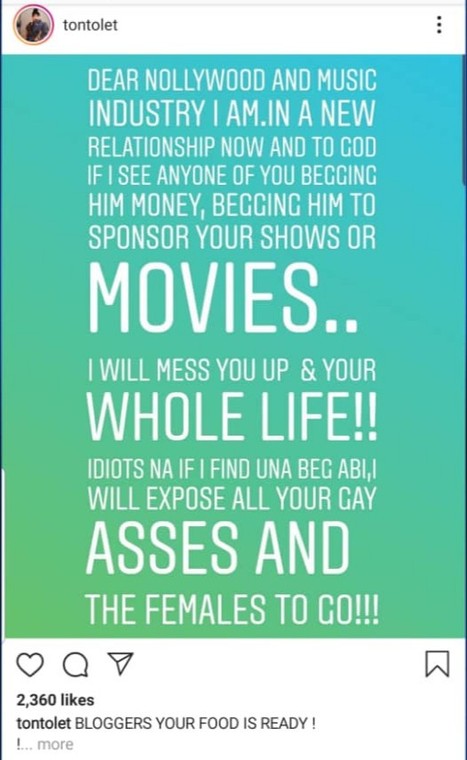 "I WILL DISGRACE YOUR FUTURE!" said Dikeh, who then went on to name names ion the caption. "Ik igbonna, Annie, 2face, eniola, praise, juju, TOYIN and co be warned I truly dont want problem!! But I will beat you up,if you can beat me get ready!!"
Well, Juliet Ibrahim got wind of the post, and shared a photo with the caption.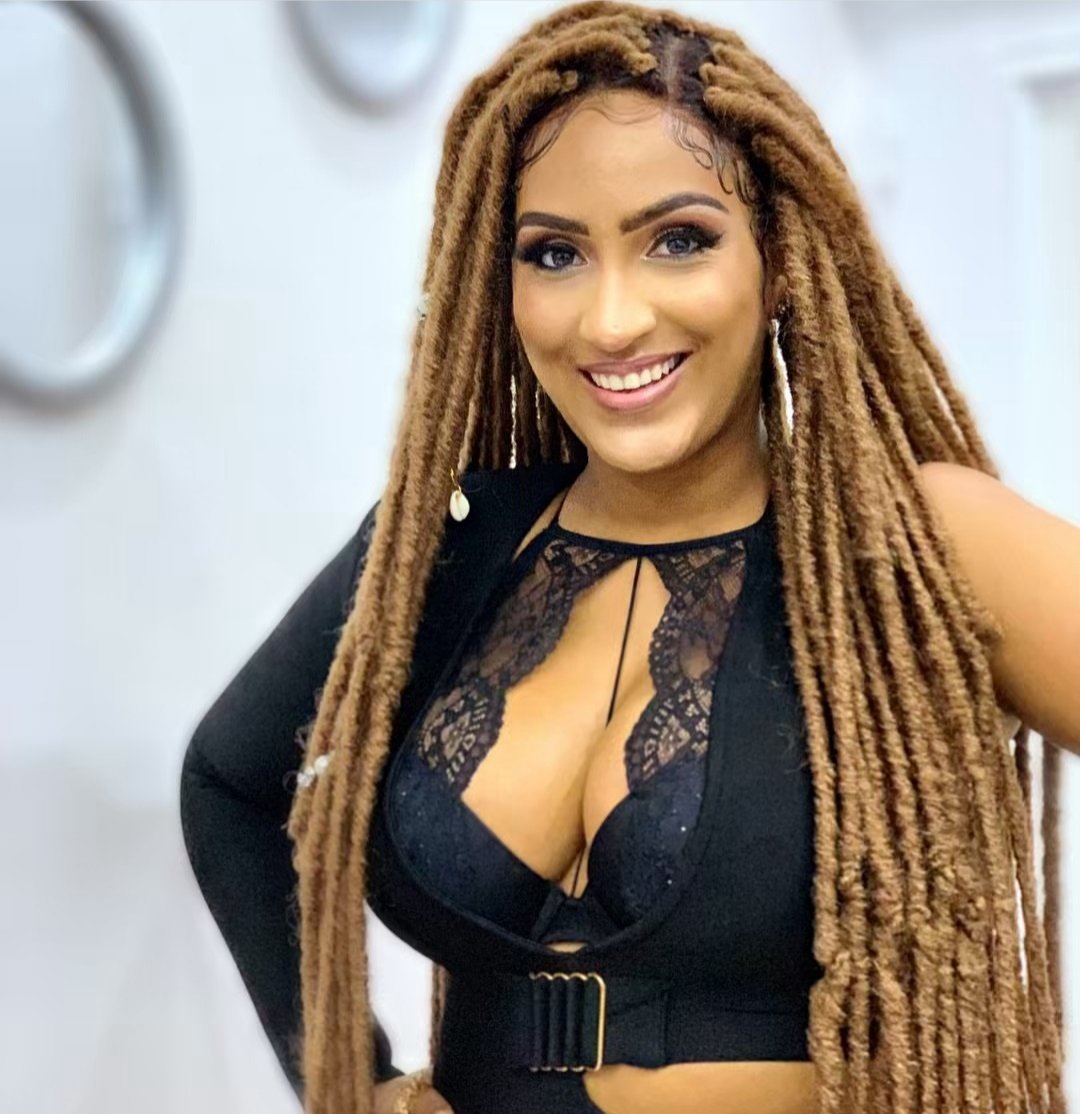 "They need to speak about me to get attention because if they spoke about themselves, no one would care," she wrote.
See her post below:
..
What are your thoughts on the figures on Tonto Dikeh's new endorsement deal?
Kindly share in the comment box below.