It has been reported that Nollywood actor and father of one, Ik Ogbonna blast Tonto Dike as he called her a dog who needs a bone after the controversial actress threatened to beat him and other entertainers up if they beg her new man for money. The mother of one fired back at Ik as she stated that IK Ogbonna's ass is leaking.
It was reported earlier that the beautiful actress who revealed that she is now in a new relationship, warned Ik, 2Face, Annie Idibia, and her colleagues from begging her new man for money or risk getting messed up. However reacting to the threat, IK Ogbonna wrote;
"When a dog barks. throw in a bone".
Tonto Dikeh who fired back, stated that IK Ogbonna's ass is leaking and she is patiently waiting for the bone he's going to throw in, as she is not going to stop barking anytime soon.
Meanwhile, also recall that Tonto Dikeh revealed she once caught her ex-husband Olakunle Churchill, on red pant and with red candles performing rituals in the midnight. However, Tonto's revelation, of course, caused mixed reactions amongst fans, followers, and colleagues even Ik Ogbonna, threw a subtle shade in the air and we're kinda like helping Tonto to catch it. IK Ogbonna took to his Instagram stories with a caption saying;
"While Breaking Internet thinks of your pikin….To whom it may concern".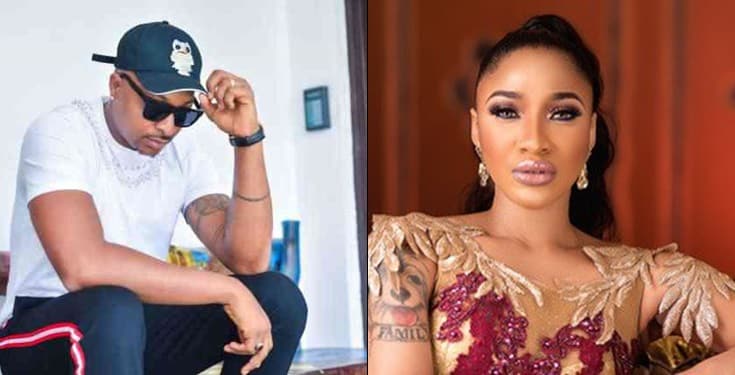 Tonto Dike who took her threat against IK Ogbonna a step further, threatened to sue him and also demand his butt x-ray. Tonto Dikeh who also warned IK Ogbonna to never mention her son's name in a troll post against her, also told him to think about how their fallout will affect his son.
"@ikogbonna Pleaase Think about your son and how this fallout will affect him!! Cause I am a no hold back kinda sis my brother!! E go bad cause mehn I don wan talk since you sue that girl but I just calm My own is I will sue you back and forth and demand for your butt x-ray #Dont play with me ikAnd IK don't EVER mention my son again. #POST AND DELETE IN 1HOUR".
It would be recalled that a certain bold Pink was the first person who accused the Nollywood actor, Ik Ogbonna of being gay after which he threatened to sue her for defamation.
Source: Gistreel
What do you think about this? Please share your thoughts with us below