A Nigerian social media user has used his platform to call out much loved singer Wizkid and labeled him a proud fellow for the way he greeted legendary singer 2baba, at a social gathering.
Sharing a video clip from Patoranking's album listening party, the man identified as @IdBoss2 , expressed dissatisfaction at Wizkid and noted that he is arrogant for the way he shook hands with a senior colleague in the music industry.
In the video shared, the Manya crooner was spotted exchanging handshakes with the celebrant of the night and 2baba who was also in attendance.
"When we say Wizkid is arrogant, his fans will call us haters. How can you greet 2baba like that to even see that he looked away after shaking Pato, then 2baba had to stretch his hand to shake him. SMH." he tweeted.
However, for @IdBoss2, he holds the opinion that the star singer should have gone about his mode of acknowledging a senior player like 2baba, in a completely different way.
See his post below:
When we say Wizkid is arrogant, his fans will call us haters. How can you greet 2 baba like that?
To even see that he looked away after shaking pato, then 2 baba had to stretch his hand to shake him. SMH pic.twitter.com/MiIpccEs5U

— mouthpiece of the gods (@IdBoss2) May 22, 2019
His observation immediately sparked reactions from users on the platform as many wondered how else the singer (Wizkid) should have exchanged pleasantries with his colleague.
See reactions below:
..
Meanwhile, a couple of days ago, a video of Wizkid and Tiwa Savage all loved up and playing circulated social media.
In a video which has now gone viral on social media, Wizkid and Tiwa Savage were seen chilling at an undisclosed place somewhere on the island in Lagos.
A close look at the video and you see Wizkid tapping Tiwa Savage's bum in a playful manner and she kinda loved the gesture.
Don't we all love it when we see Tiwa Savage and Wizkid hangout together?
View this post on Instagram
Even though the relationship between these two is yet to be defined, they always keep giving us the vibes that there might be something going on between them. This isn't the first time we've been lucky to see Tiwa Savage and Wizkid all loved up in a video or photo.
Wizkid and Tiwa Savage have been serving their fans friendship goals which is just too close to couple goals. Though, the duo superstars have not come forward to deny or accept their rumoured relationship, they just keep pointing their fans to it.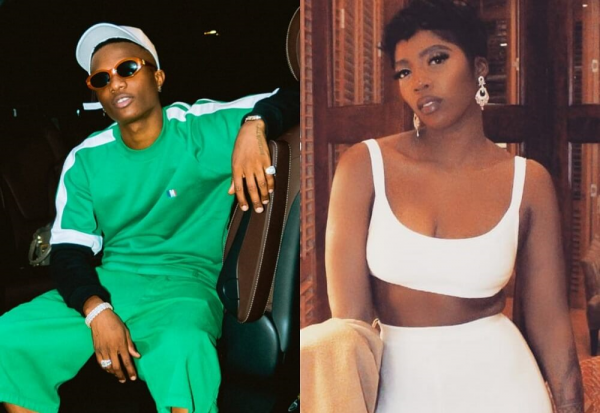 Sometime in February, Tiwa took to her Twitter handle to tweet a lovely message at her rumoured lover, Wizzy. This singular act caused a lot of frenzy on social media.
The mother of one who at the time was absent from social media came back with a bang. She stole the sphere writing on how much Wizkid inspires her.
See her tweet below…
In another lovely video, the duo were spotted together shopping.
In the video, Wizkid and Tiwa Savage were shown shopping in an undisclosed place which looked luxurious. Also, the Fever crooner was with a lady who was recording the clip.
They were having fun taking a video of themselves when, all at once, the camera turned and Tiwa was depicted standing at a lone corner watching the activities of someone who was probably shopping alongside her.
A new side to the relationship between Wizkid and Tiwa Savage was revealed in the video. During the shooting of the footage, the male musician took to taunting the Lova Lova crooner and teasing her.
Also, he exhibited a childish, playful nature throughout the duration of the video. The lady who was with him commented that he looked very fresh. In response, Wizkid took to flaunting his good looks and making the camera love him all the more.
..
Kindly share your thought in the comment box below.