Recently, a video made the rounds on social media of Wizkid tapping Tiwa Savage's bum as they were 'baecationing' at an undisclosed location by the water, the both posted updates of a similar location on their Instagram stories.
In the video, Wizkid is seen just being  playful and free watch the video below…
4. The O2 arena scene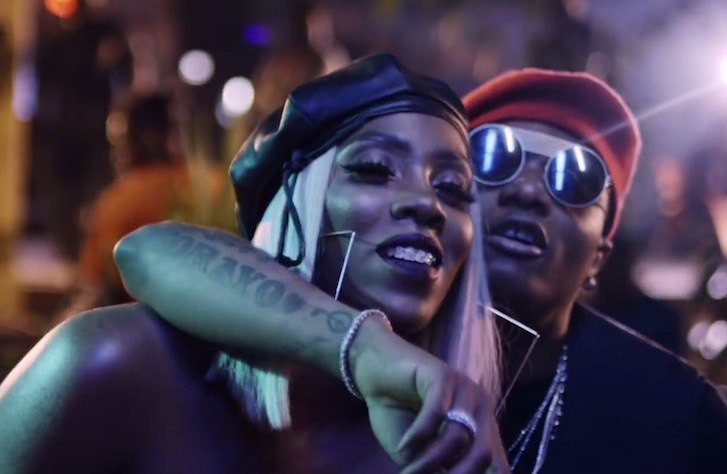 Wizkid got a lot of rave after he sold out the 20, 000 seater 02 Arena in London. He indeed shut it down with an amazing performance all through. During the concert, something amazing happened, Tiwa Savage hit the scene!
He stepped out to bring the gorgeous mother of one, Tiwa Savage, for their performance of their hit collaboration song 'Malo'. He introduced the African Barbie  as  "Someone special" and then added that she  "Stay sexy for daddy." HMMMMM!!!! Daddy or Zaddy 
3. The golden 'Kiss' at GidiFest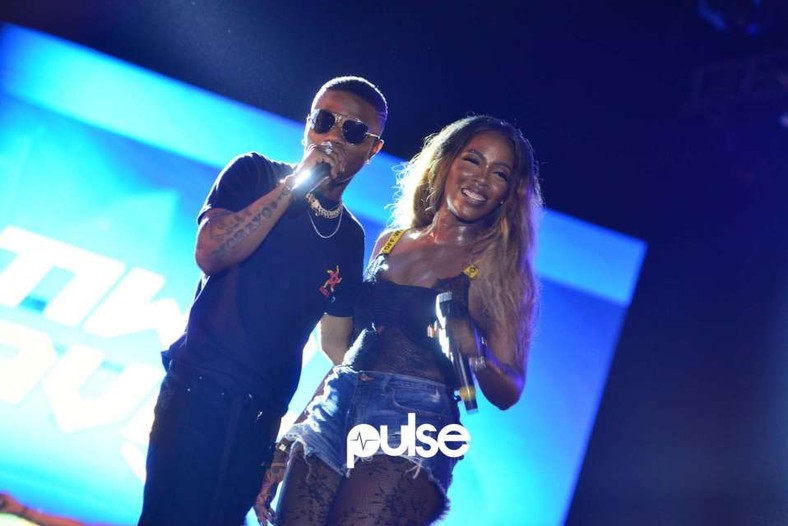 Easter Friday on the 30th of March 2018 was an amazing time for music lovers in Nigeria, more specifically in Lagos state as the Gidifest was turned all the way up! If anyone was in doubt of Wizkid and Tiwa Savage's relationship, then they would have gotten confirmation on that day.
Among the many phenomenal performances for that event were the Star Boy himself and the 'All Over' crooner Tiwa Savage. The first to come on stage was Tiwa Savage who looked sexy as usual, she was later joined on stage by Wizkid and they received a lot of cheers for the fans.
Just when we thought it was going to be the usual collaboration, as usual, the unexpected happened as Wizkid drew Tiwa Savage close to himself and gave her a very cute kiss on her chin!
2. Shopping Spree at the Mall
Sometime in February this year, Wizkid took Tiwa on a birthday shopping spree and the adorable couple couldn't keep their hands on each other all through. The video was posted by a friend was captioned "late night shenanigans with my faves" and "can't take them nowhere"
Watch the video below…
View this post on Instagram
1. The Fever Video
THE FEVER VIDEO!!! How can we forget the stew all over that video. It was the definition of too much juice, too much sauce.The video, which features fellow singer Tiwa Savage, went viral on social media as the duo engaged in some intense romantic gestures. Just incase you need a recap, here's the video below…
However, in a post on his Instagram page hours after the video was released, Wizkid called Tiwa Savage his "best friend", noting that the video is special to him. Best friend abi, I need that kind of 'best friend' o!
See some twitter reactions below…
"But you said Tiwa doesn't cook, have you seen Wizkid's 'Fever' video?"

Teebillz: No, what…?

My guy, everywhere stew pic.twitter.com/BkLVMHEF34

— ??Ibadan Lord ?? (@degosTee) October 24, 2018
What Tiwa and wizkid did is none of our business tbh… they are both matured and knows what's best for them..

They want to sell fever.. they know the best thing to do.. and they did it.

They want people to talk.. now we are all talking ..

Perfect PR

— Dr. PamPam | Omo Iya Ologi (@thepamilerin) October 24, 2018
Lmaooo Wizkid's Fever video makes me happy cos they both didn't say anything after TeeBillz wrote his rant. They just jejely shot a sexy video so that TeeBillz can have a seizure… on blood geng ????

— Mr. Madu (@DwinTheStoic) October 24, 2018
No wonder wizkid has been hyping fever video.

— ✭ JustinUg (@Justiiin_Ug) October 24, 2018
After watching the fever video, I'm looking for romance ??? I just want to hexperience chemistry, physics and biology at ones #Fever

— Toke Makinwa (@tokstarr) October 24, 2018
This Fever video! Auntie Tiwa and Brother Wizkid. There is a 10 year age difference maybe even 10 inch height difference and you are romancing romancing pic.twitter.com/cxCNC59LST

— ɛnti dɛn? (@OfficiallyVex_) October 24, 2018
Did y'all see where Tiwa was riding Wizkid in fever video ?

Ani wizzy is knacking Tiwa se

— Biyi The Plug ? (@BiyiThePlug) October 24, 2018
This was Wizkid after he finished shooting the "Fever" video with Tiwa Savage. pic.twitter.com/xoWAlnQ5QH

— Wole (@Kingwole) October 24, 2018
How people see wizkid and tiwa in fever video ? pic.twitter.com/xodGH6kOFs

— Daddy CHO (@Chidubem__O) October 24, 2018
Share your thoughts in the comment section below
Source: Pulse NG/Punch NG