Dancehall singer, Timaya's first daughter, Emma is 7 today, May 21, 2019.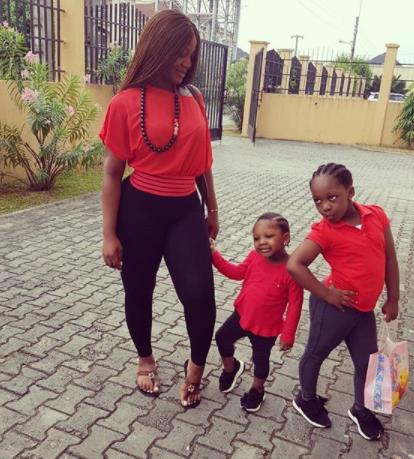 Her mother, Barbara took to Instagram to celebrate her by sharing new beautiful photos.
Captioning one of the photos, she wrote:
"Another year has passed, and you grow more beautiful and grand each year.Can't stop thanking God for your life today and every day my angel on earth. Thank you so much for bringing joy to my life. A blessed and a very happy birthday to u my darling emama, my sunshine, my little angel. Mummy loves you so much but God loves you more."
See photos below…
Meanwhile, Timaya in his usual free-spirited manner says he can allow his daughter to become a stripper if thats what she wants.
The Reggae dancer hall king made this known while granting an interview with Vibe Magazine where he covered the front page of the tabloid.
"If today she tells me, daddy, I want to be a stripper, that's her life. I brought her into this world. I just need to make her understand what is good and bad, what is right and wrong. Sometimes what you think is wrong for the child can be good for the child.
"Imagine, my father wanted me to be a banker, how? That's not what I wanted to be. I followed my dream. Just imagine if my parents had stopped me. This music that they never wanted me to do is what is taking the whole family somewhere, so, I think I should allow my daughter express herself," he said.
The singer has also revealed overtime that as a father to three children from two different women, he is a better father than many husbands.
In an interview with Punch, Timaya said "People fail to understand that a lot of baby daddies are better fathers than a lot of husbands.
"The kind of role I play in my children's life, I don't think some husbands do that. I have time for my children, I love my children but some married men don't even have time for their kids," Timaya said.
Continuing, Timaya said there are husbands who don't understand what it means to be a father because they don't show enough love to their kids.
"They don't show their kids love, they don't know what it means to be a father. It doesn't have anything to do with money; it's about love and attention."
..
What are your thoughts on Timaya as a father?
Kindly share in the comment box below.