It has been reported that popular Nollywood actress, Tonto Dikeh took to her Instagram page to share photos of fans she's traveling with to France for her birthday celebration and also with the Super Falcons as they turned up at the French Embassy for the visa.
It seems the actress is really preparing for her birthday and it's all looking like that day is going to be a very great one for the actress and her friends who would be attending the party. She posted birthday giveaway on her page as she informs her fans to get ready to win big prizes, check it out below;
"ALMOST TIME FOR THE BIGGEST ONLINE GIVE AWAY FOR ALL TIMES, THE KINGTONTO BIRTHDAY GIVE AWAY
1) One landed property in Abuja by @t_d_foundation
2) 10Smart phones by @kingandre_dikeh
3) 3ipads

4) empowering 10Upcoming makeup artist with makeup kit worth 150k each from @zikelcosmetics

5) 3 BIRTHDAY CAKES for 3BIRTHDAY MATES from @nikkycakestudio (Abuja fans only)

6) ALL PAID HOLIDAY FOR A SINGLE MOM AND HER KIDS

7) 10 Sapphirescents luxury wristwatches

8) 10 Sapphirescent car diffusers

9) 10 Sapphirescent sweatshirt @sapphirescents @walejana

10) 2 basket of my favourite stress relieve products from @scentsofapril 

11) FREE MEALS IN THE BEST CHINESE AND AFRICA RESTURANT from @silkroadabj (Abuja fans only)

12) 5 fans, 5free hair installation & pedicure/manicure from omoshola place

13) 5 fans 5free boobs and butt enhancement therapy from @omoshola_place (Abuja fans only)

14) 3 fans trip with me to France by @amstelmalta

15) 5 pairs of larrit luxury shoe by @larrittshoevillage

AND MANY MORE . TO STAND A CHANCE TO WIN FOLLOW ALL OF THE ABOVE ACCOUNTS AND REPOST!!
#KINGTONTOBIRTHDAYGIVEAWAY#KINGTONTO #JUNE9TH#BIRTHDAYGIRL
Hair @glitzandglam".
It would be recalled that Tonto Dikeh shared a pre-birthday photo where she was half naked with the caption;
"my reaction when someone says "In Addy". Yall mean in advance?".
Remember this image below? This provocative photo of Tonto sparked a lot of reactions early this year and it looks like the actress has found herself a new fetish which is striking uncensored poses that show her unclad. Should we expect more revealing pictures on her birthday? Let's wait and see.
One would wonder how this lady ended up with a 40 seconds man. It's funny right?
It was also reported today that, Nollywood actress, Tonto Dikeh took to her Instagram page to teach her fans and followers some valuable life lessons. One of her followers reached out to her on social media to assist him with some money. Knowing the said follower as a person who always trolls her constantly in her comment section and on blog platforms, the philanthropist still went ahead to gave him the money he needed.
The beautiful actress, went ahead to post screenshot of the conversation on her page. According to her, she is not publicising the act to chase clout but to teach her followers how life can humble anyone at any second. Tonto Dikeh revealed that hate won't stop her from "helping and saving souls", as the Instagram troll asked for small money but Tonto sent him N50K to teach him a life lesson.
She wrote,
"GOD DIDNT BLESS ME FOR ME!! YOUR HATE WOULDNT STOP ME FROM MY LIFESTYLING(HELPING AND SAVING SOULS)!! I WILL GIVE AND KEEP GETTING BLESSED, YOU KEEP CURSUNG AND BEGGING!! #he said small money I gave him just 50k (Thos is not to embarrass you but to TEACH YOU LIFES LESSON)".
See their exchange below.
Meanwhile, this is not the first time Tonto Dikeh has been helping people irrespective of who you are to her. Like two days ago Nigerian actress Daniella Okeke revealed how deep friendship with Tonto Dikeh is. Daniella Okeke shared a post, talking about how they met and how the mother of one had helped her out for two years. On a post shared on Instagram, the curvaceous lady explained that Dikeh had given her shelter in her house for two years without collecting a dime from her. Okeke further expressed that the Tonto Dikeh is the craziest and nicest person she has ever met. Daniella also thanked God for her friendship with Tonto Dikeh over the years. According to Okeke, who said looking at everything they have been through together, she realised that they have both grown older and wiser.
Daniella wrote:
"This babe right here housed me in Lagos..for 2yrs without collecting a dime from me. She is still the craziest and nicest person I have ever known.. looking back after all these years all we can say is thank you, God, we older and wiser. @tontolet."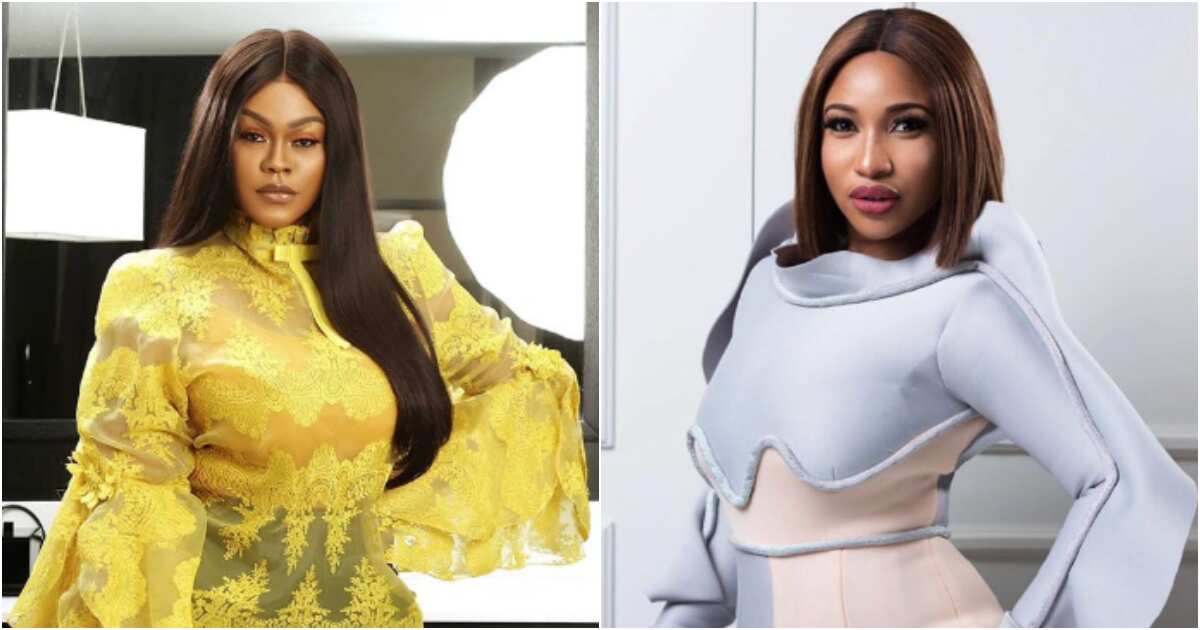 The actress made the friendship post with a video of herself and Tonto Dikeh being goofy and playing together in Abuja.  Watch the video below;
You would agree that Tonto Dikeh always show up for the people she holds dear to her heart in any way she can.
Source: Nairaland/Linda Ikejiblog
What do you think about this? Please share your thoughts with us below