Iyabo Ojo is a Nigerian film actress, director, and producer. She was born Alice Iyabo Ogunro. As a producer, she has over 14 films to her credit as well as having featured in over 150 others as an actress. Just yesterday, the Nollywood actress shared a heartfelt story about her failed marriage, and how she raised her kids.
She wrote:
"DONT STOP IN YOUR STORM Everyone has a story, everyone's life is a story. I decided to share a bit with you, to strengthen and to encourage someone out there. We're all capable of doing amazing things, but whenever you find yourself doubting how far you can go, just remember how far you have come. Never stop in your storm. Isaiah 41:10 So do not fear, for I am with you; do not be dismayed, for I am your God. I will strengthen you and help you; I will uphold you with my righteous right hand."
See the video she shared below:
Marrying a Lagos-based movie marketer in 1999, when she was 21, Iyabo took a break from pursuing her acting career when she learnt of her pregnancy. She is now divorced from her former husband, Ojo with whom she has two grown children. She gave birth to a son by the name Festus and then a daughter called Priscilla in 1999 and 2001 respectively. She has attributed the breakup of her first marriage to getting married too young and has also spoken of her intention to stop using her former husband's surname, Ojo.

The actress has a man she loves now and is not willing to divulge the name of her boyfriend. They are not planning to get married any time soon. He is the second most important thing in her life after the kids. She feels comfortable and receives great support from her boyfriend.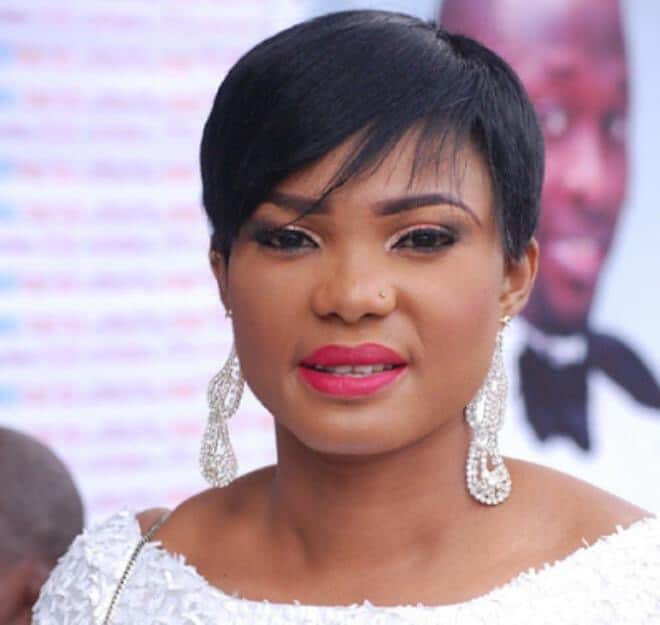 Recall that sometime ago, Iyabo Ojo was called out by Kemi Olunloyo, who additionally asserted that the actress is a prostitute for allegedly dating Port-Harcourt based Pastor, Pastor Ibiyeomie of the Salvation Ministries.
A church member  accused Nollywood actress, Iyabo Ojo, of using assorted charms to sleep with popular Port Harcourt pastor, David Ibiyeomie, who is the founder of Salvation Ministries. Immediately, controversial journalist and daughter of ex-Governor of Oyo State, Kemi Olunloyo, shared the church member's claims on her HNN Page on Instagram, before the post was pulled off on the social media platform.
Recall that Ms. Kemi was jailed for weeks after defaming Port Harcourt-based Pastor David Ibiyeomie. The post, which has now been deleted on Instagram reads:
"#Nollywood ACTRESS IYABO OJO IS A RUNS GIRL THAT USES JUJU ON PASTORS TO BED HER AND LAVISH HER  WITH GIFTS church member tells @HNNAfrica #HNNInvestigates #AccessNollywood Good morning Madam KOO. My name is Ebiye Patience and I'm a dedicated member of Salvation Ministries, Port Harcourt. Our Pastor, David Ibiyiomie is shamelessly frolicking with yoruba runs girl  Iyabo Ojo. All these runs girls in the name of actresses."
"We learnt that he has been spending the church's money on this girl and some other nollywood actresses to the point that Iyabo and Vivian Metchie had a nasty fight on him. After catching her in bed with a boy she picked from the club. She has used juju on our pastor. The range rover 2008 model she uses now used to be in our pastor garage before he dashed her. The Toyota corolla she claimed she bought her PA last year is one of the cars that her former minister ex boyfriend dumped her after church gave its members for Christmas. This story was almost out last year but she paid off the press with cash and her body."
"She is a grade one runs girl who picks little boys on the street to sleep with. Our pastor is gradually destroying God's name as he is now a sugar daddy to iyabo ojo. Even though she paid press, I know madam KOO is one who can't be bought by money and will do investigation and let the world know the truth. @IyaboOjofespris and @DayoAmusa visits all herbalists everywhere. Our pastor is even building a house for this girl as I speak. They should stop destroying Nollywood. Pls fish out these runs girls."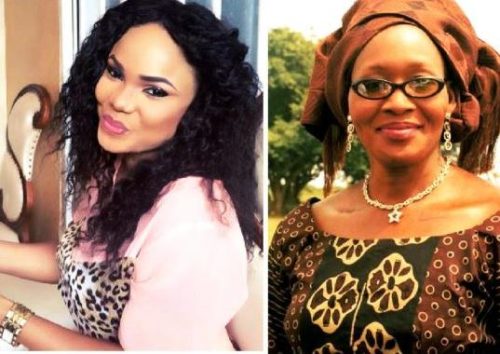 "Pastor has a hidden house in PH that's were he houses Iyabo anytime he wants to see her. She is also dating a series of men. Hustling between them all so that she can form big lifestyle with money gotten from them all. There is no herbalist that doesn't know her. She pretends to be nice but inside, she is a snake. She has a shop off Allen but she sells nothing. You can send someone there to investigate. You'd meet no one. Its a cover up for her runs girls' business. She should definitely be exposed. Every runs girl must be fished out. God bless you ma. I have reached out to Iyabo Ojo on these allegations. No response yet. #madamhnn"
Iyabo Ojo attended the National College, Gbagbada, in Lagos and later joined Estate Management at Lagos State Polytechnic for her studies. Having been involved in a drama group at secondary school, she commenced her acting career in 1998. Describing her start, she has said: "So after I had come of age, I went to Bimbo Akintola, after watching one of her movies…and told her that I wanted to be an actress and she did help me. Through her guidance, I registered with the Actors Guild of Nigeria (AGN) and afterwards she took me around, introducing me to a lot of the people she knew in the industry."
Her first role was in 1998's Satanic, an English-language film. In 2002, she made her Yoruba-language debut with Baba Darijinwon. In 2004, Ojo started producing her own films, her first production being Bolutife, after which she made Bofeboko, Ololufe, Esan and Okunkun Biribiri. In January 2015, her film Silence, which features Joseph Benjamin Alex Usifo, Fathia Balogun, and Doris Simeon, premiered at the Silverbird Cinemas, Ikeja, in Lagos.
Please leave your comments below.