Entrepreneur and music executive, Ubi Franklin has taken to social media to reveal that he is expecting his third child but didn't disclose the mother of the child yet unborn.
In a message on Instagram, the delighted head honcho of Made Men Music shared side by side a photo of his son, Jayden whom he welcomed with his estranged wife, Lilian Esoro and his daughter Zaneta from another partner.
The 33-year-old father wrote on his page: "Happy To Announce Jayden and zaneta will have a Boy join them very soon ??????. He shall be called ———— ? Can't wait…
Meanwhile, the identity of the Ubi Franklin's latest babymama has been revealed to be a South African lady, Nicola Siyo, who reportedly got pregnant for him while working as the Head, Corporate Communications of one of Ubi's recently launched startups.
Reports say Nicola used to live in Nigeria and is an ex-staff to Ubi Franklin who was sacked some months ago when her contract ended but she left Nigeria quietly and didn't inform anyone about her pregnancy as it was said she planned it, to keep Ubi and also find a means to return back to Nigeria.
Meanwhile the Nigerian social media has been buzzing with mixed reactions following confirmed reports that music boss and serial entrepreneur, Ubi Franklin, is expecting his third child from yet another woman.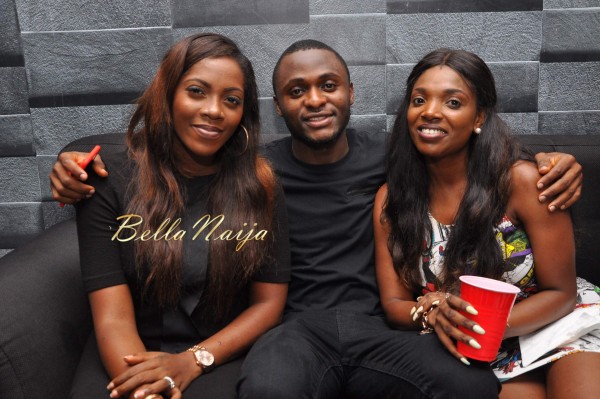 Following this report, several people have taken to social media to react to the news of the businessman welcoming a third child from yet another woman. While some people are of the opinion that he has a right to fathering as many children as he desires seeing that he is financially buoyant, others however are not taking the news well, stating that his behaviour is rather disgraceful.
Y'all are just being hypocritical about the Ubi Franklin trend..
The guy has his life all planned out & you out here on Twitter have no insight whatsoever about how it is

I mean can't you employ your lover in your own investment & you two have a baby? That's reckless?
Stop it!

— Harry? (@mvpharri) April 13, 2019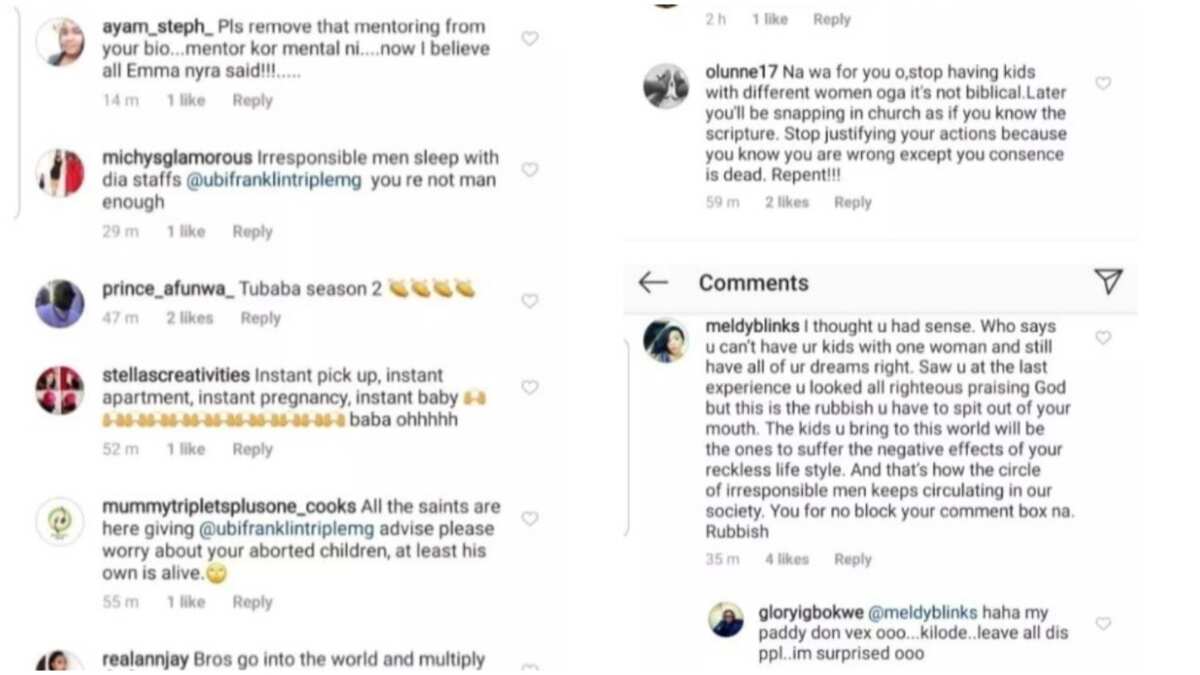 Ubi Franklin will be trending back to back in the next few weeks. Calabar men their thing dey work second by second , and I doubt if they can padlock it

— Tgurlpinkky?? (@Enomfon12) April 12, 2019
Ubi Franklin went from Instant Pickup to Instant Belle

— YG (@Yuggiio) April 12, 2019
Ubi Franklin is nothing but a disgrace.. Tueh

— Dubem ? (@pretty_dumz) April 12, 2019
Ubi Franklin impregnates one of his staff ?????. Dam Nobody post spiritual content more dan da bro for IG.
Play on player
?????????????????

— davido wizkid atiku endsars buhari nigeria bbnaija (@lightningEWE) April 13, 2019
Ubi Franklin can keep having as many kids as he wants as long as women keep providing instant baby mama services to him…i support him ooo coz he is not forcing anyone he wants kids and instant baby mama services is just another business

— sallu's only (@BevNavy) April 13, 2019
Mixing business with pleasure, your business suffers. Sleeping with any of your staff is the height of irresponsibility. Instant group is co- owned by Ubi Franklin but we don't hear about it much this days. I know a babe that resigned because Ubi wanted her at Abuja office.

— Adaobi ?? (@Ada_obii) April 13, 2019
Many people took to the comment section of the businessman to blast him/@ubifranklintriplemg Source: Instagram Meanwhile, Franklin, who has been accused of being a cheater by his former partner, Iyanya recently, while giving an in-depth narration of his side of the story made claims that the Kukere crooner was notorious for having affairs with several married women.
He had revealed this after a series of questions bothering on Iyanya's claim that he domestically abused his former lover and record label act, Emma Nyra.