Late last year, popular Nigerian blogger Linda Ikeji had become the topic of discussion social media after she revealed that she was having a baby boy.  In new photos of the little cute, he looked so good and handsome. The blogger, who shared his photo on Instagram, stated that he is her source of joy. She also noted that they were in Paris. She wrote: "The joy he gives me is nothing compared to anything I thought was possible. #myeverything #JayceinParis."
Earlier on, she had finally confirmed that oil magnate, Sholaye Jeremi is indeed the father of her son, Jayce. She also shared some intricate details about their 3-year long relationship which has since ended. From the moment celebrity blogger, Linda Ikeji opened up about her the real state of things between herself and baby daddy, Sholaye Jeremi, there had been numerous reactions on social media.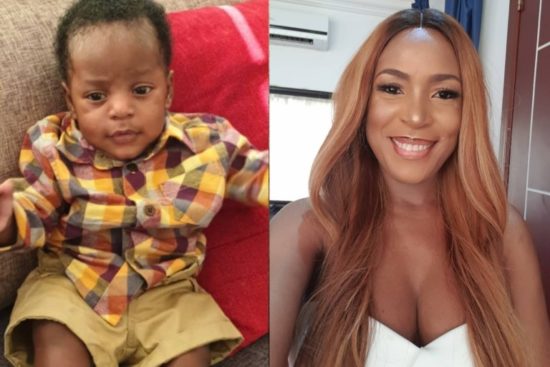 While the story described a relationship which was a whirlwind romance turned sour, many people seem to be having a good laugh out of it as they consider what happened to her as karma for all the things she's done in the past. According to most of these Twitter users, Linda Ikeji went from mocking single mothers to becoming one. Indeed, the internet never forgets and this was clearly reflected in how many people reacted to her story; with little or no pity for the blogger or the hurt she must have past through going through a devastating heartbreak while pregnant.
The blogger was attacked by many who said she lied to her fans. Ikeji had made a post in which she claimed that she was abstaining. Many people attacked her for getting pregnant after she told her fans that she was not being intimate with anyone. However, after her baby boy was brought into the world, his cuteness gave Nigerians something to talk about. And, it seems like the little boy was not ready to give up on cuteness.
Linda Ikeji, millionaire celebrity blogger, wears many caps. Not only is she the most successful blogger in Nigeria today, she is a status symbol, everyone's dream, a go–getter and role model to not just the youths but also a living testimony to the fact that regardless of one's gender or background, one can achieve whatever one aspires to by sheer dint of hard work. To sum it all, she is what the French call femme independante (the independent woman). 
And she lives up to her nouveau riche status, flaunting her wealth and making news as swift and easy as she feasts on stories and gossips. Ironically she is also a ready fodder for gossips. Still, she has some bragging rights due to the fact that she has broken new grounds not just in the media but also in the Nigerian society.
Source: Legit.ng