"It is a paradoxical but profoundly true and important principle of life that the most likely way to reach a goal is to be aiming not at that goal itself but at some more ambitious goal beyond it." – Arnold Toynbee. Money makes the world go round. When you are wealthy buying cars worth millions is just like purchasing a designer bag; it's expensive but affordable to you so no worries in the world.
These rich men have come a long way in their various careers and choose to reward their efforts with cars only made for the rich.
Here is a list of 4 Nigerian billionaires driving the most expensive Rolls Royce cars:
6. E-Money
In December 2018, E-Money bought 2 Rolls Royce Phantoms 2019 edition for himself and wife making him the only Nigerian celebrity to buy the car brand in double in a short time.
5. Duncan Mighty
The Nigerian music star who hails from one of the wealthiest region in Nigeria carved a place for himself in the Nigerian music industry in 2010 and since then everything keep turning out big for him. The self acclaimed Port-Harcourt first son have made so much for him self and he decided to add a Rolls Royce Phantom to his multi-million Naira garage.
4. Brown Ideye
Brown Ideye is a professional football player who hails from Yenagoa. The 31-year-old striker began his football career in 2006 and moved to Europe in 2008. His years as a football player has paid off so much that he is now worth so much money he can afford bad ass whips.
As a classy man and a lover of premium cars, he purchased a Rollys Royce phantom worth millions of naira. He is on our list for many things including, his fine self, great body and sophistication.
3. Adedeji Adeleke
Dr. Deji Adeleke, also called Elder Deji Adeleke is a successful businessman and a billionaire. The 62-year-old man is the father of popular Nigerian artiste, Davido. He is the founder of Adeleke University and the billionaire is one of the famous Nigerians to own the incredible Rolls Royce phantom. Talk about rich men who drive bad ass toys.
2. Davido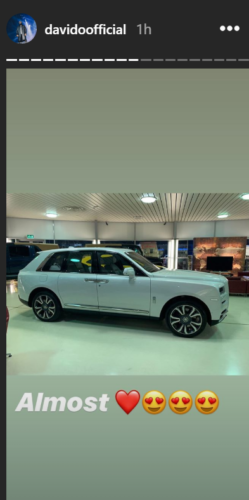 You guys would recall back in 2018 Davido announced he will be getting the latest trend of the Rolls Royce brand; Rolls Royce Cullinan, which is a Sport Utility Vehicle (SUV). But since the announcement, we never got any updates until now.
The singer posted an image of the luxury vehicle on his Instagram story some minutes back to reveal the car will soon touch down Nigeria. The car which costs a whopping sum of $425,000 (#153,000,000) will be Davido's fourth luxury car when it eventually touches down the country.
1. Chris Okotie
Christopher Oghenebrorie Okotie is the head pastor of household of God church. The 61-year-old pastor started his ministry some 32 years ago and on his 27th year anniversary acquired a brand new Rolls Royce to celebrate himself and how far God has used him in the christian world.