A former member of the National Assembly, Senator Florence Ita-Giwa, who represented Cross River South senatorial constituency at the Senate, last Sunday, opened a restaurant, Echoes of Calabar, in celebration of her 73rd birthday.
Located in Victoria Island, Lagos, the restaurant also served as the venue for the celebration of her birthday. It was reported that the new edifice was her second restaurant, as she had opened one in Calabar, Cross River State, a while ago.
Ita-Giwa said that the restaurant was a living testament of her undying love for her ancestral homeland of Bakassi/Calabar, as well as Lagos, a place she had adopted as her second home for almost five decades now.
She said, "Both places, Lagos and Calabar, have shaped me into who I am today. Establishing Echoes of Calabar in Lagos is my way of bringing the rich culinary delights of Calabar and Bakassi to my most cherished friends in Lagos.
"At the restaurant, we have an expansive menu of Efik cuisine, including edikang ikong, afang, abak, ottong, ekpang kukwo and afia efere. A visit to the restaurant is like taking a culinary journey into a world of exquisitely prepared authentic Efik cuisine. Our condiments and spices come directly from the waters of Bakassi and Calabar rivers to ensure that Echoes of Calabar is indeed the most authentic culinary haven for exquisite Efik cuisine."
See more photos:
Some of the guests and celebrities, who came to celebrate the woman, fondly called Mama Bakassi, included Mrs. Folorunso Alakija, Abah Folawiyo, Ali Baba, Ini Edo, Ayo Makun, Helen Paul, Sola Sobowale, Ngozi Nwosu and Uti Nwachukwu, among others.
(According to Wikipedia) Florence Ita Giwa was elected Senator for the Cross River South constituency of Cross River State, Nigeria at the start of the Nigerian Fourth Republic, running on the All People's Party (APP) platform. She held office from May 1999 to May 2003.
Ita-Giwa was born on 19 February 1946 in Atabong, Bakassi LGA, Cross River State, and attended the Kilburn Polytechnic in London, United Kingdom. She became a nurse, then a representative for the Beecham pharmaceutical company, and then moved to Standall Pharmaceutical where she represented Lagos State.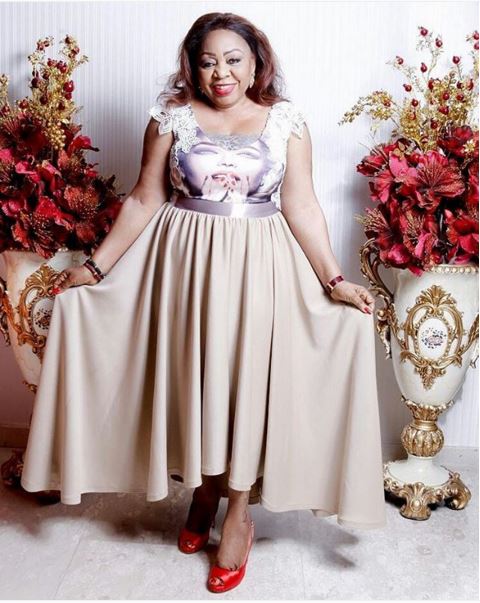 She married Dele Giwa, the founding editor of Newswatch magazine. They were married for only ten months, after which Dele Giwa married Olufunmi Olaniyan, who was married to him until his death in 1986.
Ita-Giwa joined politics and emerged as NRC chairman for Delta State. Thereafter, she was elected a member of the federal House of Representatives 1992-93, and was a member of the committee on devolution of power constituent assembly 1994-95.
She became involved in Bakassi affairs, and earned the nickname "Mama Bakassi". Ita-Giwa was elected Senator for the Cross River South constituency in April 1999 and was appointed to committees on Rules and Procedures, Environment, Foreign Affairs, Women, Niger Delta and Drug & Narcotics.
After leaving the senate in 2003, she joined the People's Democratic Party PDP, and became President Olusegun Obasanjo's Special Adviser on National Assembly Matters. In May 2010 there were rumors that funds were missing from the account of the Bakassi Resettlement Committee, chaired by Ita-Giwa, who asked the Economic and Financial Crimes Commission to investigate the matter.
Source: Punch