Nollywood actress Princess Shyngle has cried out following Mompha, the Bureau De Change CEO's update on Instagram where he wished her daughter a beautiful birthday whom he dressed in an all expensive designers outfit; a Fendi gown and shoes, a Louis Vuitton bag, and a Rolex wrist watch which cost a fortune.
The popular Nigerian big boy based in Dubai who is known for lavish lifestyle which he lives both in real life and on social media treated his over 412k Instagram followers with the picture of his daughter who clocked one year old on Thursday.
"May you continue a path to a long and carefree happiness. I wish for nothing but to see a smile on your lovely face every single second, If the world should be mean and cruel to you, Always remember that you have me as your Guardian to protect you!!! Happy Birthday My Little Princess ❤️ Fatima is 1year Old today ??? Enjoy ur Day my Angel," he captioned the picture.
While everyone were busy wishing the beautiful baby a happy birthday, the controversial actress went staright to calculate the worth of the girl's ensembles which really cost a fortune and the only way she could quantify exorbitance of the birthday girl's outfit was to measure the price with her newly acquired Mercedes Benz; a G-Wagon Brabus.
"The baby's entire outfit can buy my car. She is gorgeous," wrote the tiny waist princess.
In the picture shared above you can as well view how much some of the outfits wore by the birthday girl worth as disclosed by one of Mompha's followers on Instagram.
People familiar with Mompha and his lifestyle know that the Money Man is big on family as he always shower ceaseless love on them at every given opportunity.
It can be recalled that Mompha set a high bar for the daddy of year award after he bought his then 8-month-old daughter an expensive jewelry as gift.
The loving dad, who owns a Bureau De Changenamed after his name 'Mompha' bought his baby girl an expensive Rolex wristwatch in December 2018 when she was still 8-month old.
Mompha shared a video of him trying the wristwatch on for his daughter at a store in Dubai. In the video, the 8-month-girl identified simply as Hanan, seemed unbothered as her dad tried on the wristwatch for her.
Mompha revealed that he had been waiting for the wristwatch to be delivered so his girl could have her first Rolex.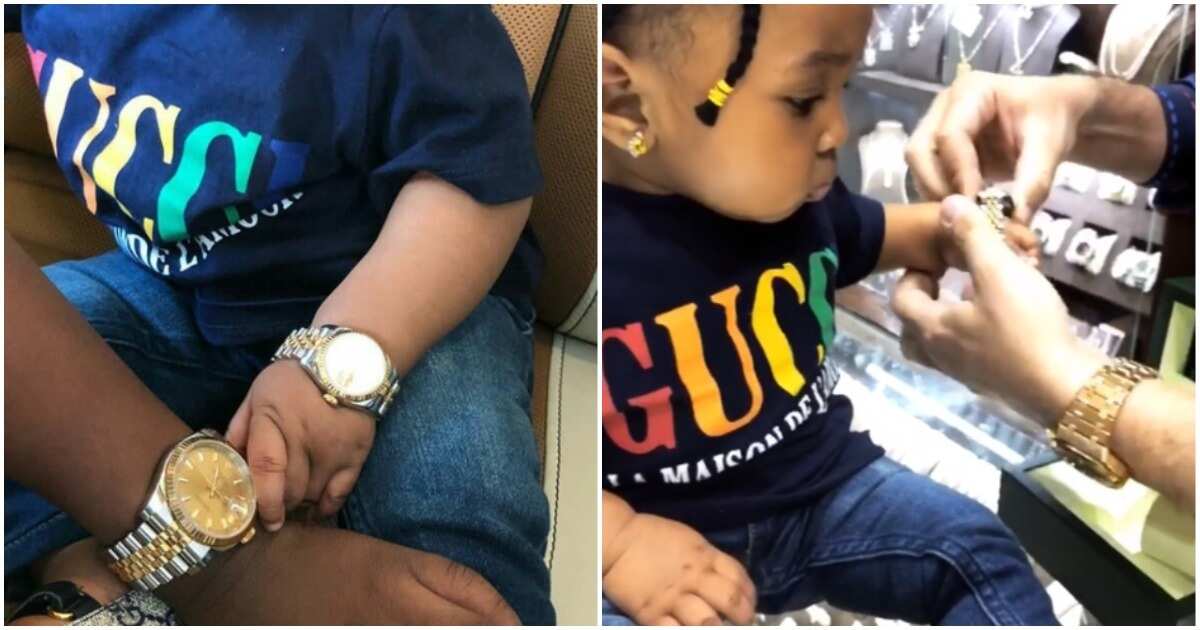 The Rolex wrist watch is reportedly worth 10,000 dollars which is 3.6 million Nigerian Naira.
In another photo, the Bureau De Change boss showed off his two children as they rocked their Rolex watches.
See photo below: