Fausat Balogun popularly known as Madam Saje is a Nigerian actress who stars majorly in Yoruba movies. She starred as Mama Saje in a 1990 television series titled Erin Kee Kee. Fausat has starred in over 80 movies.
However, the veteran award winning Yoruba actress, Fausat Balogun, who is also known as Madam Saje, has taken to her Instagram page to celebrate a milestone; her 60th year on earth. The actress who has featured in loads of Nollywood movies, shared new photos some 9 hours ago to mark a new dawn in her life.
Her nickname, Madam Saje, which was gotten from her 1990 television series, titled Erin Kee Kee, speaks volume for her, as the series somewhat skyrocketed her into the hearts of Yoruba movie lovers.
The actress is said to have starred in close to a hundred Nollywood/Yoruba productions.The elated actress shared three photos to mark her 60th birthday, with captions;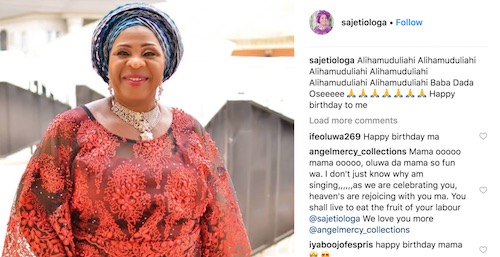 "Emi Lolo pe Emi ma lolo pe ooo E wa wo re baba E wa wo ise baba layemi Emi ma lolo pe oo….Alhamdulillah Robin alamin for d journey so far, Which of ur favour will I deny you Allah, You're indeed a blessing to me. I pray for his protection, mercy, and goodness on me.I appreciate all my fans home and abroad for been part of d journey Almighty God will continue to be with us all…… HAPPY BIRTHDAY TO ME .
Fausat Balogun is married to the actor Rafiu Balogun. He was her boss before they married. By the time she was famous her children were adults. Her eldest son is a director and her youngest daughter is an actress.
Happy birthday to Fausat Balogun a.k.a Madam Saje. What do you think about this post? Kindly drop a comment below.