In the season of Valentine, Tonto Dikeh shared beautiful pictures of herself as she usually does and Bobrisky wasted no time in telling her how he really feels about her, defying the fact that he doesn't like girls as he previously said to Anita Joseph when he said she arouses him with her body.
It is no longer news that these two controversial celebrities are very fond of each other. Bobrisky has taken to her Instagram page to pour out her heart felt love for the beautiful actress. In his words, Tonto is his everything and he loves her so much. See photos attached as shared on his Instagram handle.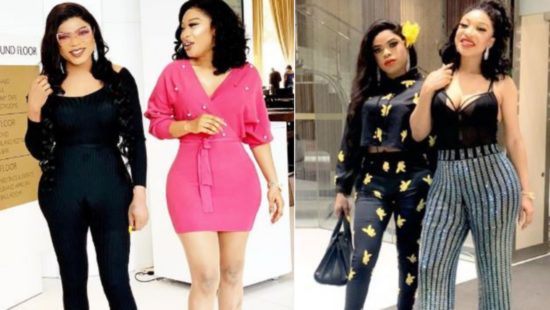 Bobrisky wrote on his Instagram page: "Pls can anyone tell me wat to get for my everything tomorrow. I call her my everything because she has always wanted the best for me. I'm the only one who can call king tonto 3am mid-night. I'm shocking her soon. I want to prove to people that there are still loyal friends despite the wicked ones. Love u always @tontolet".
Controversial Nigerian male barbie Idris Okuneye popularly known as Bobrisky has disclosed that Tonto Dikeh is his big sister. The cross dresser told fans on Instagram this secret that has been hidden for so long and Tonto Dikeh who responded didn't refute the statement.
During Tonto's birthday bash, Bobrisky kissing the celebrant had tongues wagging on social media. Bobrisky shared the clip showing them kissing with a text that reads: "My sis Tonto" and lovestruck emoji.
One would have never guessed Bobrisky will be big Uncle Bob or shall we say Aunt B to any celebrity child.
Just recently a photo of the male barbie having lunch with Tonto Dikeh's son, King Andre, surfaced on the internet and a lot of people had questions. It is no news that Tonto and Bob are really close pals and even shared a kiss at her last birthday party. However, for some reason, many fans had hoped that the relationship was just surface level but it seems it is deeper.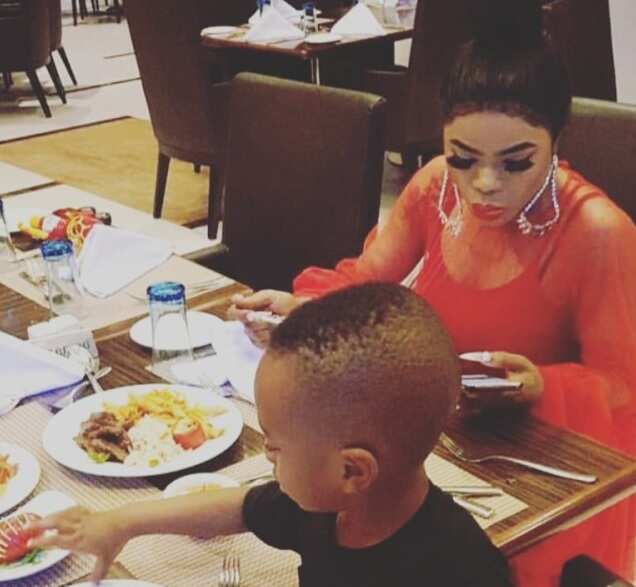 King Andre looked comfortable to be hanging with his big uncle or aunt (whichever the individual in question prefers) recently. They were both having lunch at a fancy restaurant and one can not help but imagine the kind of conversations they might have had.
It is a relief that although Bob is a male barbie in an almost disturbing way, he has shown himself to be nice and thoughtful. He has also gone all out to put smiles on people's faces whether with cash or offer a form of assistance, for which reason, he is considered a good person.
What do you think? Drop your opinion in the comment section, like and also share